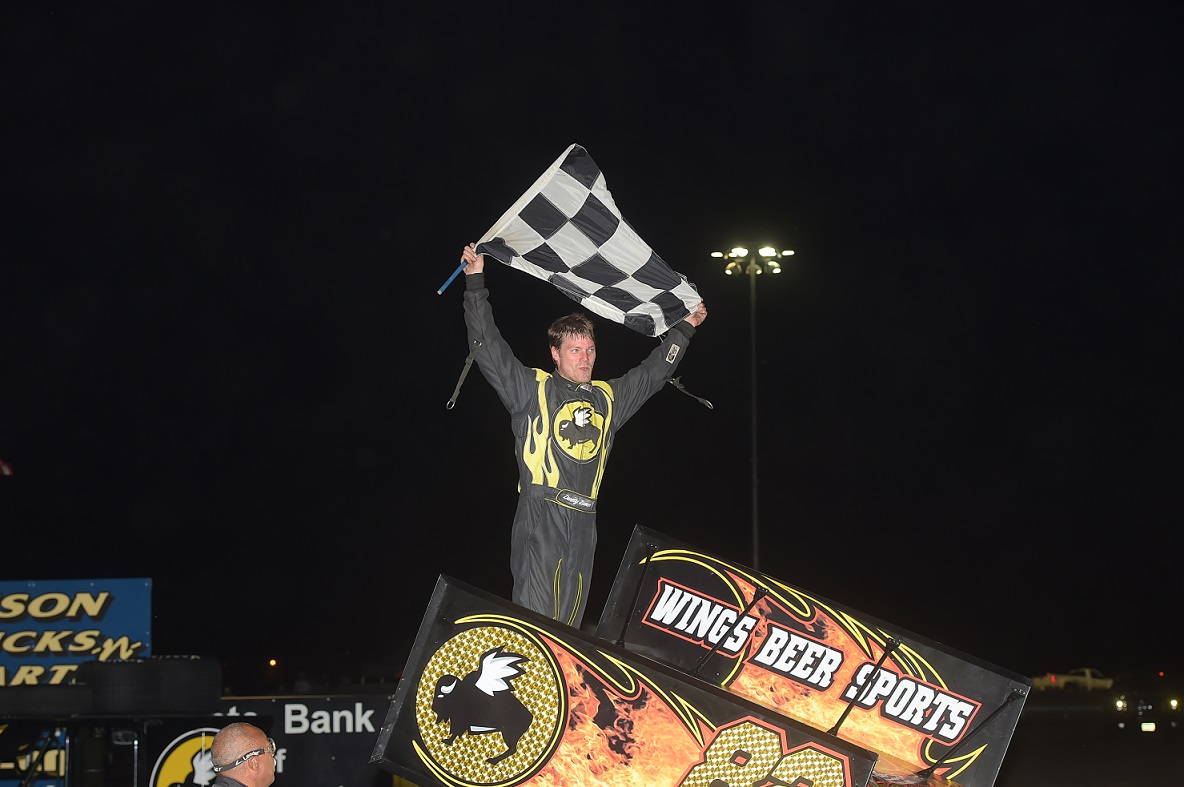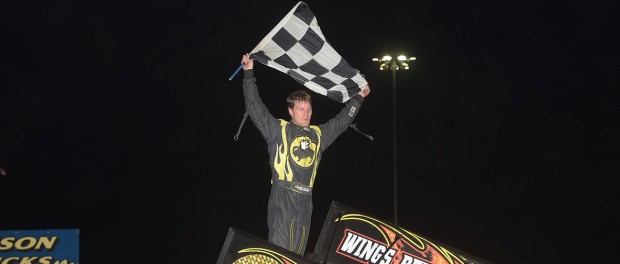 From Bill Wright
Jackson, MN — (July 23, 2015) — Dusty Zomer became the sixth different winner in as many events for the FVP National Sprint League when he captured the feature victory at the Jackson Speedway in Minnesota Thursday night. The Sioux Falls, South Dakota driver's win during the Jackson County Fair race supported by Abdo, Eick & Meyers LLP was his first with the series, making Thursday the fourth straight NSL event with a new winner.
Zomer shot out immediately in the 25-lap main event ahead of pole-sitter, Lynton Jeffrey and Bryan Clauson. The pilot of the Todd and Susan LaHaise #82 was a rocket and by lap five, had opened up almost a three second lead on Jeffrey.
On lap eight, Clauson used the low side of turn two to jet by Jeffrey for second. Three laps later, Dakota Hendrickson slowed high in turn two to bring a caution flag. Zomer led Clauson, Bill Balog who had captured third, Jeffey and Brian Brown back to green.
Zomer's domination continued as he got back into lapped traffic. Meanwhile, a battle emerged between Clauson, Balog and Danny Lasoski, who had taken over fourth. That trio put on an entertaining battle for position. One last caution came out with two laps to go for Logan Forler, who stopped in turn one.
Zomer was never threatened, pulling away for his first FVP National Sprint League win. Clauson went to the cushion in one and two to try to make a bid for the lead. Balog shot under him to claim second. Following the lead trio were Lasoski and Jeffrey. Ian Madsen, Craig Dollansky, Tim Kaeding, Mark Dobmeier and KSE hard-charger, Terry McCarl, rounded out the top ten. Brown was running sixth on the final restart, but had a tire go down as he faded to twelfth.
Zomer set quick time over the field. Madsen, Dobmeier and Tasker Phillips won heat races. Sprint Car Racing on Facebook donated $50 to the third place car of Clauson.
"The car was really good," said Zomer in Victory Lane. "My hat's off to my crew chief, Greg McCormick. He gave me a great car. He worked his butt off this week. We missed a couple shows, but we wanted to come in here nice and strong. We did that. We've been so close to getting a win in this NSL deal. It feels really good to get a win. We wanted to get out front and build some speed…get out as far as possible. I'm really happy for the team. I can't thank Todd and Susan LaHaise enough. It's a blast. Hopefully, we can keep this momentum up."
"Speedweek has been good to us," said Balog, who also picked up a win Tuesday in Britt, Iowa. "We've learned a lot in a short amount of time. We saw we were close in hot laps to having the speed we needed. It feels good to finish second. We're not really big track guys."
"We kind of felt like we had one shot to win it and left the door open," said Clauson of the last restart. "We're hungry for a win. We've ran on the podium a few times here. We ran pretty well. We probably could have putted the bottom and ran second, but we wanted to go for the win."
The FVP National Sprint League will compete at Huset's Speedway near Brandon, South Dakota this Sunday, July 26. For more information on the FVP National Sprint League, visit www.NationalSprintLeague.com!
Results from Jackson Speedway
FVP A main (started), 25 Laps: 1. 82, Dusty Zomer, Sioux Falls, SD [2]; 2. 17B, Bill Balog, Brookfield, WI [5]; 3. 17w, Bryan Clauson, Noblesville, IN [4]; 4. 2, Danny Lasoski, Dover, MO [6]; 5. 12, Lynton Jeffrey, Prairie City, IA [1]; 6. 18, Ian Madsen, St. Mary's, NSW, Aust. [8]; 7. 2KS, Craig Dollansky, Elk River, MN [9]; 8. 3, Tim Kaeding, San Jose, CA [16]; 9. 13, Mark Dobmeier, Grand Forks, ND [14]; 10. 24, Terry McCarl, Altoona, IA [19]; 11. 09, Matt Juhl,, Tea, SD [3]; 12. 21, Brian Brown, Grain Valley, MO [7]; 13. 35, Skylar Prochaska, Lakefield, MN [10]; 14. 16, Travis Whitney, Blaine, MN [12]; 15. 55, Brooke Tatnell, Sans Souci, NSW, Aust. [17]; 16. 7TAZ, Tasker Phillips, Pleasantville, IA [13]; 17. 81, Austin Johnson, Pleasant Hill, IA [11]; 18. 25, Dylan Peterson, Sioux Falls, SD [21]; 19. 15, Joe Riedel, Ramona, SD [15]; 20. 17A, Austin McCarl, Altoona, IA [22]; 21. 4x, Eric Schulz, Sioux Falls, SD [25]; 22. 2L, Logan Forler, Boise ID [18]; 23. 14, Jody Rosenboom, Rock Rapids, IA [24]; 24. 7, Kaley Gharst, Decatur, IL [20]; 25. 5H, Dakota Hendrickson, Omaha, NE [23]. Lap Leader: Zomer 1-25. KSE Hard-charger: T. McCarl.
Fuel Safe Heat one (started), 8 Laps: 1. Ian Madsen [2]; 2. Bill Balog [5]; 3. Bryan Clauson [4]; 4. Logan Forler [6]; 5. Dylan Peterson [7]; 6. Jody Rosenboom [8]; 7. Joe Riedel [1]; 8. Skylar Prochaska [3]
DMI Heat two (started), 8 Laps: 1. Mark Dobmeier [1]; 2. Matt Juhl [3]; 3. Danny Lasoski [5]; 4. Travis Whitney [2]; 5. Lynton Jeffrey [4]; 6. Dakota Hendrickson [8]; 7. Kaley Gharst [7]; 8. Brooke Tatnell [6]
Kaeding Performance Heat three (started), 8 Laps: 1. Tasker Phillips [1]; 2. Brian Brown [4]; 3. Dusty Zomer [5]; 4. Craig Dollansky [3]; 5. Terry McCarl [7]; 6. Tim Kaeding [6]; 7. Austin Johnson [2]; 8. Austin McCarl [8]; 9. Eric Schulz [9]
The Minnesota Mafia Time Trials (Qualifying Order), 2 Laps: 1. Dusty Zomer, 15.997 [7]; 2. Danny Lasoski, 16.065 [9]; 3. Bill Balog, 16.083 [12]; 4. Brian Brown, 16.119 [5]; 5. Lynton Jeffrey, 16.125 [25]; 6. Bryan Clauson, 16.142 [24]; 7. Craig Dollansky, 16.186 [16]; 8. Matt Juhl, 16.191 [14]; 9. Skylar Prochaska, 16.204 [6]; 10. Austin Johnson, 16.221 [10]; 11. Travis Whitney, 16.232 [22]; 12. Ian Madsen, 16.311 [18]; 13. Tasker Phillips, 16.350 [13]; 14. Mark Dobmeier, 16.385 [21]; 15. Joe Riedel, 16.400 [1]; 16. Tim Kaeding, 16.412 [19]; 17. Brooke Tatnell, 16.450 [4]; 18. Logan Forler, 16.466 [20]; 19. Terry McCarl, 16.483 [17]; 20. Kaley Gharst, 16.510 [8]; 21. Dylan Peterson, 16.510 [15]; 22. Austin McCarl, 16.588 [23]; 23. Dakota Hendrickson, 16.696 [11]; 24. Jody Rosenboom, 16.697 [2]; 25. Eric Schulz, 17.174 [3]