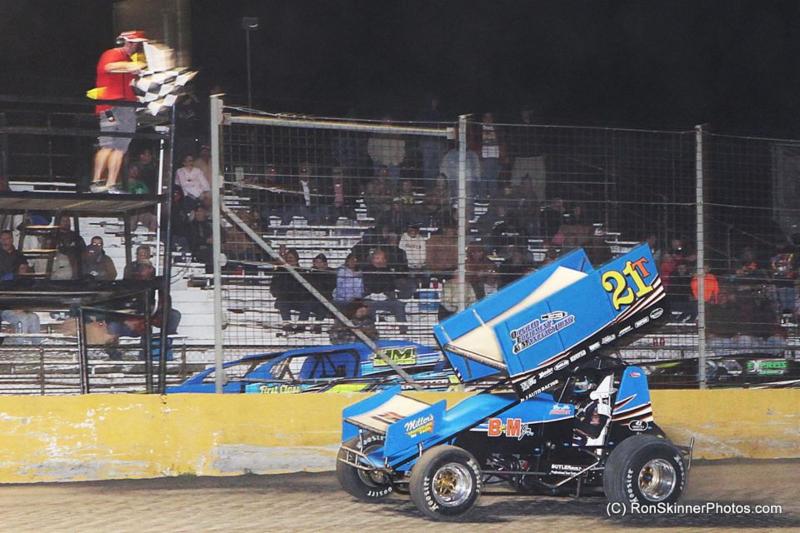 Inside Line Promotions

GOLIAD, Texas (July 27, 2015) – Ray Allen Kulhanek returned to Victory Lane and he used a pair of top-five finishes to close within striking distance of the championship lead with the ASCS Gulf South Region.
Kulhanek claimed the preliminary feature of the Shady Oaks Classic last Friday at Shady Oaks Speedway before wrapping up the weekend with a fifth-place result, which was his 10th top five of the season and closed the points deficit to 18.
"Friday was a good night to have a good night," he said. "We drew bad in the heat race. We drew the highest pill in the bucket and started last in our heat race, but we made our way up to third. I felt fast from the get-go. I was pretty comfortable with everything. Then we went over to the feature redraw just expecting the No. 7 or No. 8. Low and behold I couldn't believe my eyes when I pulled out the No. 1. I knew I had to get my car decent and not make any mistakes. I needed to get a good start and get out in the lead."
Kulhanek, who had advanced from seventh to third place during his heat race, capitalized on drawing the pole position for the main event. He took the lead on the start and never looked back en route to his second ASCS Gulf South Region victory of the year.
"Off a restart Channin (Tankersley) got a good start with me and he got beside me," he said. "A few times throughout the race he'd close in on me, but he was trying to run where I wasn't and I was in the ideal line. When we caught lapped cars everything fell just right for me where it didn't really slow me down at all."
The win also locked Kulhanek into Saturday's feature redraw, which determined the first few rows of the main event. Unfortunately, Kulhanek drew the No. 5 during the random redraw to start the feature on the inside of the third row.
"The track stayed sloppy through the night," he said. "It really never got the bottom worked in until midway through the main. Eventually you could hold it down at the bottom of the track, but it still didn't have a ton of bite to it. The track was locked down and you pretty much finished where you started."
Kulhanek maintained a top five throughout the feature before placing fifth.
He is scheduled to return to action with the ASCS Gulf South Region Aug. 21 at Heart O' Texas Speedway in Waco, Texas, and Aug. 22 at Cotton Bowl Speedway in Paige, Texas.
QUICK RESULTS –
July 24 – Shady Oaks Speedway in Goliad, Texas – Heat race: 3 (7); Feature: 1 (1).
July 25 – Shady Oaks Speedway in Goliad, Texas – Feature: 5 (5).
SEASON STATS –
15 races, 3 wins, 10 top fives, 12 top 10s, 12 top 15s, 13 top 20s
UP NEXT –
Aug. 21 at Heart O' Texas Speedway in Waco, Texas, and Aug. 22 at Cotton Bowl Speedway in Paige, Texas, with the ASCS Gulf South Region
MEDIA LINKS –
Website: http://www.RayAllenKulhanek.com
Facebook: https://www.facebook.com/dork.racing.9?fref=ts
APPAREL –
Kulhanek will have apparel available for sale at his race trailer throughout the season. For a list of his scheduled events, visit http://www.RayAllenKulhanek.com.
SPONSOR SPOTLIGHT – Frazier and Son
Located in Conroe, Texas, Frazier and Son is a fourth-generation business with an emphasis on providing quality bucket elevators and conveyers. For more information, visit http://www.FrazierAndSon.com.
"Frazier and Son is a company that I work for that came on board last season," Kulhanek said. "I'm appreciative of Mark Frazier and the whole company for supporting our race team and I hope for many more years of success."
Kulhanek would also like to thank Oilfield Equipment & Manufacturing, Miller's RV Park, Texas Rotating Equipment, DR2 Racing Engines, ButlerBuilt Professional Systems, J&J Auto Racing, Smiley's Racing Products, 41 Shocks, Engler Machine & Tool, Outlaw Wings, Hoosier Racing Tire Southwest, Penske Racing Shocks, Snap Graphics and Simpson Race Products for their support.
INSIDE LINE PROMOTIONS –
Inside Line Promotions specializes in affordable public relations and media management for motor sports drivers, teams, sponsors, tracks, series, events, organizations and manufacturers. ILP Founder Shawn Miller leverages professional journalism with new media technologies and social networking to improve your exposure and the return on investment for your sponsors.
To meet the media relations needs of your program by joining Team ILP, contact Shawn at 541-510-3663 or Shawn@InsideLinePromotions.com. For more information on Inside Line Promotions, visit http://www.InsideLinePromotions.com.