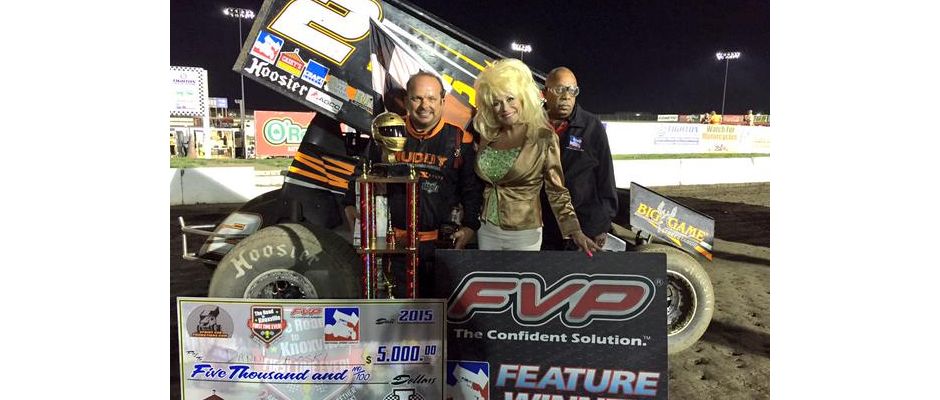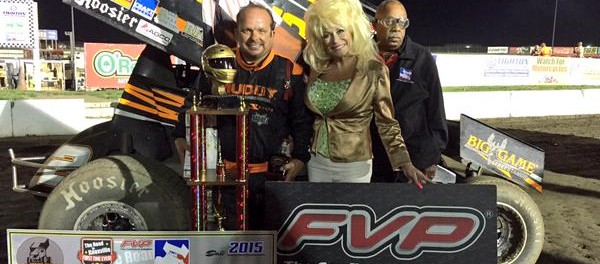 From Bill Wright
Greenwood, NE — (July 30, 2015) — Danny Lasoski grabbed the lead late to capture his series leading fifth win with the FVP National Sprint League Thursday on night one of the "Road to Knoxville" at I-80 Speedway near Greenwood, Nebraska. Lasoski's win was worth $5,000 aboard the Big Game Motorsports #2. The event was held in conjunction with the Lucas Oil ASCS National Series. NSL member Ian Madsen won that event.
Jamie Veal, making his second NSL start of the season, jumped out to the early lead in the 25-lap feature from his pole position ahead of Terry McCarl and California NSL first-timer Willie Croft. Lasoski shot by Croft on lap five to move into the top three.
Paul Nienhiser stopped on the backstretch, bringing out the yellow flag on lap six. Veal led McCarl, Lasoski, Croft and Bill Balog back to green flag racing. Two laps later, Lasoski shot by McCarl for second and began his pursuit of the leader.
The lead pair wrestled lapped traffic. With the bottom of turns one and two coming in, Veal shot to the high side on lap 17. Lasoski pounced on the opportunity and used the low side to cruise to the point.
The last eight laps, Lasoski went uncontested to win over Veal, McCarl, Balog and Croft. Matt Juhl posted a season best sixth place finish, while Bryan Clauson passed Ian Madsen in the final corner for seventh. KSE Hard-charger Tim Kaeding and Mark Dobmeier rounded out the top ten.
Lasoski set quick time, while Madsen, Juhl and Veal won heat races. If Madsen can win both the ASCS and NSL features Friday night, he will garner a $10,000 bonus from I-80 Speedway, Phil Durst of Durst Motorplex and Jim Huffman of Huffman Productions.
"(Veal) was doing a good job," said Lasoski in Victory Lane. "He was running where I wanted to be. He got to a lapped car and got held up a little bit. Guy (Forbrook) gave me a good car. It was operating top, bottom or middle, it didn't matter."
"We were right there all night," said Veal. "We had a good car all night. We had a good run in second. We'll take that and come back tomorrow night. (Filling in for Jason Johnson with the Outlaws) I learned to adapt to tracks very quickly. Thanks to the guys for having a good car and hopefully, we'll be one better tomorrow."
"We were a little tight back there," said McCarl. "We got the lead on the first start and they called it back. That would have been big for us. The car came in later in the race, and we started running them back down. We were still a little tight in dirty air. If we were in clean air, we'd have been o.k. It was a great racetrack. I'd like to thank the Kosiski's and Phil Durst for putting this on. This has really turned into one of our favorite racetracks. For a bigger track, it's a really racy joint. They know how to get it right."
The "Road to Knoxville" continues tomorrow night, Friday, July 31 at the I-80 Speedway. The 30-lap feature will pay $10,000 to the winner! For more information on the FVP National Sprint League, visit www.NationalSprintLeague.com!
Results from I-80 Speedway
FVP A main (started), 25 Laps: 1. 2, Danny Lasoski, Dover, MO [5]; 2. 35AU, Jamie Veal, Warrnambool, VIC, Aust. [1]; 3. 24, Terry McCarl, Altoona, IA [3]; 4. 17B, Bill Balog, Brookfield, WI [6]; 5. 29, Willie Croft, Roseville, CA [2]; 6. 09, Matt Juhl, Tea, SD [4]; 7. 17w, Bryan Clauson, Noblesville, IN [9]; 8. 18, Ian Madsen, St. Mary's, NSW, Aust. [8]; 9. 3, Tim Kaeding, San Jose, CA [16]; 10. 13, Mark Dobmeier, Grand Forks, ND [12]; 11. 55, Brooke Tatnell, Sans Souci, NSW, Aust. [11]; 12. 21, Brian Brown, Grain Valley, MO [7]; 13. 7TAZ, Tasker Phillips, Pleasantville, IA [14]; 14. 12, Lynton Jeffrey, Prairie City, IA [17]; 15. 2L, Logan Forler, Boise, ID [15]; 16. 69, Michael Moore, Des Moines, IA [18]; 17. 6, Bryan Gossel, Windsor, CO [19]; 18. 41A, Andee Beierle, Bismarck, ND [20]; 19. 9, Paul Nienhiser, Chapin, IL [10]; 20. 23s, Stu Snyder, Waverly, NE [13]; 21. 17A, Austin McCarl, Altoona, IA [22]; 22. 5H, Dakota Hendrickson, Omaha, NE [21]; 23. 4K, Thomas Jeffrey, Kelleyville, NSW, Aust. [23]. Lap Leaders: Veal 1-16, Lasoski 17-25. KSE Hard-charger: Kaeding.
Fuel Safe Heat one (started), 8 laps: 1. Ian Madsen [4]; 2. Logan Forler [1]; 3. Tasker Phillips [2]; 4. Terry McCarl [5]; 5. Brooke Tatnell [3]; 6. Michael Moore [6]; 7. Dakota Hendrickson [7]
DMI Heat two (started), 8 laps: 1. Matt Juhl [1]; 2. Willie Croft [4]; 3. Brian Brown [5]; 4. Stu Snyder [2]; 5. Paul Nienhiser [3]; 6. Lynton Jeffrey [6]; 7. Andee Beierle [7]
Kaeding Performance Heat three (started), 8 laps: 1. Jamie Veal [1]; 2. Danny Lasoski [5]; 3. Mark Dobmeier [2]; 4. Bill Balog [4]; 5. Bryan Clauson [3]; 6. Tim Kaeding [6]; 7. Bryan Gossel [7]
The Minnesota Mafia Time Trials (Qualifying Order), 2 laps: 1. Danny Lasoski, 14.016 [1]; 2. Brian Brown, 14.177 [12]; 3. Terry McCarl, 14.190 [6]; 4. Bill Balog, 14.193 [7]; 5. Willie Croft, 14.214 [17]; 6. Ian Madsen, 14.284 [8]; 7. Bryan Clauson, 14.308 [4]; 8. Paul Nienhiser, 14.345 [20]; 9. Brooke Tatnell, 14.421 [11]; 10. Mark Dobmeier, 14.433 [15]; 11. Stu Snyder, 14.475 [9]; 12. Tasker Phillips, 14.494 [13]; 13. Jamie Veal, 14.503 [5]; 14. Matt Juhl, 14.516 [21]; 15. Logan Forler, 14.533 [16]; 16. Tim Kaeding, 14.559 [3]; 17. Lynton Jeffrey, 14.770 [23]; 18. Michael Moore, 14.791 [22]; 19. Bryan Gossel, 14.886 [10]; 20. Andee Beierle, 15.333 [2]; 21. Dakota Hendrickson, 15.857 [19]; 22. Austin McCarl [18]; 23. Thomas Jeffrey [14]
Contingencies
Minnesota Mafia Quick Time – Danny Lasoski
Fuel Safe Heat – Ian Madsen
DMI Heat – Matt Juhl
Kaeding Performance Heat – Danny Lasoski
Maxim Driver of the Night – Dakota Hendrickson
Speedway Graphics "From the Tail Award" – Austin McCarl
KSE Hard-charger Award – Tim Kaeding
Bell Helmets "Hard Luck Award" – Stu Snyder