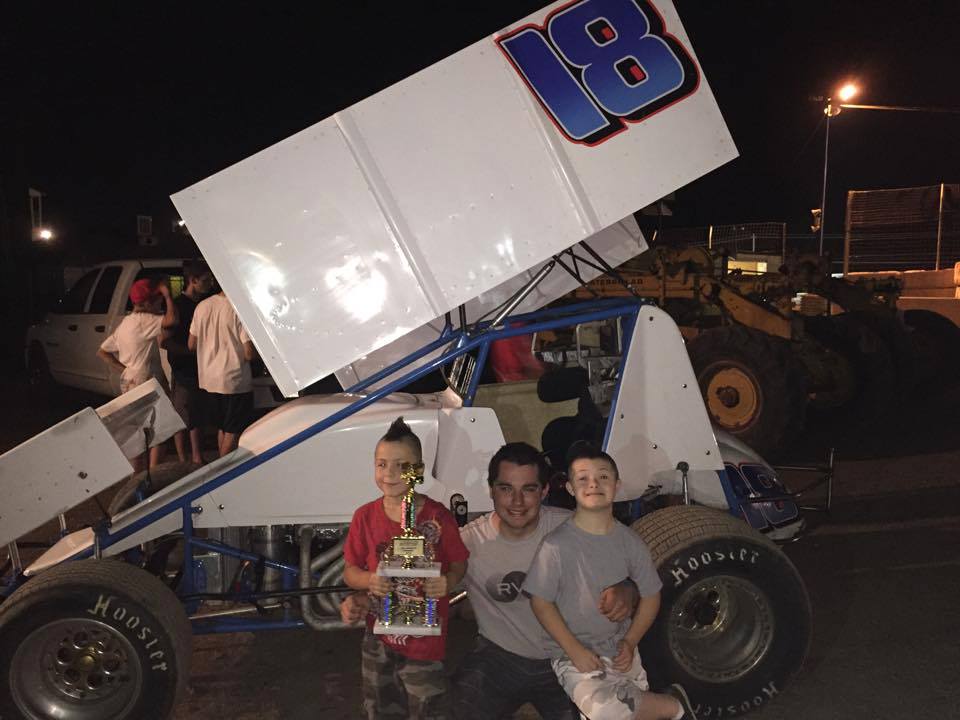 PETERSEN MEDIA
Continuing to have a very memorable 2015 season, Justin Sanders picked up his 13th win of the year by way of his victory at the Marysville Raceway on Saturday night.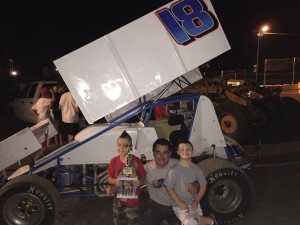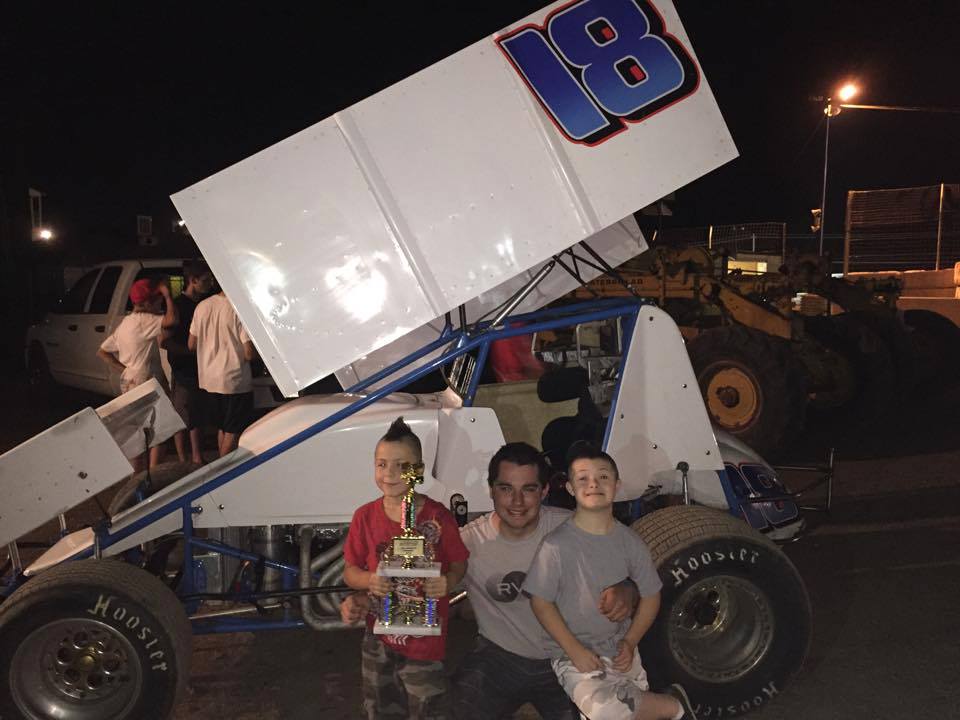 "It has been an unbelievable season, and I am just thankful, and humbled, by all the supporters that have surrounded me," Justin Sanders said.
With his confidence level extremely high at the Marysville Raceway, Sanders kicked his night off by setting the standard in time trials as he earned quick time honors.
Moving into heat race action, the Watsonville, CA driver would line the F&W Racing No. 18 machine up in the second row and work his way to a second place finish and safely earn a spot in the nightly redraw.
One thing that Sanders has had some issues with in 2015 is the draw and that continued on Saturday night as the eight pill would put him in the fourth row for the 25-lap feature event.
Moving his way into the third spot, Sanders would spend much of the race chasing after Cody Lamar and Jeremy Burt. A restart on lap 23 proved to be what Sanders needed as he was able to get by Burt to move into second and then make a move on Lamar.
Using the top-shelf in turns three and four, Sanders was able to muscle around Lamar as he took the lead with the white flag in the air. As second running Lamar got upside down behind him, Sanders would fend of Jeremy Burt on a restart as he picked up his 13th win of the season.
Sanders was also in action on Friday night as he made another start aboard the M&S Racing No. 27 machine. Fighting gremlins under the hood for much of the night, Sanders would retire from the feature event early into the action.
"It was great to get another win, and hopefully we can grab a really big one this Saturday night in Placerville, CA," Sanders added. "Friday we had some bad luck in the No. 27 car, but I have to thank those guys for their effort and I look forward to racing with the again soon."
ON TAP: Sanders will return to action at the Ocean Speedway on Friday night before heading to the Placerville Speedway on Saturday night to take part in the 10th Annual Mark Forni Classic with the Civil War Series.
2015 BY THE NUMBERS: Starts-35, Wins-13, Top-5's-26, Top-10's-32
STAY CONNECTED: Stay connected with Justin Sanders by visiting his website, www.teamsandersmotorsports.com.
PETERSEN MEDIA: Petersen Media specializes in motorsports media constructing news releases, both pre and post race, as well as constructing email lists to keep sponsors, and fans up to date. Petersen Media also utilizes today's Social Media networks to provide trackside updates to fans and sponsors, and can customize packages to fit your team's needs.
For more information contact sales@PetersenMediaInc.com, by phone at 916-342-3424,  visit www.petersenmediainc.com, www.facebook.com/petersenmedia or follow @Petersen_Media on twitter.