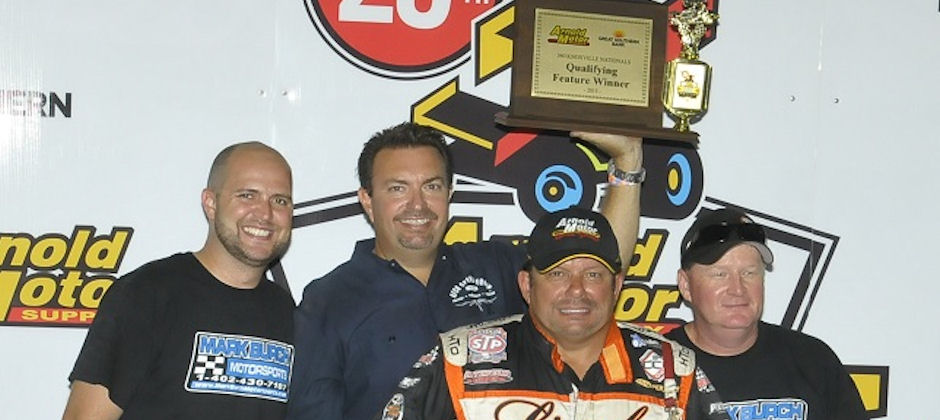 by Bryan Hulbert and Bill Wright
Knoxville, IA, August 6, 2015 – The 25th annual Arnold Motor Supply 360 Knoxville Nationals presented by Great Southern Bank opened with Missouri's Danny Lasoski leading flag-to-flag in Thursday's preliminary A-Feature aboard the Parker/Mark Burch Motorsports No. 1m.
Lasoski's third career preliminary A-Feature win in the 360 Nationals since 2012, the "Dude from Dover" was never challenged en-route to victory.
"This just goes to show you hard March Burch Works. He's a one-man-band at home. He builds his own engines, does everything, and I just couldn't be more proud of him," said Lasoski when asked about his performance. "We came here just to see if we could measure up, and weren't even close. In Qualifying, we were even close, but he [Mark] never gave up and just kept working at it and it showed when it counted."
Asked if the run was a simple one, Lasoski replied, "It's anything but simple. When you get these touring guys that come in, along with anyone else here, you've got the best guys in the country."
While Lasoski ran away on the start, the race for the runner-up spot began to take shape as Aaron Reutzel held off the charge of Casey Friedrichsen. Not able to put distance over the No. 20, the pair continued the fight as Lasoski build his advantage until the caution waved on Lap 7 for Nate Van Haaften whose axle sheered, launching the Left Rear down the back straight-a-way.
Back to green, Lasoski again pulled away with the red soon flying for a violent crash by Sawyer Phillips. Slow to emerge, the driver of the No. 3p was able to walk away.
Re-firing after an open red, the green light would not turn off again as Lasoski crossed 1.454 seconds ahead of the B.C. Funds No. 87 of Aaron Reutzel.
Changing gears during the open red, Aaron said the change was good but not enough, "It had to be a whole lot better to catch Danny. He's just a rocket around here so what can you say running second to that guy. It definitely doesn't hurt my feelings one bit."
Having to scramble after his Heat Race, Aaron elaborated on what happened, "I just can't thank my guys enough. They worked their butts off. We had to change a Rear End after the Heat Race and it seemed like anything that could go wrong, did go wrong while we were changing it, plus we hurt our good motor a week ago. We had another motor to run, but it just wasn't that strong so Scottie McDonald stepped up and loaned us a motor."
Crossing third was Casey Friedrichsen for his first top-five performance in his second career 360 Nationals preliminary A-Feature.
"We're not going to complain one bit about being up here at the end of the night. I would like to be standing on either one of those other two spots, but we haven't been down here as much as we need to run to get where those two guys are tonight, but we'll take what we got with momentum and go into Saturday night and hopefully run good again."
Putting on moves in the closing laps, Calvin Landis crossed fourth from seventh with Clint Garner working to fifth from eighth.
Tenth starting Bronson Maeschen was sixth, followed by Tony Bruce, Jr. Working the low line, Billy Alley moved from 12th to eighth with Russ Hall and Ryan Roberts making up the top-ten.
Thursday night saw 48 drivers checking in. All drivers were able to take time with Clint Garner laying down the fastest lap at 16.301 seconds. Five Heat races went to Matt Moro, Joe Beaver, Ryan Roberts, Brandon Hanks, and Danny Lasoski.
The night's C-Feature was won by Jordan Weaver. Knoxville's Jamie Ball won the B-feature. The night's Hard Charger was Bryan Clauson who advanced from 23rd to 12th.
The 25th Annual Arnold Motor Supply 360 Nationals presented by Great Southern Bank continue Friday night, August 7, and Saturday, August 8! For more information on Knoxville Raceway, visit www.KnoxvilleRaceway.com!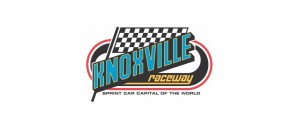 KNOXVILLE RACEWAY, Knoxville, IA
August 6, 2015
360 RESULTS
Time Trials, 1. 40, Clint Garner, Sioux Falls, SD (18), 16.301; 2. 5J, Jamie Ball, Knoxville, IA (11), 16.361; 3. 17W, Bryan Clauson, Noblesville, IN (21), 16.397; 4. 29C, Willie Croft, Roseville, CA (2), 16.436; 5. 1, Justin Henderson, Sioux Falls, SD (31), 16.443; 6. M1, Mark Smith, Tower City, PA (10), 16.446; 7. 4, Jon Agan, Knoxville, IA (35), 16.492; 8. 10, Calvin Landis, Knoxville, IA (39), 16.54; 9. 3, Nate Van Haaften, Otley, IA (48), 16.557; 10. 67H, Sam Hafertepe Jr., Sunnyvale, TX (36), 16.564; 11. 3P, Sawyer Phillips, Pleasantville, IA (43), 16.564; 12. 87, Aaron Reutzel, Clute, TX (33), 16.567; 13. 18, Tony Bruce Jr., Owasso, OK (25), 16.57; 14. 28, Jonathan Cornell, Sedalia, MO (7), 16.572; 15. 1M, Danny Lasoski, Dover, MO (19), 16.573; 16. 23, Seth Bergman, Snohomish, WA (20), 16.61; 17. 20, Casey Friedrichsen, Arthur, IA (23), 16.647; 18. 18R, Ryan Roberts, Aurora, NE (17), 16.653; 19. 96, Bronson Maeschen, Pleasantville, IA (27), 16.706; 20. 29, Russ Hall, Pleasant Hill, IA (29), 16.713; 21. 3A, Billy Alley, Bennet, NE (37), 16.74; 22. 5C, Carson McCarl, Altoona, IA (47), 16.743; 23. 33, Alan Zoutte, Knoxville, IA (6), 16.749; 24. 21AU, Jordyn Brazier, Sydney, NSW, Aust. (44), 16.757; 25. 4J, Lee Grosz, Harwood, ND (15), 16.778; 26. 2M, Matt Moro, Polk City, IA (12), 16.782; 27. 53, Joe Beaver, Knoxville, IA (40), 16.783; 28. 88, Scottie McDonald, Porter, TX (34), 16.791; 29. 84, Brandon Hanks, Burlison, TN (30), 16.834; 30. 35L, Cody Ledger, Omaha, NE (22), 16.844; 31. 9M, Ricky Montgomery, Lakewood, CO (16), 16.874; 32. 72, Phil Dietz, Laurel, MT (38), 16.888; 33. 1J, Danny Jennings, Norman, OK (5), 16.892; 34. 9Z, Jared Goerges, Baxter, MN (4), 16.993; 35. 20Z, Rick Ziehl, Las Cruces, NM (14), 17; 36. 1H, Sean McClelland, Tulsa, OK (45), 17.011; 37. 31C, Justyn Cox, Clarksburg, CA (41), 17.025; 38. 5V, Colby Copeland, Roseville, CA (3), 17.046; 39. 84A, Scott Bogucki, McLaren Vale, SA, Au (13), 17.082; 40. 14L, Michael Lang, Mesquite, TX (1), 17.087; 41. 92, Jordan Weaver, Woodward, OK (8), 17.176; 42. 23M, Lance Moss, Cherryville, NC (46), 17.23; 43. 4S, Danny Smith, Chillicothe, OH (28), 17.243; 44. 64, Rob Kubli, Milo, IA (42), 17.251; 45. 12, James Mosher, Albuquerque, NM (26), 17.434; 46. 4X, Adam Speckman, Rapid City, SD (9), 17.715; 47. 81, Darren Smith, Curlew, WA (24), 18.791; 48. 2, Tyler Brooks, Knoxville, IA (32), 19.052;
Heat 1, 8 Laps, No Time: 1. Matt Moro (1); 2. Billy Alley (2); 3. Sawyer Phillips (4); 4. Clint Garner (6); 5. Seth Bergman (3); 6. Mark Smith (5); 7. Ricky Montgomery (7); 8. Sean McClelland (8); 9. Jordan Weaver (9); 10. Adam Speckman (10);
Heat 2, 8 Laps, No Time: 1. Joe Beaver (1); 2. Aaron Reutzel (4); 3. Carson McCarl (2); 4. Casey Friedrichsen (3); 5. Jon Agan (5); 6. Justyn Cox (8); 7. Jamie Ball (6); 8. Phil Dietz (7); 9. Lance Moss (9); 10. Darren Smith (10);
Heat 3, 8 Laps, No Time: 1. Ryan Roberts (3); 2. Tony Bruce Jr. (4); 3. Scottie McDonald (1); 4. Calvin Landis (5); 5. Danny Jennings (7); 6. Bryan Clauson (6); 7. Colby Copeland (8); 8. Danny Smith (9); 9. Alan Zoutte (2); 10. Tyler Brooks (10);
Heat 4, 8 Laps, No Time: 1. Brandon Hanks (1); 2. Jordyn Brazier (2); 3. Nate Van Haaften (5); 4. Bronson Maeschen (3); 5. Jonathan Cornell (4); 6. Scott Bogucki (8); 7. Willie Croft (6); 8. Rob Kubli (9); 9. Jared Goerges (7);
Heat 5, 8 Laps, No Time: 1. Danny Lasoski (4); 2. Lee Grosz (2); 3. Cody Ledger (1); 4. Russ Hall (3); 5. Justin Henderson (6); 6. Sam Hafertepe Jr. (5); 7. James Mosher (9); 8. Rick Ziehl (7); 9. Michael Lang (8);
C main, 10 Laps, No Time: 1. Jordan Weaver (4); 2. Lance Moss (5); 3. Alan Zoutte (1); 4. Michael Lang (3); 5. Darren Smith (7); 6. Adam Speckman (6); 7. Tyler Brooks (8); 8. Jared Goerges (2);
B main, 12 Laps, No Time: 1. Jamie Ball (1); 2. Justin Henderson (4); 3. Bryan Clauson (2); 4. Jon Agan (6); 5. Mark Smith (5); 6. Willie Croft (3); 7. Jonathan Cornell (8); 8. Sam Hafertepe Jr. (7); 9. Seth Bergman (9); 10. Justyn Cox (15); 11. Jordan Weaver (21); 12. Scott Bogucki (17); 13. Ricky Montgomery (10); 14. Danny Jennings (12); 15. Rick Ziehl (13); 16. Phil Dietz (11); 17. Alan Zoutte (23); 18. Colby Copeland (16); 19. Michael Lang (24); 20. Sean McClelland (14); 21. Danny Smith (18); 22. Lance Moss (22); 23. James Mosher (20); 24. Rob Kubli (19);
A main, 20 Laps, No Time: 1. Danny Lasoski (2); 2. Aaron Reutzel (4); 3. Casey Friedrichsen (1); 4. Calvin Landis (7); 5. Clint Garner (8); 6. Bronson Maeschen (10); 7. Tony Bruce Jr. (3); 8. Billy Alley (12); 9. Russ Hall (11); 10. Ryan Roberts (9); 11. Bryan Clauson (23); 12. Matt Moro (16); 13. Jon Agan (24); 14. Joe Beaver (17); 15. Jamie Ball (21); 16. Justin Henderson (22); 17. Jordyn Brazier (14); 18. Carson McCarl (13); 19. Brandon Hanks (19); 20. Scottie McDonald (18); 21. Cody Ledger (20); 22. Lee Grosz (15); 23. Sawyer Phillips (5); 24. Nate Van Haaften (6);
Thursday Points
| | | | |
| --- | --- | --- | --- |
| Pos | Car | Driver | Points |
| 1 | 40 | Clint Garner | 483 |
| 2 | 87 | Aaron Reutzel | 473 |
| 3 | 1M | Danny Lasoski | 472 |
| 4 | 10 | Calvin Landis | 471 |
| 5 | 18 | Tony Bruce Jr. | 461 |
| 6 | 17W | Bryan Clauson | 461 |
| 7 | 20 | Casey Friedrichsen | 455 |
| 8 | 4 | Jon Agan | 452 |
| 9 | 5J | Jamie Ball | 452 |
| 10 | 1 | Justin Henderson | 450 |
| 11 | 18R | Ryan Roberts | 448 |
| 12 | 96 | Bronson Maeschen | 445 |
| 13 | 3A | Billy Alley | 443 |
| 14 | 29 | Russ Hall | 437 |
| 15 | 3 | Nate Van Haaften | 432 |
| 16 | 3P | Sawyer Phillips | 430 |
| 17 | 2M | Matt Moro | 428 |
| 18 | 53 | Joe Beaver | 422 |
| 19 | 21AU | Jordyn Brazier | 419 |
| 20 | 5C | Carson McCarl | 418 |
| 21 | M1 | Mark Smith | 417 |
| 22 | 29C | Willie Croft | 416 |
| 23 | 84 | Brandon Hanks | 408 |
| 24 | 4J | Lee Grosz | 407 |
| | | | |
| --- | --- | --- | --- |
| Pos | Car | Driver | Points |
| 25 | 67H | Sam Hafertepe Jr. | 403 |
| 26 | 88 | Scottie McDonald | 402 |
| 27 | 28 | Jonathan Cornell | 400 |
| 28 | 35L | Cody Ledger | 396 |
| 29 | 23 | Seth Bergman | 392 |
| 30 | 33 | Alan Zoutte | 350 |
| 31 | 9M | Ricky Montgomery | 348 |
| 32 | 1J | Danny Jennings | 348 |
| 33 | 31C | Justyn Cox | 345 |
| 34 | 84A | Scott Bogucki | 337 |
| 35 | 72 | Phil Dietz | 337 |
| 36 | 20Z | Rick Ziehl | 333 |
| 37 | 92 | Jordan Weaver | 326 |
| 38 | 5V | Colby Copeland | 324 |
| 39 | 1H | Sean McClelland | 321 |
| 40 | 14L | Michael Lang | 312 |
| 41 | 4S | Danny Smith | 305 |
| 42 | 23M | Lance Moss | 302 |
| 43 | 12 | James Mosher | 300 |
| 44 | 64 | Rob Kubli | 297 |
| 45 | 9Z | Jared Goerges | 296 |
| 46 | 81 | Darren Smith | 273 |
| 47 | 4X | Adam Speckman | 273 |
| 48 | 2 | Tyler Brooks | 267 |