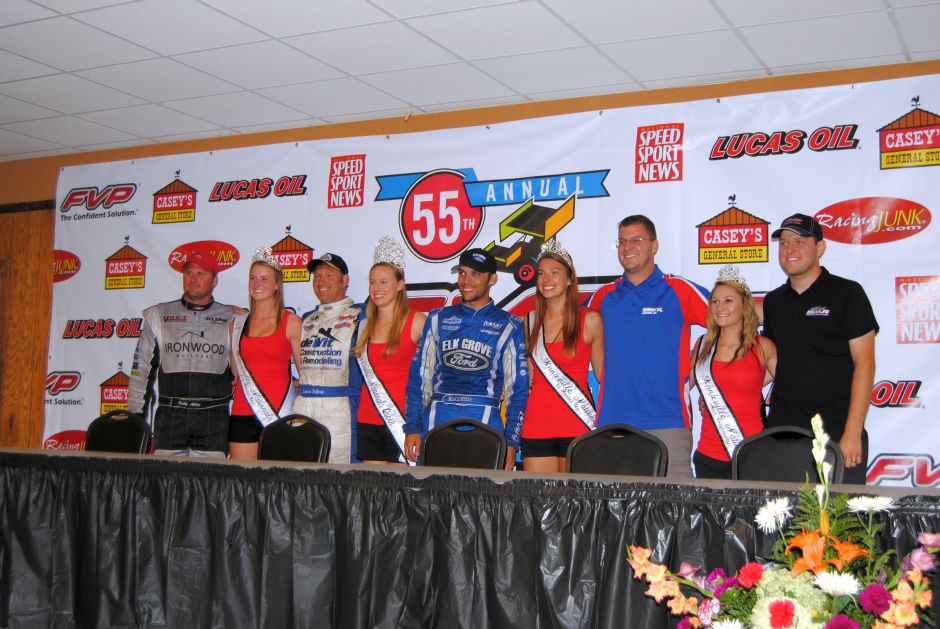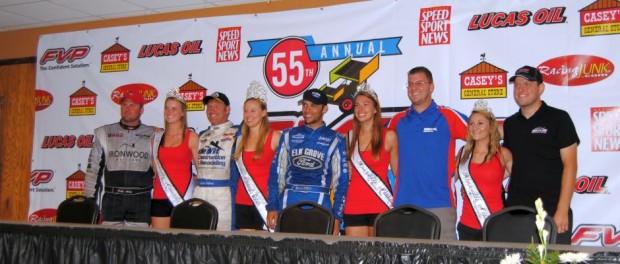 By T.J. Buffenbarger
Friday night's Knoxville program once again produced some compelling stories with Bryan Clauson, Danny Dietrich, Brent Marks, and Billy Alley getting the 16th – 20th starting positions in Saturday night's A-Main based on their top four finish in Friday's feature. Clauson said Friday's win at Knoxville one of the biggest of his career."Right now it ranks right up there at the top. Obviously we would have liked to do this two nights ago and get locked in, but it's really cool for me and my guys. We felt like the month or so we have put a lot of effort into our Knoxville program," said Knoxville. "At times felt like we are beating our heats against the wall when we leave here. Just really proud of my guys. Shane Bowers took a big leap of faith to leave what was a very strong World of Outlaws team to come and work for us. I know he's been dying to get back to victory lane. Huge win for us not only myself. I wasn't sure if I was every going to win a winged race, but no better place to do it here than Knoxville. Just proud for myself and my team, I don't know if there were a happier group of guys down there because we have been working awfully hard, as everyone up here has, but felt like over the past month we have been fighting a lot of gremlins, kind of like we had a monkey on our back, and to get it off here is huge."

For Clauson the victory was the culmination of a season where he took on learning winged sprint car racing.

"It's obviously never been an easy switch (to winged racing). That's why, I'm not sure if you noticed, but I was a little bit excited tonight. I felt like it was not going to be easy," said Clauson. "It's always hard when you come from another form of racing I'm kind of at the top of that game. To break yourself down as a race car driver and try to relearn everything and try to retrain yourself from the ground up has been a challenge and a lot of fun. I think running with guys in the NSL series like Lasoski, Brown, Ian, and Lynton and guys that have ran at a high level for a long time, while frustrating, has certainly quickened the learning curve to some degree. There are nights when I go home and I felt like it would be another five years before I won here at Knoxville. We've just not been that great. We go anywhere else in the country right now and be halfway decent, but for some reason this place has had my number this year and we haven't adapted to it as quick. Following Dude and McCarl around this place you learn a lot obviously when you go home and running ninth and wondering what you have to do to run up front you think about how long they have been here and how long they have been running around this place and you don't feel as bad, but I'm still a race car driver, and it's not a good enough excuse. I continue to want to be better and tonight is a big step in that direction."

Billy Alley may no longer be a Knoxville regular, but looked sporty during the Friday night program. Alley elaborated on his changed priorities"For me we ran fourth place tonight but for me that's a win. To come here and sit in the press room with these guys is a huge honor and is something you daydream about a lot. I never thought we could do something like this on this stage. I'm just proud of everyone that helps me. My crew chief Bob Richardson has been with me since I started. When I was young over here racing I never realized how special of a place this is and how hard it is to get to this level. I have two kids at home and my wife, I have to thank here. She's the one that gives me this opportunity because she's at home right now raising our kids. My priories have definitely changed, so to race at that level is an unbelievable feeling. Hopefully I can go 50 laps.
Dietrich and Marks represented the Pennsylvania Posse well working their way into Saturday's A-Main event. Dietrich had some great insight on what his team learned to prepare for Nationals when they don't travel to Knoxville for any tune up events."Three things: first one is good pill draw, second one is don't be in the middle of the race track when it slicks off, and the third thing is don't get baffled by a guy that passes you. You are racing with Danny Lasoski, Brian Brown, guys that run around here so good," said Dietirch. "To race with them it's hardly even a race. We try to do what they are doing, take notes on driving the way they do. The line they run and stuff like that. Then you come here and the other half of it is your chassis and your setup. It's nothing like anything else we see at home in Pennsylvania. You have to have friends in this sport to help you when you don't come here all of the time. You have to lean on some of them, and rely on some of the people you do business with. That really helps when you haven't been here because this is our third year. Between those two things put us in this spot. We were not that great the other night, but tonight was a new night. You take a gamble like going to the bottom during time trials. Just going around the top wasn't going to cut it when you draw a 75 pill. It's just something you learn, you just have to gamble with. You can go down there and screw up your whole night or be a hero. That's something we have learned the past couple of years. We're grateful to have the right people to do it, and be confident and comfortable enough to do it too."
Marks had insight from having come out earlier in the year to Knoxville."Learned a lot about how to drive this place this week. I found out I've basically been running too hard. It's really hard when the track is so soft to keep your car straight. I've had to learn to discipline myself as much as possible the last two nights. I was fortunate to figure that out in the B-Main last night, and it just kind of stuck with me and I did that all night long tonight. It really worked for me in my heat race and in the feature. We've had a decent balance on our car the last three times we have been there, but I just haven't been able to feel comfortable. It really worked out well tonight and I hope to use it tomorrow."
Dietrich had one hair raising moment during Friday's preliminary feature when he got high in turn four and nearly hit the fence."I thought was going to fence it and take down an FVP sign. I just found myself in a bad spot going down the backstretch right in the middle of the track and I couldn't turn to get to the bottom, and you don't want to run in the middle, so I just turned right to go to the cushion and it hooked me and sent me straight so I had to pitch (the car), and pretty much about crapped my pants," said Dietrich. "This time last night we never thought we would be in that situation. You just have to keep your head about yourself and get back to doing what you were doing the next corner. It just worked out and we got lucky, I think I was looking right at my car owner in the infield when that happened and that's never a good sign. He probably would have cursed me up and down a wall had I not pulled out that thing."
Lynton Jeffrey was also happy to make the A-Main not only for himself, but to win for one crew member that had never seen Jeffrey in victory lane."At the end of the day I've watched that guy have luck go his way, I've seen him win Australian Championships and see things go his way, and today things went my way. I never gave up and I'm just really grateful to get this win. I must admit I really prayed hard for today. I thought about it a lot and felt we had a good chance to win the qualifier a-main, but I drove stupid and about halfway through the race I figured out how to drive the track properly. I think that really helped in the World Challenge tonight. I have won four races at Knoxville and I've watched Billy drive by past me twice and win feature races, steal a couple off me. If you win four races here, two have been this race, I've been fortunate to win the bigger races when I've won them. I'm really grateful for the money and be in the A-Main at the Knoxville Nationals for the third time. It's just an amazing feeling and a testament to my team and how hard they have worked this year. We just seemingly start up front every week and find some way to run fourth or sixth or something like that. I'm kind of over it and they are to, so my confidence has been down and I've been beating myself up so tonight to get them a win I'm just really happy. Chad (Behrens) has been with me since he's 14 and I don't think we've ever won a race together. I've won races over here and in Australia and I've had them won and lost them, so I finally after 14 years I finally got him a win and he's been helping me here over in the states for the past two years as my crew chief. Just grateful to finally do that for him.