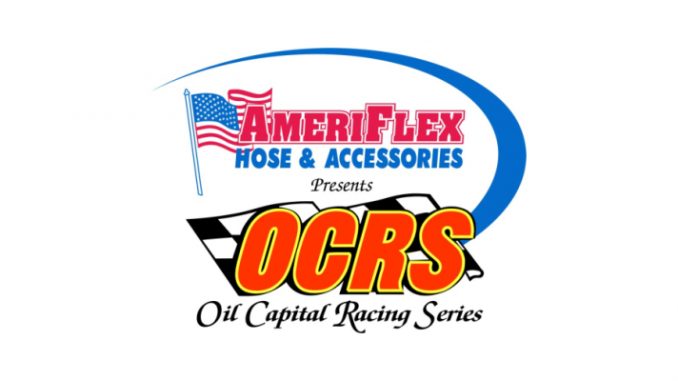 Tulsa Okla. (September 1, 2015) – Prior to the beginning of the Harold Leep Classic program on August 28th at the Outlaw Motor Speedway in Oktaha Oklahoma, several Ameri-Flex / OCRS drivers gathered in front of the grandstands to hear a special announcement that was waiting for them.
With Ameri-Flex Hose and Accessories owner Corvan Robison and his son Logan front and center along with Oil Capital Racing Series President Barry Grabel, the announcement was made to all that Ameri-Flex was returning as series title sponsor for the 2016 racing season.
When asked why his company was returning as title sponsor, Corvan Robison had a very simple reply, "Because I like racing." Robison then went on to address the fans in attendance: "I don't care of you have a moped. If it has wheels, you race it as racing is racing and I just love racing. We need to do all we can to support racing and that means getting out to the tracks as often as you can." The fans and drivers then responded with a vigorous applause.
"Having Ameri-Flex renew their sponsorship puts OCRS in a position to get even stronger " said Grabel. "While we were thrilled with Ameri-Flex's decision to be the title sponsor in 2015, to see that Ameri-Flex is pleased with our partnership shows how far we have come with the efforts we have been making to make sure the Ameri-Flex brand name is well respected while being promoted. The renewal decision seems to be more rewarding than the initial offering," said Grabel.
While terms of the deal were not disclosed, Grabel made one thing quite clear, "The teams can expect some more quality events as we had with Ameri-Flex's support this year. In fact, we suspect we can do a little better." Until 2015, the series has never had an official title sponsor in its previous 12 years.
In another announcement of sorts, the drivers (and fans) were then told there is another piece of big news for them, but that news will be kept under wraps until the 2015 Ameri-Flex / OCRS awards banquet, which will take place sometime in the fall.
When asked why mention anything if nothing could be shared now, series PR Director John Lemon had this to say: "Sure it's a little fun to have a teaser, but truthfully, we want it to be known now that there is something else that will make the series a valuable series to be a part of. We want a buzz going into the banquet and at the same time, we want car owners to know that there is something coming down the pike that will very well capture their attention. Making the announcement at banquet time will still allow race teams to make their decisions as to what they want to do for 2016. We are confident that the Ameri-Flex / OCRS series will be an attractive option not just for those in the series now, but for others who may wish to consider racing with the series in the future. Including myself, there are only 5 people who know what is in the works, but we can't wait to share the news."
Everyone, including race fans, are welcome to attend the 2015 Ameri-Flex / OCRS awards banquet. An announcement will be made in the near future once details have been finalized. The series would be honored to have as many fans as possible present.
About Ameri-Flex Hose & Accessories…………..
Located in Tulsa OK, Ameri-Flex Hose & Accessories is a family owned and operated company. From food grade hose to hoses for the petroleum industry, Ameri-Flex will strive to fill your needs. Ameri-Flex can build a hose to your specifications or we will assist you in creating what you have designed while you wait. Ameri-Flex has several hard to find items that some vendors can't get or find. Product can be shipped quickly and efficiently. If we do not have what you are looking for, we will direct you on where to find it. Give us a try, after all…..
Ameri-Flex Has The Stuff That Keeps You Going!
Website: http://www.ameriflexhose.com