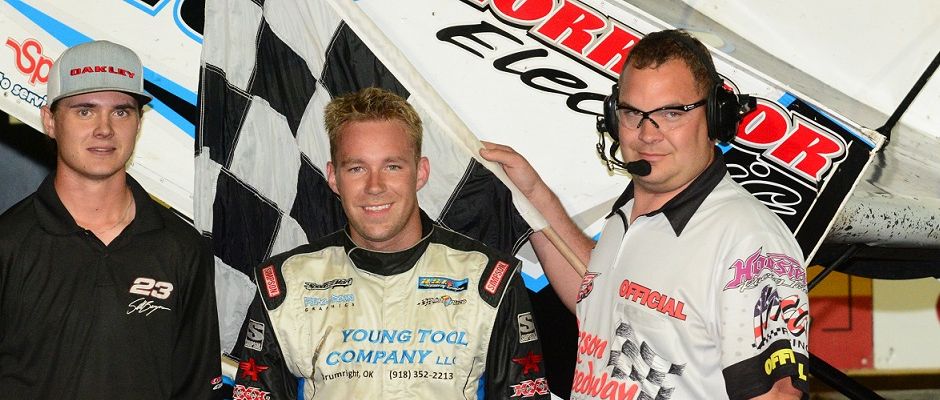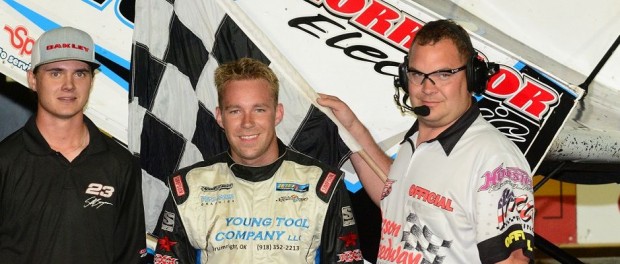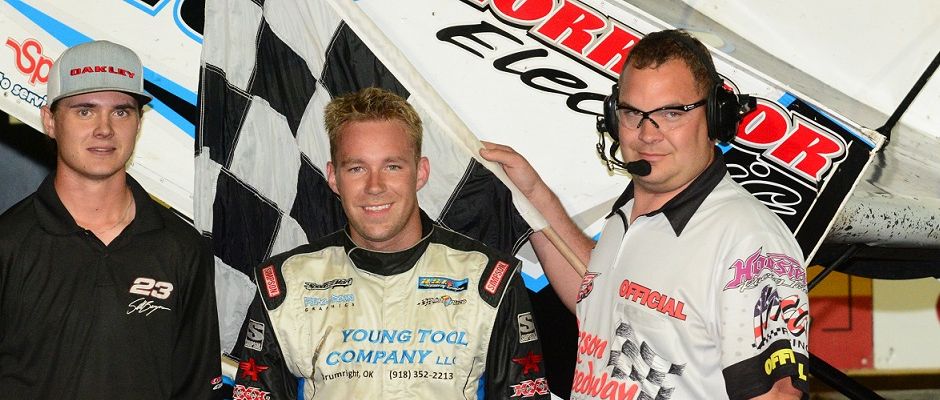 From Bill Wright
Jackson, MN — (September 4, 2015) — Seth Bergman led from green to checker Friday night in the 360 feature on night #1 of the Jackson Nationals at Jackson Speedway in Minnesota.
Bergman started on the pole and grabbed the early lead. He would open up a comfortable lead as the rest of the field continued to battle for positions. On lap nine, the yellow flag came out when Isaac Schreurs came to a stop on the back straightaway.
The re-start saw Bergman keep the field behind him, only to have the yellow flag come out again one lap later when Eric Lutz came to a stop in turn two. On the restart again Bergman was able to keep the field behind him, but moving up through the field toward the end of the race was Gregg Bakker and Lee Grosz.
Bakker at one point was battling for second with Thomas Kennedy when got too high in turn two, but maintained the third spot. With the race winding down Seth Bergman would go onto pick up the qualifying night feature race win. Thomas Kennedy would finish second followed by Gregg Bakker, Lee Grosz and Casey Fredricksen. Heat race wins went to Josh Schneiderman, Casey Heser, and Casey Friedrichsen. In qualifying, Russ Hall set a new 360 track record of 16.366.
"We had a late pill for qualifying and that hurt a little bit," said Bergman in Victory Lane. "I didn't feel good all night really. We finally got this thing good enough to win. I just tried to focus on staying on the bottom. I thought the top looked dirty, and I thought they'd have to be good to get around me."
The top eight drivers in points secured themselves in the first four rows on Saturday night…
Thomas Kennedy, 488
Casey Friedrichsen, 480
Russ Hall, 480
Seth Bergman, 478
Gregg Bakker, 476
Lee Grosz, 476
Skylar Prochaska, 472
Eric Lutz, 462
A main (started), 20 laps: 1. 23, Seth Bergman, Snohomish, WA (1) 2. 20K, Thomas Kennedy, Winnipeg, MB, Can. (6) 3. 11x, Gregg Bakker, Sioux Falls, SD (8) 4. 4J, Lee Grosz, Harwood, ND (5) 5. 20, Casey Friedrichsen, Arthur, IA (2) 6. 35, Skylar Prochaska, Lakefield, MN (7) 7. 29, Russ Hall, Pleasant Hill, IA (4) 8. 2, Derrik Lusk, Jackson, MN (9) 9. 44, Chris Martin, Ankeny, IA (12) 10. 21, Devin Friedrichsen, Arthur, IA (10) 11. 7, Kaley Gharst, Decatur, IL (18) 12. 33, James Broty, Webster, MN (13) 13. 75c, Casey Heser, Jackson, MN (14) 14. 49, Josh Schneiderman, West Burlington, IA (15) 15. 13MJ, Brandon Halverson, Jackson, MN (17) 16. 5T, Mark Toews, Spirit Lake, IA (11) 17. 1A, Bruce Anderson, Trimont, MN (20) 18. 10J, Justin Jacobsma, Hull, IA 19. 6, Eric Lutz, Sioux Falls, SD (3) 20. 612, Isaac Schreurs, Sioux Falls, SD (16). Lap Leader: Bergman 1-20. Hard-charger: Gharst.
B main (started), 8 laps: 1. Isaac Schreurs (3) 2. Brandon Halverson (5) 3. Kaley Gharst (6) 4. Justin Jacobsma (2) 5. Bruce Anderson (4) / 6. 32, Dylan Peterson, Sioux Falls, SD (10) 7. 612J, Jeff Schreurs, Sioux Falls, SD (7) 8. 1, Dean Brown, Springfield, MN (9) 9. 07, Derek Anderson, Estherville, IA 10. 10x, Mike Corning, Burnsville, MN (8) DNS – 3, Tim Kaeding, San Jose, CA, 21K, Lou Kennedy Jr., Winnipeg, MB, Can., 64, Brandon Bosma, Round Lake, MN, 17, Ryan Bickett, Ramona, SD
Heat one (started), 8 laps: 1. Josh Schneiderman (2) 2. Eric Lutz (6) 3. Skylar Prochaska (5) 4. Chris Martin (3) 5. Derrik Lusk (4) / 6. Kaley Gharst (7) 7. Derek Anderson (1) 8. Jeff Schreurs (8) 9. Lou Kennedy Jr. (9)
Heat two (started), 8 laps: 1. Casey Heser (2) 2. Lee Grosz (4) 3. Thomas Kennedy (6) 4. Gregg Bakker (5) 5. Mark Toews (3) / 6. Justin Jacobsma (1) 7. Mike Corning (8) 8. Isaac Schreurs (7) 9. Dean Brown (9) DNS – Ryan Bickett
Heat three (started), 8 laps: 1. Casey Friedrichsen (4), 2. James Broty (2) 3. Russ Hall (6) 4. Devin Friedrichsen (3) 5. Seth Bergman (5) / 6. Brandon Halverson (8) 7. Bruce Anderson (7) 8. Dylan Peterson (9) 9. Tim Kaeding (1) DNS – Brandon Bosma
Qualifying Top Ten – 1. Russ Hall 16.366 (NTR), 2. Thomas Kennedy 16.517, 3. Eric Lutz 16.610, 4. Seth Bergman 16.729, 5. Gregg Bakker 16.837, 6. Skylar Prochaska 16.837, 7. Casey Friedrichsen 16.850, 8. Lee Grosz 16.852, 9. Derrik Lusk 16.880, 10. Devin Friedrichsen 16.888