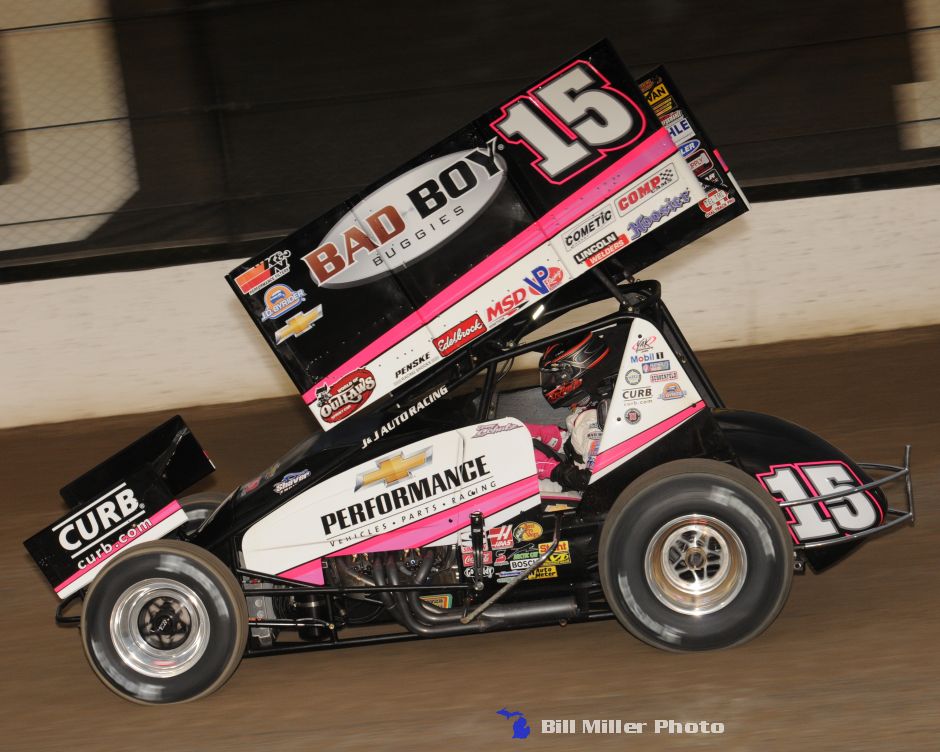 Donny Schatz cruised to his 31st World of Outlaws Sprint Car Series victory of the season Saturday night as he battled through cautions and past David Gravel at Rolling Wheels Raceway Park.
"On the start there, David set a really good pace," Schatz said. "Once we got to traffic, my car would move around, you could change your line a little bit. And then the track definitely changed a bunch. That's what it needed for us to win and we were just glad to get the win tonight."
The win ties Schatz with Steve Kinser for the third-most single season wins in series history. Kinser achieved the feat in 1992 – that was also the last time any driver won 30 or more races in a single season. Kinser won 36 series features in 1991 and 46, the most ever won in a single season, in 1987.
Paul McMahan made his own history earlier in the night after taking quick time and setting a new track record. With an average speed of 145.527 mph, McMahan is also now the owner of the record for the fastest ever lap (by average mph) at any track in series history. McMahan was the previous record holder with a single lap average speed of 143.209 mph at Volusia Speedway Park in 2011.
David Gravel led the field to the green flag with Schatz on his outside. Schatz battled to the lead but before a lap could be completed the red flag flew after Shane Stewart and Kerry Madsen made contact and flipped. Both drivers were OK and were able to return to the track after time in the work area. Gravel led on the restart. Two more yellows flew before a red flag for a wreck that caught up six cars. An open red was called.
Once the race got back underway, Gravel once again led the field with Schatz in second and Brad Sweet in third. Schatz closed the gap on Gravel in the succeeding several laps but was not able to get around in open air. As the two drivers worked their way through traffic, Schatz got around Gravel as the two exited turn two.
Through the final half of the feature, Schatz deftly maneuvered through traffic as Gravel faded. Sweet got around Gravel off of turn two on lap 16 and then Sweet's Kasey Kahne Racing with Mike Curb teammate Daryn Pittman did the same thing.
The win was the fifth World of Outlaws Sprint Car Series victory for Schatz at Rolling Wheels. He is the winningest-active Outlaws driver at the track. Schatz has already clinched the 2015 World of Outlaws Sprint Car Series championship.
"This team is doing an awesome job," Schatz said. "They make the right decisions. They're learning things right now and that's really heartwarming for the guy driving it, that's for sure."
Sweet battled past Pittman following one of the early cautions. He said new crew chief Lee Stauffer made some changes during the open red that helped his No. 49 Razorback Professional Tools car down the stretch.
"There were a couple of restarts. I lost one and I won one," Sweet said. "We were just looking for a long green flag run there and we got it. Donny got out front and he's obviously going to be hard to beat out front… It was a good learning night for us. At the end of the day when you run second to Donny it's nothing to be ashamed of."
Pittman started the night in fourth in his No. 9 Great Clips/Curb Records car. He gave up third early on to Sweet but battled past Gravel on lap 19 to finish on the podium. After struggling earlier this season, Pittman said the last couple of months have been fun for him and his team.
"These guys keep working hard and bringing really fast racecars to the track and we're putting ourselves in positions to win races and finish up front."
"We're trying to finish the year strong and we've been running really well the last month and a half, two months. Happy with where we're at as a team. Third is not a win but it's a good finish for us. We'll go to next week at Lawrenceburg and try to get better by a few more spots."
World of Outlaws
Rolling Wheels Raceway Park
Elbridge, NY
Saturday October 10, 2015
Heat Race #1:
1. 71M – Joey Saldana
2. 19 – Paige Polyak
3. 51 – Paul McMahan
4. 9 – Daryn Pittman
5. 5 – Justin Barger
6. 17B – Steve Buckwalter
7. 41 – Jason Johnson
8. 98 – Joe Trenca
9. 53 – Shawn Donath
10. 87 – George Suprick
Heat Race #2:
1. 1 – Lucas Wolfe
2. 15 – Donny Schatz
3. 1S – Logan Schuchart
4. 55 – Mark Smith
5. 49 – Brad Sweet
6. 11K – Mikey Kuemper
7. 1A – Colby Womer
8. 49K – Scott Kreutter
9. 49H – Bradley Howard
10. 33 – Chuck Hebing
Heat Race #3:
1. 7 – David Gravel
2. 2 – Shane Stewart
3. 29 – Kerry Madsen
4. 7S – Jason Sides
5. 28F – Davie Franek
6. 89S – Robbie Stillwagon
7. 10 – Joe Kata III
8. 35 – Jared Zimbardi
9. 71A – R.J. Johnson
10. 3 – Dave Ely
Dash:
1. 7 – David Gravel
2. 15 – Donny Schatz
3. 49 – Brad Sweet
4. 9 – Daryn Pittman
5. 51 – Paul McMahan
6. 71M – Joey Saldana
7. 1 – Lucas Wolfe
8. 29 – Kerry Madsen
B-Main:
1. 41 – Jason Johnson
2. 49K – Scott Kreutter
3. 53 – Shawn Donath
4. 98 – Joe Trenca
5. 1A – Colby Womer
6. 35 – Jared Zimbardi
7. 87 – George Suprick
8. 71A – R.J. Johnson
9. 10 – Joe Kata III
10. 49H – Bradley Howard
11. 33 – Chuck Hebing
12. 3 – Dave Ely
A-Main:
1. 15 – Donny Schatz
2. 49 – Brad Sweet
3. 9 – Daryn Pittman
4. 7 – David Gravel
5. 71M – Joey Saldana
6. 51 – Paul McMahan
7. 1 – Lucas Wolfe
8. 1S – Logan Schuchart
9. 41 – Jason Johnson
10. 55 – Mark Smith
11. 29 – Kerry Madsen
12. 7S – Jason Sides,
13. 98 – Joe Trenca
14. 5 – Justin Barger,
15. 89S – Robbie Stillwaggon
16. 2 – Shane Stewart
17. 35 – Jared Zimbardi
18. 11K – MIkey Kuemper
19. 19 – Paige Polyak
20. 17B – Steve Buckwalter
21. 53 – Shawn Donath
22. 49K – Scott Kruetter
23. 1A – Colby Womer
24. 28F – Davie Franek