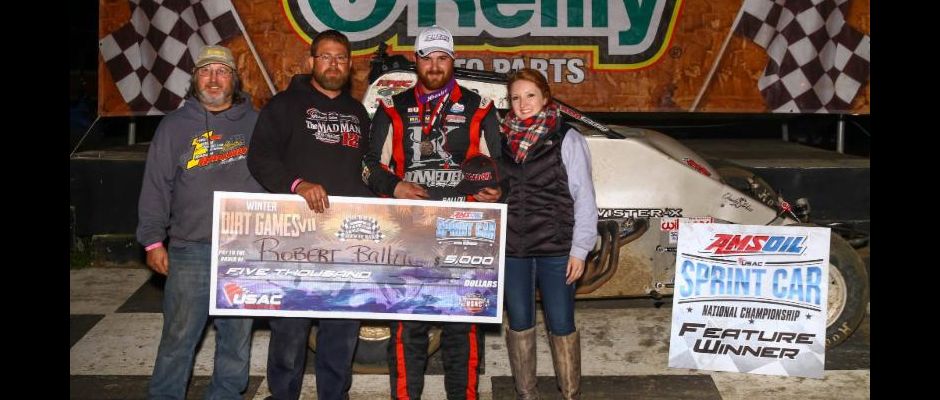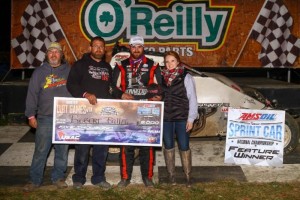 By Richie Murray & Dillon Welch
Ocala, FL — (February 19, 2016) — Some might consider putting the #1 on a racecar in the year following a championship as a well-earned honor. On the other hand, some might consider it a curse.Defending series champion Robert Ballou quickly put the latter notion to rest by leading all 30 laps in his Ballou Motorsports/MPHG Promotions – Blakesley's Auto/Maxim/Ott to win night two of "Winter Dirt Games VII" in Friday night's USAC AMSOIL Sprint Car National Championship feature at Bubba Raceway Park in Ocala, Florida.
The Rocklin, California driver started on the pole position, quickly jumping out to a sizable lead in the opening laps. Throughout the duration of the race, Ballou rarely encountered trouble, magnificently maneuvering through lapped traffic by the tenth lap. Just two laps later, a Kyle Robbins turn four spin ridded the leaders of traffic, supplying Ballou with an advantage on the lap 12 restart with the lapped car of Kent Schmidt sandwiched between him and second-running Brady Bacon at the green flag.
Bacon was Ballou's most serious threat in the early going, yet it was previous night's second place finisher Kyle Cummins riding the cushion around Bacon in turn two for the second spot on lap 14.
A flip by Jarett Andretti into turn one on lap 21 created one last restart with ten laps remaining. Cummins' left rear appeared to be low on air as the field prepared to come to the green and Bacon was quickly able to charge past Cummins to claim the second position.
Ballou's commanding lead quickly shrank as Bacon once again was looking at a clear racetrack through his visor. One last move by Bacon on Ballou coming out four to the checkered flag wasn't enough as Ballou earned his first victory of the year, beating Bacon, Cummins, Bryan Clauson and Dave Darland to the line at the finish.
Ballou tallied his 23rd career series win, tying him for 19th on the all-time USAC National Sprint Car win list with A.J. Foyt and Roger McCluskey.
"I thought we had a car that was capable of winning last (Thursday) night, but we forgot to put a bleeder in and it just kind of messed up the night," said Ballou who finished 10th in Thursday night's feature. We didn't point any fingers; we just kept digging. We put our heads down today and I said, 'it's a new night; we've got to start over; it's a long season.' We had to dig deep, but we hit everything where we needed to tonight."
Bacon, the 2014 series champ and a USAC Sprint feature winner in Ocala, Fla. one season ago, discovered during his run Friday night that the high side was the place to be.
"Before the next to last yellow, I tried the bottom and it just didn't work and Cummins got around me," admitted Bacon, the driver of the Dynamics, Inc./Mean Green – Lykins Oil/XXX/Williams Mopar. "But the next restart, I went back up top and was able to get back around him. I felt like I was better the first few laps after a restart than a couple of those guys, but everyone was pretty equal up on the top and that was pretty much the only option."
Third place finisher Cummins, who carries the series point lead into Saturday night's "Winter Dirt Games VII" finale, backed up his second place run on Thursday night with another podium finish in his Hank Byram/Vincennes University – Tim Mason ReMax/Mach-1/Cummins.
"I kind of found a different groove when I was chasing Robert and I'd catch him, but then lose him again," Cummins said. "This thing is right on the edge of being a handful to drive right now and we just haven't found a good setup to calm it down. We changed quite a bit from last night and it still acted sort of the same. Finishing third is alright, but we'll have to try some drastic stuff tomorrow to really get after it. We're fast. We just have to be better."
Friday night's contingency award winners included Max McGhee (ProSource Fast Qualifier & Simpson Race Products First Heat); Shane Cottle (Competition Suspension (CSI) Second Heat); Clauson (Benic Enterprises Third Heat & KSE Hard Charger); Brady Short (Indy Race Parts Fourth Heat); Cummins (Schroeder/Pac Springs 3rd Place Finisher); Darland (Schoenfeld Headers 5th Place Finisher); Chris Windom (Schroeder/Pac Springs 8th Place Finisher); Ballou (Top Maxim Finisher).
USAC AMSOIL SPRINT CAR NATIONAL CHAMPIONSHIP RACE RESULTS:February 19, 2016 – Ocala, Florida – Bubba Raceway Park – "Winter Dirt Games VII"
PROSOURCE QUALIFYING: 1. Max McGhee, 17, McGhee-13.771 (New Track Record); 2. Kyle Cummins, 3R, Byram-13.914; 3. Carson Short, 21, Short-13.979; 4. Chris Windom, 21x, Pollock-13.997; 5. Brady Bacon, 69, Dynamics-14.040; 6. Dave Darland, 11, Walker/Curb-Agajanian-14.111; 7. Justin Grant, 5, Baldwin-14.115; 8. Robert Ballou, 1, Ballou-14.116; 9. Thomas Meseraull, 66, Amati-14.119; 10. Landon Simon, 24, LSR-14.152; 11. Aaron Farney, 15F, Farney-14.164; 12. Chase Stockon, 32, 32/TBI-14.171; 13. Jarett Andretti, 18, Andretti-14.221; 14. Matt Westfall, 38, Baumgartner-14.290; 15. Kody Swanson, 71p, Phillips/Wolters-14.301; 16. Chad Boespflug, 98E, NineEight/EZR-14.307; 17. Jon Stanbrough, 81, Stanbrough-14.379; 18. Shane Cottle, 2E, Epperson-14.409; 19. Bryan Clauson, 63, Dooling/Hayward-14.476; 20. Brady Short, 17GP, 14.481; 21. Mitch Wissmiller, 1w, Wissmiller-14.491; 22. Tom Harris, 5E, East-14.500; 23. Kent Schmidt, 5K, Schmidt-15.508; 24. Isaac Chapple, 52, LNR/Chapple-14.565; 25. Brandon Spithaler, 57B, Burkey-14.592; 26. Casey Shuman, 4J, Ottinger-14.636; 27. Kyle Robbins, 17R, Robbins-14.655; 28. Aric Gentry, 10, GBR-14.704; 29. Lee Dakus, 75, DOW-14.726; 30. Bret Mellenberndt, 97, Mellenberndt-14.949; 31. Robert Bell, 71, Bell-15.288; 32. Frank Carlsson, 20, Carlsson-15.640; 33. C.J. Leary, 30, Leary-15.657.
SIMPSON RACE PRODUCTS FIRST HEAT: (8 laps) 1. McGhee, 2. Stanbrough, 3. Andretti, 4. Bacon, 5. Spithaler, 6. Wissmiller, 7. Dakus, 8. Leary, 9. Meseraull. NT
COMPETITION SUSPENSION (CSI) SECOND HEAT: (8 laps) 1. Cottle. 2. Cummins, 3. Darland, 4. Simon, 5. Harris, 6. Shuman, 7. Mellenberndt, 8. Westfall. NT
BENIC ENTERPRISES THIRD HEAT: (8 laps) 1. Clauson, 2. Schmidt, 3. Swanson, 4. Grant, 5. C. Short, 6. Robbins, 7. Farney, 8. Bell. 1:57.93
INDY RACE PARTS FOURTH HEAT: (8 laps) 1. B. Short, 2. Boespflug, 3. Ballou, 4. Stockon, 5. Windom, 6. Chapple, 7. Gentry, 8. Carlsson. 1:59.69
SEMI: (12 laps) 1. Windom, 2. Meseraull, 3. C. Short, 4. Wissmiller, 5. Leary, 6. Robbins, 7. Farney, 8. Shuman, 9. Gentry, 10. Chapple, 11. Mellenberndt, 12. Dakus, 13. Harris, 14. Westfall, 15. Bell, 16. Spithaler, 17. Carlsson. NT
FEATURE: (30 laps) 1. Robert Ballou, 2. Brady Bacon, 3. Kyle Cummins, 4. Bryan Clauson, 5. Dave Darland, 6. Justin Grant, 7. Thomas Meseraull, 8. Chris Windom, 9. Chad Boespflug, 10. Chase Stockon, 11. Max McGhee, 12. Carson Short, 13. Brady Short, 14. Shane Cottle, 15. Kody Swanson, 16. C.J. Leary, 17. Jon Stanbrough, 18. Casey Shuman, 19. Jarett Andretti, 20. Kyle Robbins, 21. Landon Simon, 22. Mitch Wissmiller, 23. Kent Schmidt. NT
—————————-
**Mellenberndt flipped during the semi. Andretti flipped on lap 21 of the feature.
FEATURE LAP LEADERS: Laps 1-30 Ballou
KSE RACING PRODUCTS HARD CHARGER: Bryan Clauson