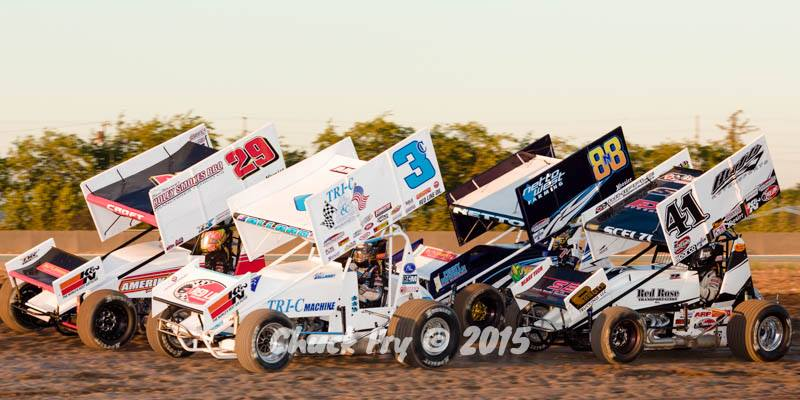 From Gary Thomas
Tulare, CA — (March 8, 2016) — For the second straight year the King of the West 410 Sprint Car Series is set to kick-off the season by co-sanctioning a Central Valley two-step with the World of Outlaws Craftsman Sprint Car Series at Merle Stone Chevrolet Thunderbowl Raceway this weekend.
A number of showcases are on tap for the King of the West Sprint Car Series this season, including this Friday & Saturday's co-sanctioned event with the World of Outlaws Craftsman Sprint Car Series in Tulare. The double header weekend awards KWS special event show-up points each night and is certain to be one of the stronger fields of Winged 410 Sprint Cars all season long on the West Coast. The first of 20 full-point events for the series begins at the Placerville Speedway on Saturday April 23.
Last year's Thunderbowl double header saw a California sweep, with San Jose's Tim Kaeding winning on opening night, while Rutherford's Rico Abreu scored the top prize on Saturday. For Kaeding it was his fourth career World of Outlaws win at the Thunderbowl and for Abreu it marked the second consecutive year he claimed the Saturday finale at the track. Both Kaeding & Abreu will be in action this weekend hoping to duplicate last season's performances.
With last year's King of the West champion Carson Macedo competing for Keith Kunz Motorsports in the Midwest it opens the door for a different titlist in 2016. Macedo however, will be on hand for this weekend's co-sanctioned event aboard the Tarlton & Son No. 21x machine. Last season the 19-year-old joined the illustrious list of past champions that includes Kyle Hirst, Jonathan Allard, Brent Kaeding, Tim Kaeding, Kyle Larson, Tyler Walker, Sean Becker, Jason Statler, Ronnie Day, Randy Hannagan, Tim Green and the "Original King" Steve Kent.
After missing out on his first KWS title by just 12-points it could be the year for Campbell's Bud Kaeding, who captured the prestigious Trophy Cup last October at Thunderbowl Raceway. The driver of the Williams Motorsports ZERO also claimed his first career Dave Bradway Jr. Memorial last season with KWS. Elk Grove veteran Bobby McMahan finished third in the points last year, ending the campaign with no dnf's. McMahan earned a top-10 finish last year on opening night of the Gold Cup with the World of Outlaws in Chico.
Hanford's DJ Netto claimed two KWS wins last season, including the Faria Memorial in Tulare. The Central Valley youngster ended the season fourth in points and could be a threat to take home the series title in 2016. Last September Netto also scored an impressive podium finish on opening night of the Gold Cup. Fellow Central Valley drivers Dominic Scelzi, Cory Eliason & Craig Stidham also claimed victories last year with the King of the West Sprint Car Series. All three will be looking for good things this weekend at the Thunderbowl Raceway.
Last year two-time KWS champ Kyle Hirst led the way with five wins on the season and looks to be a favorite for the title in 2016. The 28-year-old Paradise, CA resident returns with Roth Motorsports and guns to duplicate his championship performances from 2013 & '14. Likewise three-time King of the West titlist Jonathan Allard of Chico will be searching to add a fourth crown to his resume in 2016. The veteran wheel-man drove Clyde & Marion Lamar's No. 3c to a victory at the season-ending Tribute to Gary Patterson last November.
A couple new faces joining the King of the West trail this year and looking to make their mark are Watsonville's Justin Sanders & Clarksburg's Justyn Cox. Sander's is coming off a fantastic season that saw him claim 20 main event victories and earn track titles at Ocean Speedway & Marysville Raceway. Cox last November brought home a runner up at the Tribute to Gary Patterson in Stockton with the Civil War Series and places his 2016 focus on chasing points with the King of the West 410 Sprint Car Series.
More California possibilities to take on the always challenging Thunderbowl Raceway this weekend will include last season's KWS Rookie of the Year Chase Johnson of Penngrove, Fremont's Shane Golobic, Hanford's Mitchell Faccinto, Gilroy's Jarrett Soares, Sacramento's Willie Croft, Coarsegold's Scott Parker, Atwater's Sean Watts, Tulare's Shawn Wright and others.
Tickets are on sale for this Friday & Saturday March 11 & 12 by calling 559-688-0909. All seating is reserved during the weekend with Bleacher tickets costing $40 and Grandstand seats $45 each night. Tickets will be available at the track for purchase beginning at 12:30pm each day. The front gate opens at 4pm with first heat scheduled to fire-off around 7pm. A seating chart, as well as hotel info is available online at www.thunderbowlraceway.com
KWS will return to Tulare this year for the Chris & Brian Faria Memorial on May 14, the Peter Murphy Classic on July 22 & 23 and the KRC Safety Fall Shootout on October 8.
Merle Stone Chevrolet Thunderbowl Raceway is located at the Tulare County Fairgrounds on the corner of Bardsley and K Streets in Tulare, California. From the junction of SR 99 and SR 137, go west on SR 137. At South K go south one-half mile to the Fairgrounds. Camping is also available at the fairgrounds located off turns three and four.
Info on the King of the West 410 Sprint Car Series can be found at http://www.racepmg.com
Be sure to like the KWS Facebook Page at http://www.facebook.com/kingofthewestsprints and become a member of our Twitter community at https://twitter.com/KwsSprintRacing for all the latest breaking news regarding the series