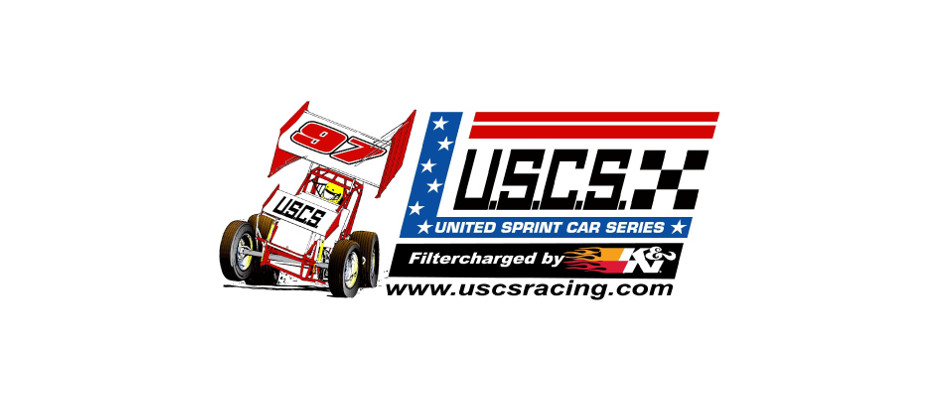 Atlanta, GA – April 4, 2016 – The United Sprint Car Series Outlaw Thunder Tour presented by K&N Filters  (www.uscsracing.com) returns to the high speed ½ mile red clay racing surface at Lancaster Speedway near Lancaster, South Carolina for the 8th annual Carolina Thunder Nationals Round #2 to contest a full night of racing action on this coming Saturday April 9th. The USCS is in its 20th season of competition. The first portion of a two-night weekend kicks off on Friday night at Carolina Speedway with Round #1 of the battle for pride and glory and over $25,000 in prize money posted.
The event promises to be loaded with an action-packed sprint car racing program with some of the country's top ranked drivers competing. Saturday night's racing action features a full program of USCS winged outlaw style sprint car racing plus racing in five of Lancaster Speedway's most popular weekly racing divisions.
Three of those five Lancaster Speedway divisions feature a triple #1000 racing card. That means those three divisions will race for a $1000 prize going to the winner in each. Those triple $1000 classes are the Super Stock, Crate Sportsman, and Renegades,  Additionaly the Xtreme Four division will be racing for $500 as a top prize, The speedway's popular Vintage Car division will also see action as well.
The USCS Outlaw Thunder Tour winged sprint cars will contest a full racing program including their test and tune hoy laps, the Hoosier Speed Dash, Qualifying Heat races and Main Events on Saturday. All the other divisions will also contest a full program of qualifying races and main events for their boosted purses.
The  Lancaster Speedway event is expected to bring top winged outlaw sprint car drivers from at least eight states to the track from as far away as Canada, Mississippi,  West Tennessee, Florida, Ohio, and Pennsylvania  The exotic fire breathing, alcohol burning, 700 plus horsepower open-wheeled USCS sprint cars weight just 1,300 pounds, and are pound for pound among the World's most powerful short track race cars.  The cars will literally fly around the track surface at speeds near 140 M.P.H.  It is not uncommon to see the USCS sprint cars popping "wheelies" or doing wheel stands because of the brute force of their engines and their huge 17-inch wide Hoosier rear tires.
The entry list is topped by 2015 USCS National and Southern Thunder regional series Champion, Morgan Turpen from Cordova, Tennessee.  Turpen is the top ranked female sprint car racer in North America. Other expected entries for both nights include at least five previous USCS Lancaster Speedway and/or Carolina Speedway USCS sprint car winners including 11-time USCS National Champion Terry Gray, from Bartlett, Tennessee. Gray who has a total of 89 career USCS feature wins has won on two of the USCS series four previous visits to Lancaster Speedway.
Popular Charlotte, North Carolina young gun, Eric Riggins, Jr. took his Alpha Canvas #47 to the www.rockauto.com USCS Victory Lane in the 2015 Lancaster Speedway USCS contest on April 11, 2015. Lance Moss, from Cherryville, North Carolina won the April 2014 event at Lancaster Speedway.
Another  former USCS regional series Champion Johnny Bridges from Cherryville, North Carolina won the prior night's April 10, 2015 USCS event at Carolina Speedway . Bridges is also expected to enter this weekend's event.
Also entered is 16 year-old USCS 2015 Rookie of the Year Nick Snyder from Marco Island, Florida and this season's Rookie contenders, 14 year-old Danny Sams III from Englewood, Florida and 15 year-old Bransdon Taylor from Cumming, Georgia are all entered..
Other local and metro Charlotte, North Carolina area sprint car drivers expected to enter for both nights of the USCS Carolina Thunder Nationals include USCS 2014 Rookie of the Year, Brandon McLain from nearby Indian Trail, North Carolina.  Also expected are past Carolina Racesaver Sprint Car Series Champions, Jake McLain also from Indian Trail, North Carolina and Johnny Petrozelle from Lexington, North Carolina. Greg Smyre from, Hickory, Tim Perry from Mooresville, North Carolina and South Carolina are also on the pre-entry list.
Other entries include sprint car veterans Brian Thomas from Pendergrass, Georgia , Joe Larkin from Suwannee, Georgia and Bob Auld from Largo, Florida. The 2012 USCS Rookie of the Year, Jeff Willingham from Ripley, Mississippi is entered as well. Mitch Brown who was the 2015 Southern Ontario Sprints Champion from Ontario, Canada and talented Ohio sprint car hot-show Phil Gressman from Clyde, Ohio are two other potent pre-entries for this event.
Additionally driver s that hail from Jacksonville , Florida that are pre-entries include ; Terry Witherspoon, J.D McClary, Tanner Witherspooon, Shawn Murray and Darren Orth.
Lancaster Speedway is located at 223 Shiloh Unity Road, Lancaster, SC 29721. The race track phone number is: (803) 285-1877. The track's website is www.lancastersuperspeedway.com  For USCS information, please visit the USCS web site at www.uscsracing.com or call the USCS presented by K&N Filters at 770-865-6097.\\\