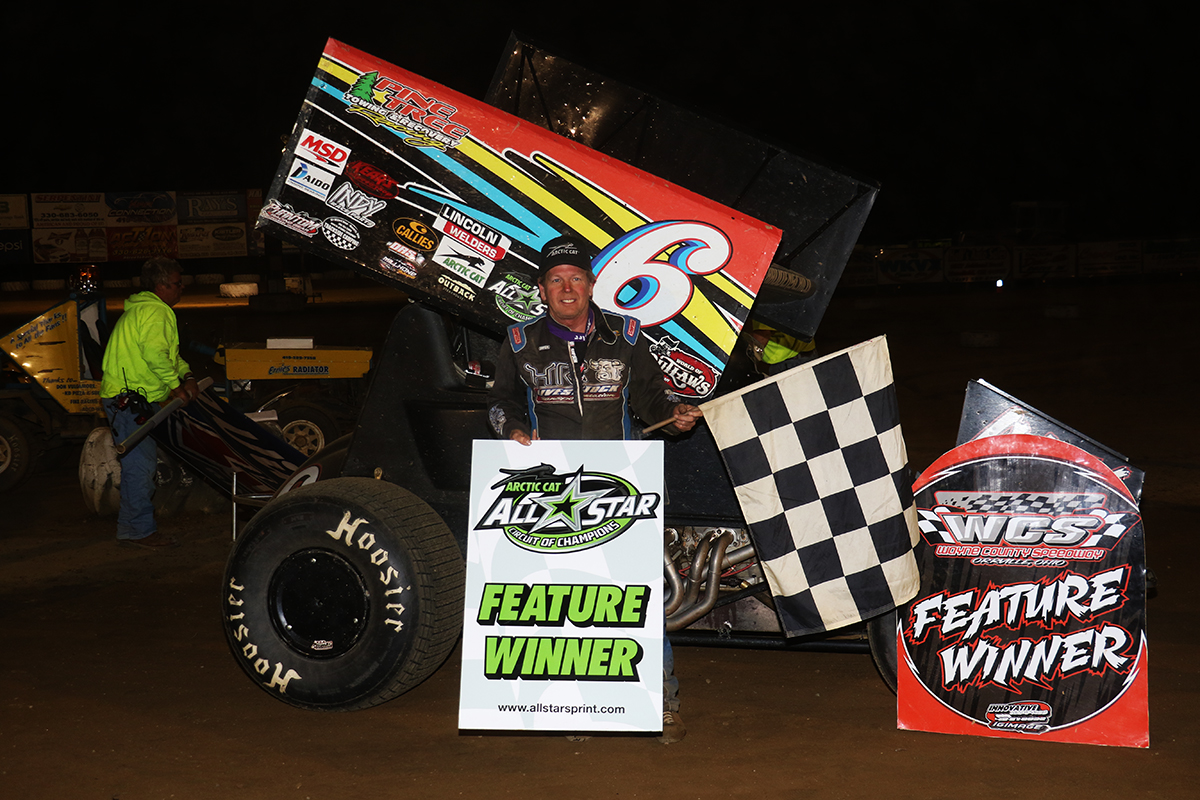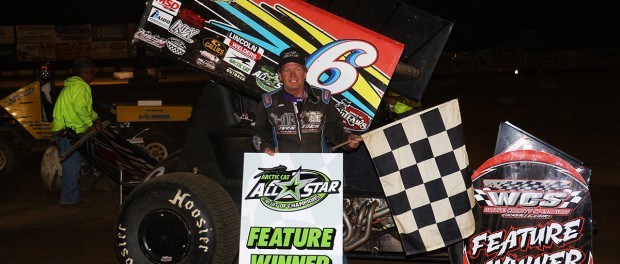 From Tyler Altmeyer
Orrville, OH — (April 16, 2016) — The "Wild Child" Jac Haudenschild lived up to his prestige on Saturday night at Wayne County Speedway; sweeping the entire Arctic Cat All Star Circuit of Champions program in fantastic fashion. The nearby Wooster, Ohio, native kicked-off his evening display by breaking the existing track record during qualifying time trials, all before earning victories during his respective heat race, dash, and the 30-lap main event. Haudenschild's Arctic Cat All Star victory was the first of his career at Wayne County Speedway, raising the overall bar to 29 victories with the series during his storied career. The pilot of the Jamie Miller-owned No. 6 utilized the very topside of the speedway, earning the victory by 2.221 seconds over Danny Holtgraver and defending Arctic Cat All Star champion Dale Blaney.
"We've been struggling a little bit, but this certainly feels good," explained Jac Haudenschild in victory lane. "Always feels great coming back here and it always feels great to get a win. Jamie Miller always comes through for me. With a little help from Bonzai Bruns and the crew, we got this thing together in time for tonight. This is really special. I've always loved coming to Wayne County Speedway. Hopefully we can get back here and do it again soon."
Pittsburgh, Pennsylvania, native Danny Holtgraver followed Jac Haudenschild to the final checkers on Saturday night. The pilot of the Pete Grove-owned, Premiere Motorsports, No. 70 started fourth on the feature grid, but raced inside the top-three during the entire 30-lap distance. "Downtown" battled in the final podium spot for the first 15 circuits, racing close behind Jac Haudenschild and Sheldon Haudenschild until inheriting the runner-up spot during a lap 16 caution.
On lap 16, while chasing his father through traffic, Sheldon Haudenschild made contact with a lapped car, bringing the familiar Haudenschild Racing, Southern Pacific Farms, No. 93 to a stop between turns three and four. The five-time Arctic Cat All Star main event winner in 2015 would be forced to restart at the tail of the field.
After the restart, the last half of the feature program would see no change nor challenge up front with Jac Haudenschild surging on over Danny Holtgraver and Friday night winner Dale Blaney.
"I just want to thank everyone who made this happen for me," said Danny Holtgraver. "We had some issues last night at Attica, getting upside-down during qualifying time trials, so I wasn't sure what to think today. We got here and found some issues with the engine. Despite the issues, my guys never gave up and they pushed through. I want to thank Pete Grove again, as well as all of my supporters who stuck by me this entire time. Cody Jacobs never gives up and works to give me a great race car every time we hit the track. This feels really good."
The Coffee Pot Classic at Bedford Fairgrounds Speedway will conclude the Arctic Cat All Star triple-header weekend through Ohio and Pennsylvania. The three-race swing, officially kicking-off the 2016 Arctic Cat All Star Circuit of Champions point championship, launched on Friday night, April 15, at Attica Raceway Park, and will now conclude on the big half-mile in Bedford, Pennsylvania, on Sunday, April 17. The Arctic Cat All Star Circuit of Champions will face-off against a stout field of competitors from all areas of Pennsylvania, including the notorious "Pennsylvania Posse," who captured the most recent series victory at Bedford Fairgrounds Speedway in June, 2015. Greg Hodnett was the victor, holding off a sixth starting Danny Dietrich and Ryan Smith.
The Coffee Pot Classic will ignite with pit gates opening at 2:00 pm on Sunday, April 17. A mandatory drivers meeting will be conducted at 5:30 pm, with hot laps to follow at 6. Competition will hit the racing surface at 6:30 pm, sharp. For more information, please visit Bedford Fairgrounds Speedway live on the Web at www.bedfordspeedway.com.
Contingency Awards/Results – Wayne County Speedway – Saturday, April 16, 2016
EMi Driver's Meeting: 31 Entrees
State Water Heaters Warm-Ups: Dale Blaney – 14.405 seconds
Lincoln Electric Fast Qualifier: Jac Haudenschild – 14.125 seconds *NTR
Kistler Racing Products Heat #1: Jac Haudenschild
All Pro Aluminum Cylinder Heads Heat #2: Sheldon Haudenschild
Hunt Brothers Pizza Heat #3: Chad Kemenah
JE Pistons Dash: Jac Haudenschild
Daido Engine Bearings Main Event Winner: Jac Haudenschild
MSD Performance Hard Charger Award: Chad Kemenah (+5)
Outback Steakhouse A-Main 5th Place Finisher: Cap Henry
Outback Steakhouse A-Main 10th Place Finisher: Brad Haudenschild
Outback Steakhouse A-Main 15th Place Finisher: Caleb Helms
A Feature 1 (30 Laps): 1. 6M-Jac Haudenschild[1]; 2. 70-Danny Holtgraver[4]; 3. 1-Dale Blaney[3]; 4. 10H-Chad Kemenah[9]; 5. 21-Cap Henry[5]; 6. 22-Cole Duncan[8]; 7. 49-Tim Shaffer[10]; 8. 9X-Rob Chaney[6]; 9. 19M-Brent Marks[12]; 10. 38K-Brad Haudenschild[14]; 11. 7C-Caleb Armstrong[7]; 12. 8M-T.J. Michael[15]; 13. 93-Sheldon Haudenschild[2]; 14. 60-Kory Crabtree[11]; 15. 40-Caleb Helms[19]; 16. 94-Ryan Smith[17]; 17. 23C-Tyler Courtney[18]; 18. 16M-Danny Mumaw[23]; 19. 5T-Travis Philo[22]; 20. 22S-Brandon Spithaler[13]; 21. 81-Lee Jacobs[16]; 22. 57X-Andrew Palker[20]; 23. 20N-Hunter Schuerenberg[21]; 24. 49H-Bradley (Brad) Howard[24]
B Feature 1 (12 Laps): 1. 40-Caleb Helms[1]; 2. 57X-Andrew Palker[4]; 3. 20N-Hunter Schuerenberg[2]; 4. 5T-Travis Philo[3]; 5. 16M-Danny Mumaw[5]; 6. 49H-Bradley (Brad) Howard[8]; 7. 11K-Kraig Kinser[10]; 8. 19-Joe Kubiniec[7]; 9. 23-Nick Patterson[6]; 10. 7-Troy Kingan[9]; 11. 49D-Shawn Dancer[11]; 12. 8-Bryan Sebetto[12]
Dash 1 (6 Laps): 1. 6M-Jac Haudenschild[1]; 2. 93-Sheldon Haudenschild[2]; 3. 1-Dale Blaney[3]; 4. 70-Danny Holtgraver[4]; 5. 21-Cap Henry[5]; 6. 9X-Rob Chaney[6]; 7. 7C-Caleb Armstrong[8]; 8. 22-Cole Duncan[7]
Heat 1 (8 Laps): 1. 6M-Jac Haudenschild[4]; 2. 9X-Rob Chaney[2]; 3. 7C-Caleb Armstrong[1]; 4. 19M-Brent Marks[8]; 5. 70-Danny Holtgraver[3]; 6. 81-Lee Jacobs[5]; 7. 20N-Hunter Schuerenberg[7]; 8. 49D-Shawn Dancer[9]; 9. 19-Joe Kubiniec[11]; 10. 11K-Kraig Kinser[6]
Heat 2 (8 Laps): 1. 93-Sheldon Haudenschild[4]; 2. 21-Cap Henry[2]; 3. 60-Kory Crabtree[1]; 4. 22S-Brandon Spithaler[3]; 5. 8M-T.J. Michael[7]; 6. 94-Ryan Smith[5]; 7. 40-Caleb Helms[6]; 8. 5T-Travis Philo[8]; 9. 57X-Andrew Palker[9]; 10. 7-Troy Kingan[10]
Heat 3 (8 Laps): 1. 10H-Chad Kemenah[2]; 2. 49-Tim Shaffer[1]; 3. 1-Dale Blaney[4]; 4. 38K-Brad Haudenschild[5]; 5. 22-Cole Duncan[3]; 6. 23C-Tyler Courtney[8]; 7. 16M-Danny Mumaw[6]; 8. 23-Nick Patterson[7]; 9. 49H-Bradley (Brad) Howard[9]
Qualifying 1 (2 Laps): 1. 6M-Jac Haudenschild, 14.125; 2. 1-Dale Blaney, 14.300; 3. 93-Sheldon Haudenschild, 14.307; 4. 70-Danny Holtgraver, 14.361; 5. 22-Cole Duncan, 14.427; 6. 9X-Rob Chaney, 14.438; 7. 7C-Caleb Armstrong, 14.522; 8. 81-Lee Jacobs, 14.526; 9. 22S-Brandon Spithaler, 14.544; 10. 21-Cap Henry, 14.553; 11. 60-Kory Crabtree, 14.596; 12. 10H-Chad Kemenah, 14.601; 13. 49-Tim Shaffer, 14.634; 14. 94-Ryan Smith, 14.681; 15. 11K-Kraig Kinser, 14.690; 16. 40-Caleb Helms, 14.693; 17. 20N-Hunter Schuerenberg, 14.696; 18. 8M-T.J. Michael, 14.717; 19. 38K-Brad Haudenschild, 14.720; 20. 19M-Brent Marks, 14.726; 21. 49D-Shawn Dancer, 14.735; 22. 5T-Travis Philo, 14.738; 23. 57X-Andrew Palker, 14.765; 24. 8-Bryan Sebetto, 14.840; 25. 16M-Danny Mumaw, 14.892; 26. 23-Nick Patterson, 14.893; 27. 23C-Tyler Courtney, 14.964; 28. 19-Joe Kubiniec, 15.002; 29. 49H-Bradley (Brad) Howard, 15.354; 30. 7-Troy Kingan, 15.416