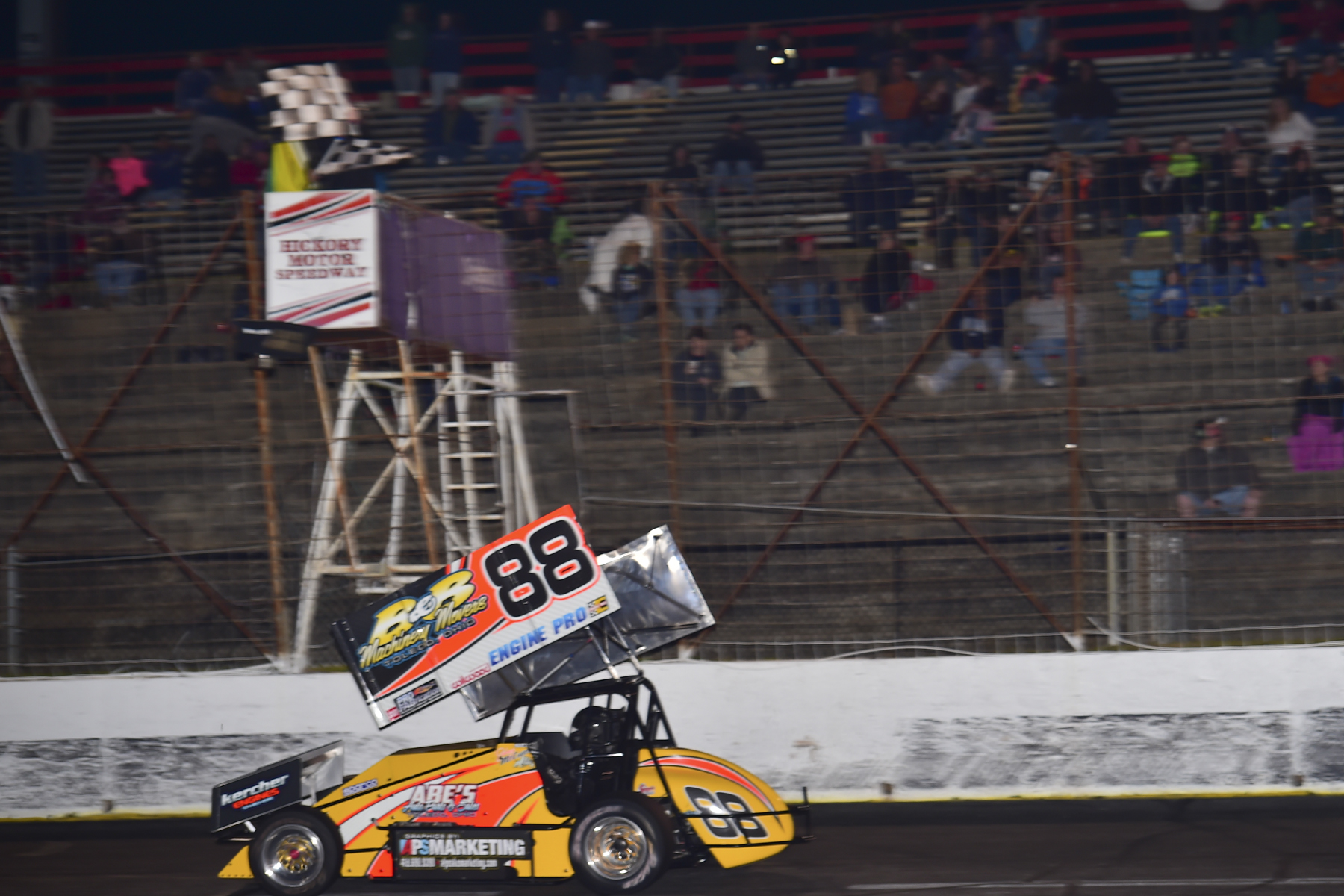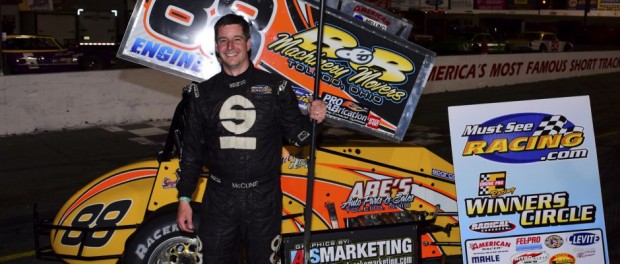 From Jacob Seelman
Newton, NC — (April 16, 2016) — Jimmy McCune completed a sweep of the Must See Racing Sprint Car Series' opening weekend on Saturday night, leading all 50 laps at Hickory Motor Speedway to notch his second series win in two races to open the inaugural American Sprint Cup mini-series.
The win did not come without contest, however, as McCune had to hold off the advances of a determined Johnny Bridges and his sideways 360 c.i. dirt sprint car before the reigning MSRSCS champion could park his No. 88 Abe's Auto Parts & Sales/B&B Machinery Movers entry on the frontstretch and accept the winner's trophy.
"First off, I have to say wow," grinned the Toledo, Ohio veteran after his 13th career series victory. "What Bridges can do in that dirt car, going sideways every lap and wheeling it like he does … unreal. He is an unbelievable race car driver and that was an absolute blast to be racing with him all night long."
McCune had to endure two restarts — after cautions on laps 28 and 36 — that closed Bridges right up to his tail tank, but both times was able to get away and resume a comfortable lead over the rest of his challengers.
"I wasn't happy to see those cautions, that's for sure. Especially that last one … my dad was throwing a fit, so I must have had a little bit of a lead. I don't know where to start, though. What an incredible weekend. This is why we work so hard, and I'm beyond pumped to see how it's paid off the last two days."
The outside lane was the place to be for much of the night, as McCune surged from the second-starting position to take the lead from polesitter Jeff Bloom on the initial start, a position he would never relinquish again. Meanwhile, Bridges came from fourth to second on the opening lap and quickly set his sights on the race leader.
The duo battled through early traffic as cars began to fall one lap down or more. McCune's lead ebbed and flowed around one second for much of the opening run, but it wasn't until the halfway point at lap 25 that Bridges really began to start eating into the deficit. Just as he got to McCune's back bumper to make a move, however, both leaders had to take evasive action to avoid the spinning car of Kris Leming exiting turn four.
McCune nearly made contact with both Leming and the wall, but was able to escape unscathed and held the top spot for a restart with 22 laps to go. Once the green flag dropped, he again established control, but could never get more than five car lengths clear as Bridges stayed with him all the way around the track.
Clipping the grass in turn four with 15 rounds left, it appeared as if Bridges' chances might be over — but a timely caution on the next lap, when Brad Wyatt spun to a stop off turn two after contact with hometown favorite Greg Smyre, allowed him to close the gap one final time.
However, it wouldn't be enough for Bridges, who could only close to within a couple of car lengths during the final 14 lap run to the checkers. Ultimately, the home state driver faded to 1.873 seconds back at the race's conclusion, but it was still a remarkable showing out of the Ford-powered "small-block" 360 machine.
"I don't know if the cautions helped us or hurt us, to be honest," Bridges admitted. "I think I would have preferred it going green the whole way. I was getting pretty tired at the end, but man, that was fun. I'm unbelievably happy with how this dirt car did against a field like this. I know there were some really fast guys behind us too, so it's great to be up front and I feel like I have a lot to be proud of."
"Jimmy, man, he was fast. I don't know if we really had anything for him. A couple times I got up on him in lapped traffic, and I tried to go down through the grass a few times to try and pass him, but it just wouldn't stick. All in all, though, this was a tremendous weekend and I'm so thankful to Must See Racing for putting on this great series. This is a great place to race and I'm looking forward to more of it in the future."
2010 NASCAR Whelen Modified Tour champion Bobby Santos rallied past defending Hickory winner Jeff Bloom on the final restart to come home third, with Bloom and Brian Gerster rounding out the top five.
Earlier in the day, Gerster set the all-time Hickory Motor Speedway track record with a lap of 12.071 seconds (108.259 mph) in Engine Pro Time Trials, breaking Kevin Swindell's 11-year old mark of 12.112 seconds from June 16, 2005.
Jerry Caryer and Santos each won their respective 10-lap heat races, helping to further cement the main event lineup. After Gerster rolled a four on the Engine Pro Inversion Die, Jeff Bloom garnered the pole starting spot for the second-consecutive night.
The Must See Racing Sprint Car Series presented by Engine Pro and the six-race American Sprint Cup mini-series continue on Saturday, May 21 with the Brawl at the Bowl from Shady Bowl Speedway in DeGraff, Ohio.
For more information on the series, including news, race results, driver and team interviews and more, visit www.mustseeracing.com.
RESULTS: Must See Racing Sprint Car Series; American Sprint Cup Round Two; Hickory Motor Speedway; April 16, 2016
Feature:
1. Jimmy McCune
2. Johnny Bridges
3. Bobby Santos III
4. Jeff Bloom
5. Brian Gerster
6. Grant Galloway
7. Terry Gray
8. Greg Smyre
9. Chris Lamb
10. Brad Wyatt
11. Jerry Caryer
12. Joe Speakman
13. Kris Leming
14. Ike Beasley (DNS)