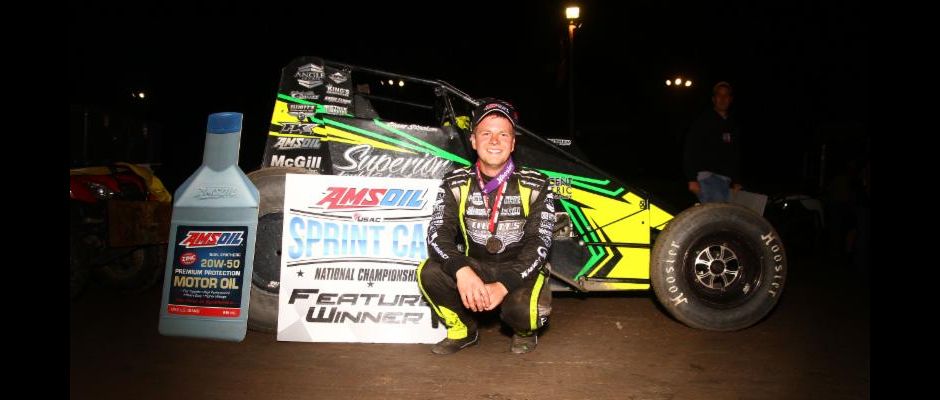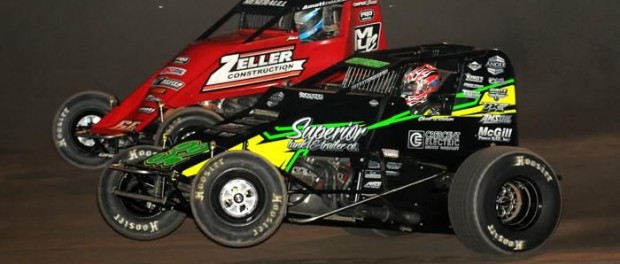 From USAC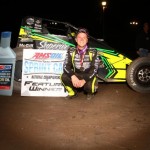 It was home-sweet-home for Haubstadt, Indiana resident Chase Stockon as he ran down Thomas Meseraull for the lead on lap 12, and pulled away to capture his first series victory at his backyard track and his seventh career USAC AMSOIL National Sprint Car feature victory at a seventh different track after winning Saturday night's "Spring Showdown" at Tri-State Speedway.
On the initial start, outside front row starter C.J Leary jumped to the lead using the cushion to ride around pole sitter Meseraull for the top spot. The action quickly came to a halt for inside second row starter Max McGhee as he saw his night abruptly end after smoke began to pour out from under the hood of the number 17.
On the restart, it took just one lap around the high-banked paperclip for Meseraull to slide up in front of Leary to claim the lead on the second lap. Meanwhile, Stockon got around Leary for second and then set his sights on Meseraull for the lead.
A yellow for the stopped car of Aaron Farney on the sixth lap bunched up the field momentarily, but the frontrunners continued their torrid pace, catching the backmarkers in less than a handful of laps.
Meseraull rode the high line as Stockon worked the middle, inching ever closer to the lead on each corner of every lap. As Meseraull and Stockon negotiated heavy traffic, Stockon staked his claim for the number one spot, getting by Meseraull at the exit of turn four on lap 12.
Just four laps later, Tri-State Speedway fan favorite Kyle Cummins got by Meseraull for second, putting him in position to make a run at Stockon for his first career series win.
Despite a yellow for Isaac Chapple's stopped car with just five laps to go that bunched up the field, on the restart, Cummins was no match for Stockon, who sprinted to a half-straightaway advantage in the final laps to take the checkered flag in his 32-TBI Racing Superior Tank & Trailer – Crescent Electric Supply/DRC/Fisher ahead of Cummins, Carson Short, Chad Boespflug, Leary, Brady Bacon, Robert Ballou, Brady Short, Meseraull and Kent Schmidt.
Stockon's win vaulted him into the series point lead by 14 markers over Meseraull. Similarily, after last season's "Spring Showdown," Stockon held a 15-point lead in the series standings. Stockon, the winner of numerous races at Tri-State Speedway over the past several years outside of USAC competition, was proud to add his name to the list of USAC winners at the southwestern Indiana track.
"It feels great to finally get a USAC win down here with it being so close to home," Stockon said. "I've always loved it (Tri-State Speedway) and have been fortunate enough to win a fair share of races and even some down here, but to get a USAC win feels awesome. This thing was unreal and I don't think I could've driven any harder."
Cummins once again showed his prowess at Tri-State, finishing a distant second in his Hank Byram/Vincennes University – Tim Mason ReMax/Mach-1/Cummins and, as a result, moved into third in the series standings. Cummins is still searching for his first career USAC win after earning his ninth podium finish in the series. Despite another close, but no cigar performance, Cummins is pleased with his performance after running into misfortune during the last couple of races.
"After last night (at Bloomington) and Lawrenceburg, this is a nice turn around," Cummins said. "Chase (Stockon) was a little better and I thought I had a shot on that late restart. I was going to try to slide him and he moved down a lane and I had to chalk it up a little bit just so I didn't take us both out. It was all I could do, but the car is running really well right now. The beginning of the season has started out really well, so if we can keep up these podiums, we'll get a win."
Young Carson Short of Marion, Illinois, earned a career-best third-place finish in his Richard Short/Total Field & Environmental Services – RASS Restoration/DRC/SPEC.
"It feels really good to kick the season off running well," Short said. "I'm hopeful we can keep this little bit of momentum up for the next few months and keep putting together some good finishes."
USAC AMSOIL SPRINT CAR NATIONAL CHAMPIONSHIP RACE RESULTS: April 16, 2016 – Haubstadt, Indiana – Tri-State Speedway – "Spring Showdown" – co-sanctioned by the Midwest Sprint Car Series
PROSOURCE QUALIFYING: 1. Kyle Cummins, 3R, Byram-13.512; 2. Carson Short, 21, Short-13.570; 3. Chase Stockon, 32, 32 TBI-13.588; 4. Max McGhee, 17, McGhee-13.593; 5. C.J. Leary, 17GP, Dutcher-13.707; 6. Brady Short, 11p, Pottorff-13.725; 7. Thomas Meseraull, 66, Amati-13.770; 8. Chad Boespflug, 98E, NineEight/Eberhardt/Zirzow-13.839; 9. Kody Swanson, 71p, Phillips-13.925; 10. Brady Bacon, 69, Dynamics-13.934; 11. Justin Grant, 5, Baldwin-13.959; 12. Dakota Jackson, 3, Jackson-13.959; 13. Dave Darland, 11, Walker/Curb-Agajanian-14.063; 14. Kent Schmidt, 5K, Schmidt-14.248; 15. James Lyerla, 11x, Lyerla-14.287; 16. Robert Ballou, 1, Ballou-14.302; 17. Aaron Farney, 15F, Farney-14.313; 18. Landon Simon, 24, LSR-14.344; 19. Brandon Morin, 98, Morin-14.472; 20. Isaac Chapple, 52, LNR-14.477; 21. Matt Goodnight, 39, Goodnight-14.556; 22. Bret Mellenberndt, 97, Mellenberndt-14.687; 23. Jared Chastain, 52c, Chastain-15.699; 24. Jim Shelton, 41, Shelton-16.549; 25. Nevil Algieo, 11A, Algieo-NT (Time of 14.917 disallowed).
SIMPSON RACE PRODUCTS FIRST HEAT: (10 laps) 1. McGhee, 2. Bacon, 3. Meseraull, 4. Cummins, 5. Darland, 6. Ballou, 7. Morin, 8. Mellenberndt, 9. Algieo. 2:17.42
COMPETITION SUSPENSION (CSI) SECOND HEAT: (10 laps) 1. Schmidt, 2. Farney, 3. C. Short, 4. Grant, 5. Leary, 6. Morin, 7. Chapple, 8. Chastain. 2:18.75
BENIC ENTERPRISES THIRD HEAT: (10 laps) 1. Stockon, 2. Jackson, 3. Simon, 4. Swanson, 5. Goodnight, 6. Lyerla, 7. B. Short, 8. Shelton. 2:17.62
INDY RACE PARTS SEMI: (12 laps) 1. B. Short, 2. Ballou, 3. Chapple, 4. Boespflug, 5. Lyerla, 6. Algieo, 7. Morin, 8. Mellenberndt, 9. Shelton, 10. Chastain. NT
FEATURE: (30 laps) 1. Chase Stockon, 2. Kyle Cummins, 3. Carson Short, 4. Chad Boespflug, 5. C.J. Leary, 6. Brady Bacon, 7. Robert Ballou, 8. Brady Short, 9. Thomas Meseraull, 10. Kent Schmidt, 11. Dakota Jackson, 12. Justin Grant, 13. Landon Simon, 14. Dave Darland, 15. James Lyerla, 16. Isaac Chapple, 17. Aaron Farney, 18. Matt Goodnight, 19. Brandon Morin, 20. Kody Swanson, 21. Nevil Algieo, 22. Max McGhee. NT
—————————-
FEATURE LAP LEADERS: Lap 1 Leary, Laps 2-11 Meseraull, Laps 12-30 Stockon.
KSE RACING PRODUCTS/B & W AUTO MART HARD CHARGER: Robert Ballou
NEW USAC AMSOIL SPRINT CAR NATIONAL CHAMPIONSHIP POINTS: 1-Stockon-407; 2-Meseraull-393; 3-Cummins-378; 4-Bacon-368; 5-Ballou-351; 6-Darland-339; 7-Grant-317; 8-Leary-307; 9-McGhee-306; 10-Boespflug-297.
NEXT USAC AMSOIL SPRINT CAR NATIONAL CHAMPIONSHIP RACE: April 23 – Montpelier (IN) Motor Speedway