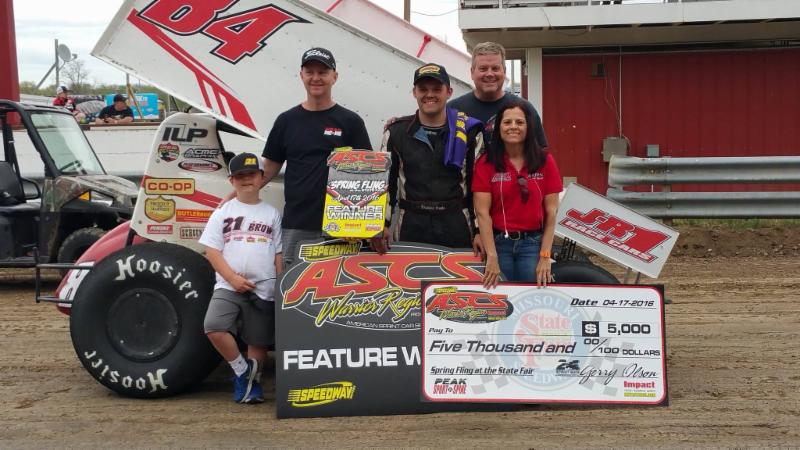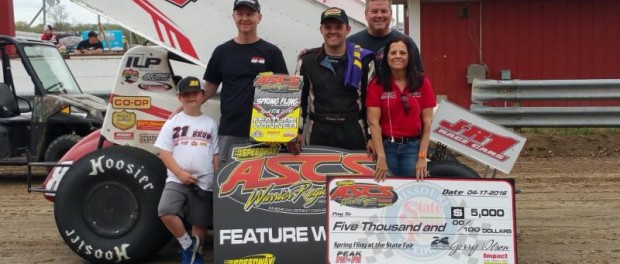 From Inside Line Promotions
Sedalia, MO — (April 19, 2016) — Brandon Hanks had to wait a little more than three years between victories prior to last month's triumph.
This time he only waited a little more than three weeks before returning to Victory Lane on Sunday during his debut at Missouri State Fair Speedway with the ASCS Warrior Region.
"This is a complete 180," he said. "I don't know how to act other than just humbled. Now we have the confidence we can run up front and win these races. We know the first one wasn't a fluke."
Last Sunday began with Hanks advancing from third to second place in a heat race, which locked him into the feature redraw.
"I was the second-to-last driver to draw and there was a No. 1 and a No. 5 in the bag," he said. "I drew the dang five. I was a little concerned that if the track rubbered up I'd be in trouble. But we had a really, really good car. I could roll just fine. I knew you couldn't get off the bottom so almost the whole race I was taking it easy and trying to save my tires."
Hanks capitalized on mistakes from other drivers during the first half of the race.
"(Josh) Baughman had a slip up with Cody Baker so that put us in third," he said. "Cody slipped up and went to the outside and I went by for second place. Jonathan (Cornell) was pulling away and I let him go. As hard as he was driving I thought he'd wear his stuff out and I'd have some for the end. He hit a lapped car and flipped about midway through the race. I felt pretty confident I had a good bit (of my tires) left. I knew as long as I didn't get off the bottom I'd be fine. We made it and it turned out going slower was faster. We pulled away a good bit."
Hanks took advantage of the opportunity as he won by a straightaway on the half-mile oval.
Last weekend began on Saturday at Knoxville Raceway in Knoxville, Iowa, where Hanks qualified 14th quickest before placing fifth in a heat race. That locked him into the 14th starting position for the main event.
"I need some laps there in a bad way," he said. "It always takes me until after the heat race to get in the swing of things at that place. It's kind of its own animal. The biggest thing is I need to make some more laps there.
"We had a pretty good car, but I made some mistakes that hurt us. We were holding our own in the A Main. I gained a few spots on the start and then I lost a few on a restart. I was catching someone and when I got to him I started running the top. As I moved up it was almost like he had a mirror. He moved up with me and when he did I had to roll out of the throttle to keep from running into him and I slid up and hit the wall. It was late in the race so I decided to pull in at that point."
Hanks was credited with a 21st-place result.
He will return to action this Friday at Humboldt Speedway in Humboldt, Kan., and Saturday at Springfield Raceway in Springfield, Mo., with the ASCS Red River Region.