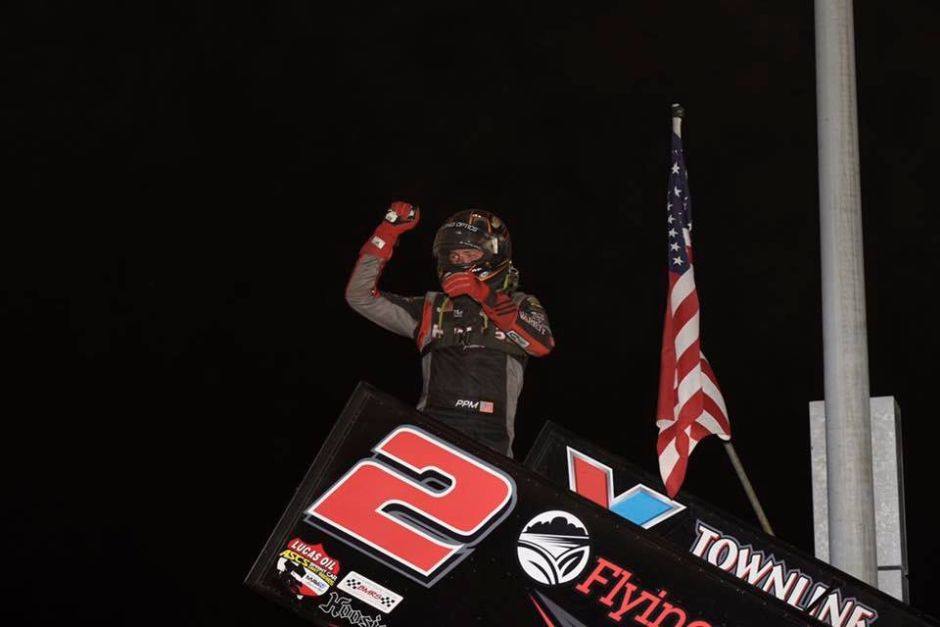 From Peterson Media
After a couple of off weekends, Parker Price-Miller and his Agee Motorsports team returned to action over the weekend at the Tri City Speedway and the LaSalle Speedway and the Kokomo, IN driver would find victory for the first time this year with the IRA Series.
"It felt really good to get this team to victory lane," Parker Price Miler said. "We have been fast all year but things just haven't gone our way. Hopefully this is the first of many wins this season."
Saturday night at the LaSalle Speedway, Price-Miller and his team came out of the box strong as PPM was quickest in hot laps before timing the FlyingAG/Royal Life Centers/360 Yield Center backed entry fastest in time trials.
Lining up in the third row of his heat race, the Kokomo, IN wheelman had a fast machine under him as he worked his way into the second spot before giving the race leader all he could handle. Opting not to force the issue in the heat, Price-Miller would settle for second and move on to the feature event.
With the invert being a four, Price-Miller would grid the field from the second row. When the green lights flashed in the feature, 'The Law Firm' would move into the third spot as he quickly closed in on second.
A monster run combined with the second place car slowing down saw contact ensue and Price-Miller would lose his nose wing as the yellow flag came out. Restarting in the third spot, Price-Miller took a few laps to figure his car out now that handling was challenging with no nose wing holding the front end down.
Being challenged for the third spot, Price-Miller got his elbows up and drove his car harder and harder, and it helped him out as he took over the second spot and a lap later assumed the race lead in lapped traffic.
As the track began to take rubber, Price Miller would move his line above the rubber, and catch it coming off for the final eight laps, and it would work to perfection as he went on to fend of Bill Balog and score the win.
"Friday night we had some bad luck with our qualifying draw and it hurt us all night, so it was nice to close our weekend out like that," Price-Miller added. "This feels good for not only myself, but for everyone who supports this team."
Price-Miller and his team would like to thank FlyingAG, Royal Life Centers, 360 Yield Center, Pfister, Encirca, Valvoline, Townline Variety, Indy Race Parts, and Agee Farms for their support in 2016