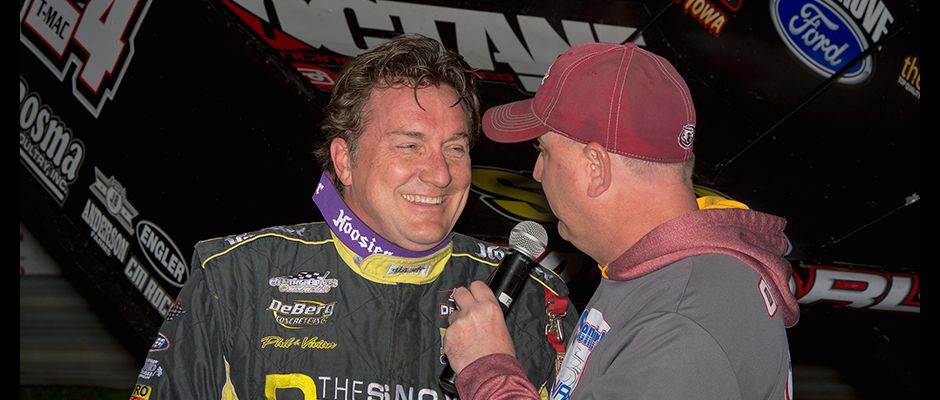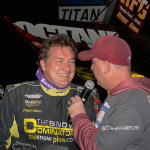 From Bill Wright
Oskaloosa, IA — (May 4, 2016) — Terry McCarl led wire to wire to record his tenth career Shottenkirk.com Sprint Invaders win. The victory came at the Southern Iowa Speedway and was worth $1,500 for the Altoona, Iowa driver.
McCarl inherited the pole from John Schulz, who fell ill during the evening. While McCarl shot out to an early lead, last year's winner at this event, Jamie Ball trailed him ahead of Wayne Johnson, Jarrod Schneiderman and Chris Martin.
McCarl was masterful in traffic, and by lap twelve, had six cars between himself and Ball. That lead evaporated at that point, however, when Ricky Montgomery got into the fence in lapped traffic and crashed hard. Though the car did not survive, Ricky was o.k.
When the green fell again, McCarl took off in clean air. Five laps later, Martin's night came to an end when he shredded his left rear tire while running fourth. McCarl would pull away the final eight laps. A slip by Ball allowed Wayne Johnson to pass him for second late. Jarrod Schneiderman was fourth, while Jon Agan grabbed fifth in the last corner. Nate Van Haaften, Austin Johnson, hard-charger Josh Schneiderman, Ryan Jamison and Dave Getchell rounded out the top ten.
"I have to thank Don Long of Searsboro Telephone Company and Jaymie Moyle for this engine," said McCarl in Victory Lane. "This is actually a different one than the one we won the 360 Nationals with. I appreciate everyone coming out, and hope you had fun."
"Our car was still not where we wanted to be," said the second place Johnson. "The front end was flying really bad in dirty air and I just can't steer the thing on entry. Jamie just messed up there late in the race and missed the rubber. I was close enough to capitalize on the deal, but other than that, he was better than us."
"I just got a little conservative there at the end with the lapped cars," said Ball. "Wayne Johnson just got the best of me. He has more experience and is a hell of a racer. To finish third to the likes of Terry and Wayne…I can't hang my head too much about that. The car was excellent. I just lacked a little experience. Those guys have been racing longer than I've been alive."
The Shottenkirk.com Sprint Invaders next event will be Wednesday, May 18 at the Iowa State Fair Speedway in Des Moines. For more information on the Shottenkirk.com Sprint Invaders, visit www.SprintInvaders.com!
Results
Shottenkirk.com A main (started), 25 laps: 1. 24, Terry McCarl, Altoona, IA (3) 2. 2c, Wayne Johnson, Oklahoma City, OK (6) 3. 5J, Jamie Ball, Knoxville, IA (2) 4. 3G, Jarrod Schneiderman, West Burlington, IA (5) 5. 4, Jon Agan, Knoxville, IA (9) 6. 3, Nate Van Haaften, Otley, IA (12) 7. 81, Austin Johnson, Pleasant Hill, IA (7) 8. 49, Josh Schneiderman, West Burlington, IA (21) 9. 51J, Ryan Jamison, Mediapolis, IA (13) 10. 83, Dave Getchell, Sperry, IA (10) 11. 50P, Harold Pohren, Lowell, IA (17) 12. 69, Justin Buchholz, Davenport, IA (14) 13. 10T, Tim Moore, Rock Island, IL (11) 14. 1st, John Greenwood, Woodward, IA (20) 15. 98, JC Bland, Springfield, IL (18) 16. 33, Alan Zoutte, Knoxville, IA (16) 17. 44, Chris Martin, Ankeny, IA (4) 18. 83x, Damian Getchell, Sperry, IA (15) 19. 9m, Ricky Montgomery, Lakewood, CO (8) 20. 19, Rob Weuve, Oakland Acres, IA (19) 21. 99, John Schulz, West Burlington, IA (1). Lap Leader: McCarl 1-25. KSE Hard-charger: Jo. Schneiderman.
Randall's Performance Heat one (started), 8 laps, top two to Dash: 1. Terry McCarl (2) 2. Jarrod Schneiderman (1) 3. Austin Johnson (4) 4. Dave Getchell (3) 5. Ryan Jamison (5) 6. Alan Zoutte (6) DNS – Josh Schneiderman
CenPeCo Lubricants Heat two (started), 8 laps, top two to Dash: 1. Wayne Johnson (6) 2. Jamie Ball (3) 3. Ricky Montgomery (4) 4. Tim Moore (2) 5. Justin Buchholz (1) 6. Harold Pohren (7) 7. Rob Weuve (5)
Fraise Mowersports Heat three (started), 8 laps, top two to Dash: 1. Chris Martin (1) 2. John Schulz (3) 3. Jon Agan (5) 4. Nate Van Haaften (6) 5. Damian Getchell (2) 6. JC Bland (4) 7. John Greenwood (7)
Budweiser King of Beers – Golden Eagle Distributors Shake-up Dash (started), 6 laps: 1. Jamie Ball (2) 2. Terry McCarl (6) 3. Chris Martin (1) 4. Jarrod Schneiderman (3) 5. Wayne Johnson (4) 6. John Schulz (5)