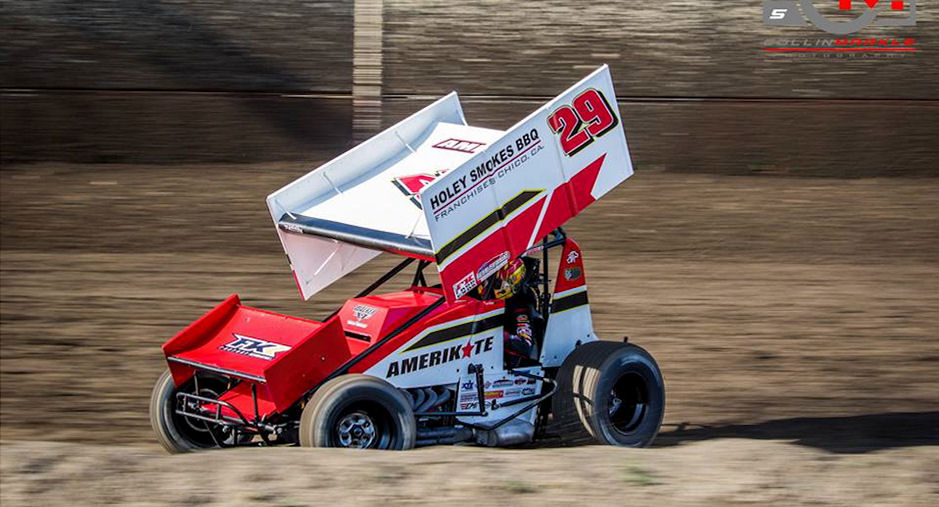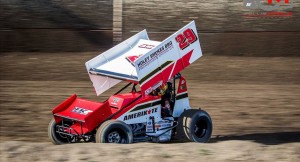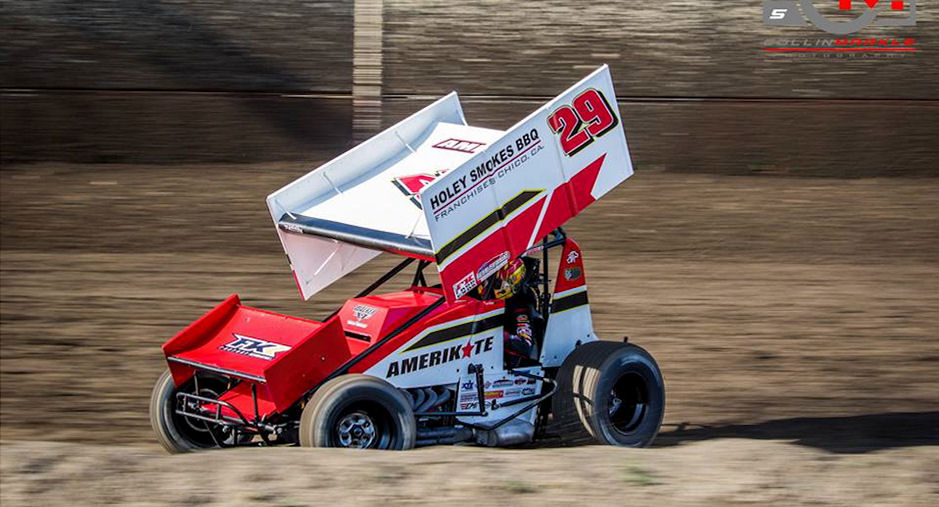 By Gary Thomas
Tulare, CA – May 14, 2016…After coming oh-so-close to a King of the West 410 Series win at the Thunderbowl Raceway in the past Sacramento's Willie Croft was able to finally check it off his resume Saturday night, by claiming the 30-lap Chris & Brian Faria Memorial.
The victory was also sweet redemption for Croft, who was taken out in lapped traffic while leading the KWS season-opener in Placerville. It marked his seventh career series triumph, moving him into a tie for 16th on the all-time list with Jimmy Sills, Kyle Larson, Greg Decaires & Randy Hannagan.
"It feels so good to get a King of the West win at this place," commented Croft, who nearly won the Faria Memorial in 2014, before running out of fuel just prior to the finish. "That race was a workout tonight and I feel pretty drained after that one. Felt bad for Rico Abreu because he was really fast, but I've definitely had some bad luck in Tulare myself before. I want to thank all my crew and the people that support this race team. We've had a great start to the year and hope to keep building on this momentum."
The 30-lap King of the West feature was a rough & tumble affair, showcasing drama & excitement at times like we've been accustomed to at Merle Stone Chevrolet Thunderbowl Raceway. Croft started on the pole by way of winning the night's dash and had his way out front, until Rutherford's Rico Abreu stepped up challenges for the top spot. Abreu had taken the lead from the outside of row two on a lap 11 double file restart, only to have the red flag wave for an incident involving Coarsegold's Scott Parker.
After that the two-time Chili Bowl champ re-grouped and got around Roseville's Colby Copeland for second on the ensuing single file restart. He then worked hard to close in on Croft for the lead and took his opportunity on lap 21. As the pair raced into turn three Abreu performed a massive slide job to get ahead of Croft, but couldn't hold the exit of turn four and looped the car, resulting in him tipping over to bring out the red flag. Damage was too much him to continue on, but as always Abreu certainly gave the crowd a great show.
With Croft up front for the restart he clicked off the final nine-laps without worries to take the Ed Entz checkered flag aboard his Holey Smokes BBQ/ Amerikote No. 29 machine. It was his second ever win at the track, with the first coming at Trophy Cup in 2014.
Copeland crossed the stripe in second to match his best career King of the West 410 Sprint Car Series finish. It was also his best ever 410 Sprint Car result at Thunderbowl Raceway. Copeland also did an outstanding job to take evasive action when Abreu got upside down, spinning the car completely around and keeping the engine lit to continue on. Fremont's Shane Golobic had a strong run to round out the podium on Saturday. The past Civil War Series champ has now finished on the podium at the last three Faria Memorial's in Tulare.
Campbell's Bud Kaeding & Chico's Jonathan Allard completed the top-five after having an entertaining battle over the course of the race. Two-time KWS champ Kyle Hirst rebounded nicely to earn a sixth place finish, after going to the rear early in the race following contact that left him stopped on lap nine. The remainder of the top-10 was filled out by Hanford's DJ Netto, Fresno's Cory Eliason, Campbell's Brent Kaeding and Hanford's Mitchell Faccinto.
As noted the dash was claimed by Croft, while the three 10-lap heat races were picked off by Bud Kaeding, Colby Copeland and Croft. Kyle Hirst paced the 23-car field in qualifying with a lap of 13.241. Full results will be available at
www.racepmg.com
A-main finish: 1. 29 Willie Croft, 2. 18w Colby Copeland, 3. 22 Shane Golobic, 4. 0 Bud Kaeding, 5. 3c Jonathan Allard, 6. 21x Kyle Hirst, 7. 88n DJ Netto, 8. 00jr Cory Eliason, 9. 69 Brent Kaeding, 10. 37 Mitchell Faccinto, 11. 41 Dominic Scelzi, 12. 25 Bobby McMahan, 13. 31c Justyn Cox, 14. 12 Jarrett Soares, 15. 98 Sean Watts, 16. 22a Cori Andrews, 17. 24 Rico Abreu, 18. 00 Jason Statler, 19. 3 Craig Stidham, 20. 17 Justin Sanders, 21. 73 Tyler Walker, 22. 12p Scott Parker, 23. 09s Geoffrey Strole
The King of the West 410 Sprint Car Series will return to action this coming Saturday night May 21 at the Stockton Dirt Track for the Salute to LeRoy Van Conett. The event also features the season debut of the Wingless Sprint Car Series presented by Hunt Magnetos. More info can be found at
www.stocktondirttrack.com
The King of the West 410's will be back at the Merle Stone Chevrolet Thunderbowl Raceway on Friday & Saturday July 22 & 23 for the third annual Peter Murphy Classic. Stay glued to the PMG website and
www.thunderbowlraceway.com
for updates on the event.
Collin Markle Photo