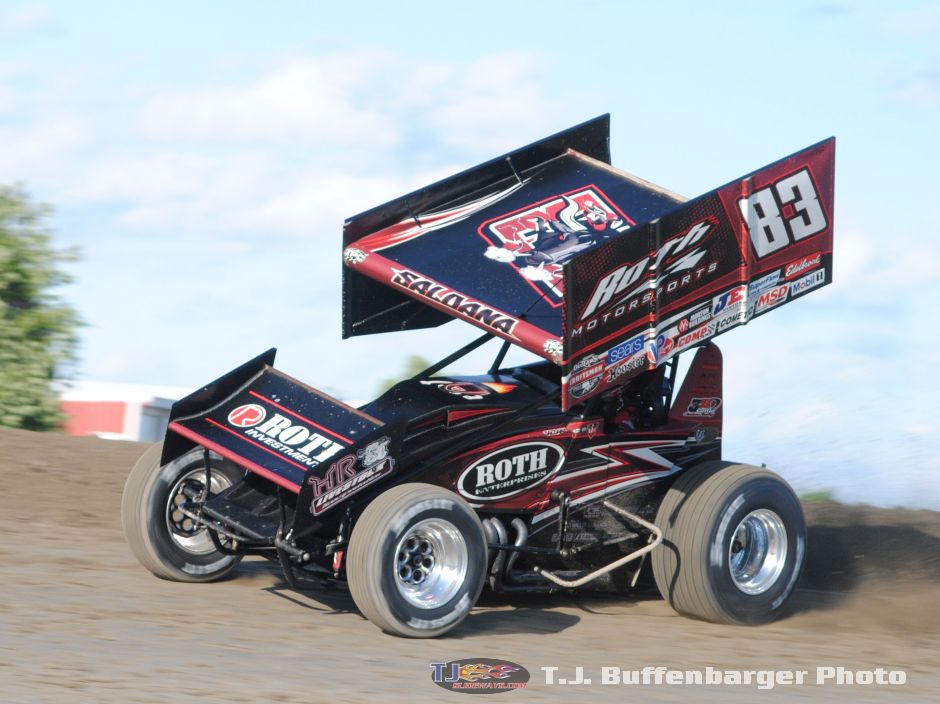 From Jordan Morris
Greenwood, NE — (June 22, 2016) — Joey Saldana captured the lead on the opening lap from David Gravel and held off Donny Schatz on a green-white-checkered finish to score his fourth World of Outlaws Craftsman® Sprint Car Series victory of the season in the NAPA Auto Parts Outlaw Showdown at I-80 Speedway on Wednesday night.
Saldana, who snapped an 18-race winless streak that stretched back to Jacksonville Speedway on May 4, remains the only series driver to win on the 4/10-mile track after also winning this event in 2014.
"In means a lot [to win at I-80 Speedway]," Saldana said. "Before my grandpa passed away, this was one of the last race tracks he got to come to and watch me race. I would say he was riding with me tonight because I haven't been that good all month, so to win this race, not just because I needed to win it for Roth Motorsports, but I needed to win it for my family and myself.
Saldana's victory did not come easy. After capturing the lead on the opening lap, the driver of the Roth Enterprises/HR Livestock No. 83 had to hold off a hard-charging Donny Schatz, who had charged from his ninth starting position to crack the top five by the halfway point, then made his way to second with just 10 laps to go.
"[On that restart with two laps to go] I knew I was in trouble," Schatz said. "I just couldn't get off the corner, and just can't get anything to accelerate right now. That's the way it goes, these guys will work on it. Tony Stewart has a great group of guys.
"We were one guy short tonight; we had a guy burned changing an engine, so he's headed to the hospital and it kind of puts things in perspective for you as to how important each and every one of these guys are."
To start the night, Gravel paced qualifying and captured the quick-time award with a lap of 14.125 seconds. Gravel was unable to carry his speed into the heat races as he was defeated by Kerry Madsen in the first heat to join Daryn Pittman and Saldana as heat race winners.
In the dash, Gravel returned to the top spot, when he started from the pole position, after a favorable inversion draw. Gravel led every lap to capture the victory in the dash which placed him on the pole position for the 40-lap feature. Gravel became the first driver since Greg Hodnett at New Egypt Speedway on May 24 to claim quick time and start on the pole in the feature.
When the green flag dropped, second-place starter, Saldana, rocketed around Gravel for the top spot and quickly escaped to an early lead. By the halfway point, Saldana had built a comfortable gap of over a second on Gravel and Logan Schuchart, who started in the fourth position and ran third for much of the night.
With just 12 laps remaining, the first caution came out as third place Schuchart lost a wheel entering turn three, which sent his car tumbling into the outside fence. Fortunately, Schuchart walked away from the crash safely, but his night was over.
On the ensuing restart, Schatz, in the Bad Boy Off Road/Chevrolet Performance No. 15, muscled his way into the second position, as Gravel slipped further back into the field. With just 10 laps to go, Schatz had his sights set on Saldana for the lead.
Saldana had a comfortable lead on the rest of the field by the time Schatz had made his way into the runner-up position, but a caution just a few laps later allowed Schatz to line up on the leader's rear bumper with less than 10 laps to go.
When the race went back to green, Schatz suffered an uncharacteristically bad restart, which allowed Jason Johnson and Brad Sweet to slip by. Sweet, who had started the feature in the 17th position, managed to claw his way into a battle with Schatz for the third position, until another caution came out, this time with just two laps left.
The caution was displayed when second place, Johnson, suffered a flat left rear tire, which sent him to the rear of the field and resulted in a 14th-place finish for the driver that captured a win earlier this year at Placerville Speedway on March 24.
Johnson's misfortune proved to be Schatz's lucky break, as the current point's leader had just made his way around Sweet's Ollie's Bargain Outlet/Sage Fruit No. 49 for third. Schatz now lined up on Saldana's rear bumper for a green-white-checkered finish.
On the final restart, Schatz pressured Saldana for the lead, but the leader adjusted his line to maintain control of the top spot. Saldana pulled away from Schatz over the final two laps to capture his fourth victory of the season, and second at I-80 Speedway in three years.
"It just builds confidence, and it's definitely easy to lose your confidence out here," Saldana added. "I've lost so many races by just going straight to the top, so I just took the bottom and the middle to take the grove away [on the final restart], so they didn't have it, then I got back on the top and held on.
"I can't thank Dennis and Teresa Roth enough for giving me this opportunity. There's a lot of times that you think about quitting, and you sacrifice a lot with your kids and your wife, but this definitely makes it worth your while – but there's also more to life than winning races."
Schatz, who held on to the runner-up position, claimed his seventh podium finish in nine races in the month of June.
"You have to have your driver help, and I don't have a clue as to what I am doing until you get me in the car," Schatz said. "We felt like we had a chance there, but I could not get off the corner at all. It felt like I had three or four race cars tied to the back bumper. We will work on that and try again on Friday."
Sweet, who now trails Schatz by just 20 points in the championship standings, finished in the third position and claimed the KSE Hard Charger Award after he advanced 14 spots from his 17th-place start.
"A lot of those restarts played into our favor, which is nice when you start in the back," Sweet said. "We got ourselves behind in time trials and I messed up in the heat race, so that's what teamwork is all about. We never give up on this Ollie's Bargain Outlet car, we dug deep tonight, had a few breaks go our way and I had a really fast car."
"Hats off to my guys for sticking by me and all of our sponsors. We will take the podium tonight, it feels like a win after coming from 17th, and we will try not to build such a deep hole next time."
2016 Kevin Gobrecht Rookie of the Year contended, Clyde Knipp, who finished in the 17th position, improved on his previous best finish of 18th at Devil's Bowl Speedway on April 23.
The World of Outlaws Craftsman Sprint Car Series will utilize Thursday as a travel day, as the series returns to Jackson (Minn.) Motorplex for the first time since 2014 on Friday, June 24. For more race information and ticket purchasing options, visit: www.WoOSprint.com/Jackson-Motorplex.
Follow the World of Outlaws Craftsman Sprint Car Series on Twitter at www.twitter.com/WorldofOutlaws, like it on Facebook at www.facebook.com/WorldofOutlaws, or check out the latest videos on YouTube at www.youtube.com/WorldofOutlaws.
World of Outlaws Craftsman Sprint Car Series
I-80 Speedway
Greenwood, NE
Wednesday June 23, 2016
A-Main – (30 Laps) – 1. 83-Joey Saldana [2][$10,000]; 2. 15-Donny Schatz [9][$5,500]; 3. 49-Brad Sweet [17][$3,200]; 4. 21-Brian Brown [8][$2,800]; 5. 29-Kerry Madsen [5][$2,500]; 6. 18-Ian Madsen [6][$2,300]; 7. 2-Shane Stewart [13][$2,200]; 8. 5-David Gravel [1][$2,100]; 9. 7-Paul McMahan [15][$2,050]; 10. 7S-Jason Sides [7][$2,000]; 11. 7W-Tasker Phillips [10][$1,500]; 12. 9-Daryn Pittman [3][$1,200]; 13. 82-Dusty Zomer [12][$1,100]; 14. 41-Jason Johnson [11][$1,050]; 15. W20-Greg Wilson [23][$1,000]; 16. 3-Billy Alley [18][$900]; 17. 13-Clyde Knipp [19][$800]; 18. 12-Lynton Jeffrey [16][$800]; 19. 24-Terry McCarl [14][$800]; 20. 1S-Logan Schuchart [4][$800]; 21. 2K-Kevin Ingle [20][$800]; 22. 10-Dakota Hendrickson [21][$800]; 23. 1A-Jacob Allen [22][$800]. Lap Leaders: Joey Saldana 1-30. KSE Hard Charger Award: 49-Brad Sweet [+14]
Qualifying – 1. 5-David Gravel, 14.125; 2. 9-Daryn Pittman, 14.205; 3. 83-Joey Saldana, 14.211; 4. 29-Kerry Madsen, 14.214; 5. 1S-Logan Schuchart, 14.244; 6. 18-Ian Madsen, 14.255; 7. 7S-Jason Sides, 14.260; 8. 41-Jason Johnson, 14.268; 9. 82-Dusty Zomer, 14.325; 10. 7W-Tasker Phillips, 14.360; 11. 21-Brian Brown, 14.366; 12. 15-Donny Schatz, 14.383; 13. 2-Shane Stewart, 14.407; 14. 49-Brad Sweet, 14.446; 15. 7-Paul McMahan, 14.477; 16. 1A-Jacob Allen, 14.482; 17. 24-Terry McCarl, 14.509; 18. 10-Dakota Hendrickson, 14.521; 19. 12-Lynton Jeffrey, 14.603; 20. W20-Greg Wilson, 14.727; 21. 3-Billy Alley, 14.882; 22. 13-Clyde Knipp, 15.145; 23. 2K-Kevin Ingle, 15.368
Heat 1 – (8 Laps – Top 6 finishers transfer to the A-feature) – 1. 29-Kerry Madsen [2]; 2. 5-David Gravel [1]; 3. 7S-Jason Sides [3]; 4. 7W-Tasker Phillips [4]; 5. 2-Shane Stewart [5]; 6. 12-Lynton Jeffrey [7]; 7. 13-Clyde Knipp [8]; 8. 1A-Jacob Allen [6]
Heat 2 – (8 Laps – Top 6 finishers transfer to the A-feature) – 1. 9-Daryn Pittman [1]; 2. 1S-Logan Schuchart [2]; 3. 21-Brian Brown [4]; 4. 41-Jason Johnson [3]; 5. 24-Terry McCarl [6]; 6. 49-Brad Sweet [5]; 7. 2K-Kevin Ingle [8]; 8. W20-Greg Wilson [7]
Heat 3 – (8 Laps – Top 6 finishers transfer to the A-feature) – 1. 83-Joey Saldana [1]; 2. 18-Ian Madsen [2]; 3. 15-Donny Schatz [4]; 4. 82-Dusty Zomer [3]; 5. 7-Paul McMahan [5]; 6. 3-Billy Alley [7]; 7. 10-Dakota Hendrickson [6]
Dash – (6 Laps, finishing order determined first 6 starting positions of A-feature) – 1. 5-David Gravel [1]; 2. 83-Joey Saldana [2]; 3. 9-Daryn Pittman [3]; 4. 1S-Logan Schuchart [5]; 5. 29-Kerry Madsen [4]; 6. 18-Ian Madsen [6]