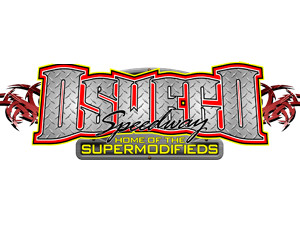 By Dan Kapuscinski
OSWEGO, NY (June 29, 2016) – Oswego Speedway's Novelis Supermodified Budweiser International Classic 200 purse, which annually pushes the $100,000 mark including monies and contingencies, will now guarantee a minimum of $600 to each non-qualified entry as long as that entry participates in one of two last chance semi-finals on Sunday, September 4.
Paying $15,000 to the winner and a minimum of $1,000 to take the green flag, the Budweiser International Classic 200 is the richest Supermodified event in the country, and for the 60th running of the event this season a handsome sum will be awarded to those teams that attempt to qualify for the prestigious race.
"We take pride in the fact that this event still ranks as among the highest cash payout events of any type of short track race in our region," said Oswego Speedway PR Director, Dan Kapuscinski. "With approximately $85,000 in cold hard cash already awarded to our Supermodified teams on Classic Weekend, we wanted to add a bit more in an effort to try and help some out of town teams justify conversions or other expenses to increase the amount of entries trying to take part in this 60th edition of our crown jewel event."
Qualifying for the 60th Budweiser International Classic 200 will begin on Friday, September 2 with pole day time trials that will lock in the fastest 20 qualifiers to the front ten rows of the 200 field.
On Sunday, September 4 two semi-final qualifying races will be run to set positions 21-32 in the lineup.
Starting positions for those semi-finals will be based on Friday night time trials and a second round of time trials held early in the day on Sunday. Those qualifying on Friday have the option of sitting on their time, come Sunday.
The two fastest qualifiers from Friday and Sunday combined will start on the pole position for each semi-final, with the remainder of the fields set straight up from time.
Six cars will qualify from each semi-final with the final two positions in the Classic awarded as Oswego commitment team Provisionals, making a full field of 34 entries.
This year's Classic Weekend will take on a bit of a new look compared to recent years with the return of the Friday night Party in the Pits following time trials and SBS semi-finals featuring LIVE music from Dirtroad Ruckus.
Saturday's program will see the return of the NASCAR Whelen Modified Tour's Toyota 'Mod Classic 150' presented by McDonald's as well as the Bud Light ISMA Supermodified Super Nationals.
Sunday's lineup will not only see final Supermodified qualifying and the 60th Budweiser International Classic 200 but also the 25th edition of the Bud Light SBS Classic 75.
Full weekend tickets are on sale now at the Speedway's box office for as low as $90 by calling (315) 342-0646.
Oswego Speedway is ready to return to weekly action on Saturday, July 2 for the Speedway's Grand Prix night featuring extra distance features and the annual Christmas in July Toy Drive.
All those who bring a new and unwrapped toy, which will be donated to the Hannibal Central School Christmas Bureau in association with Toys for Tots of Oswego County, will receive a free hot dog combo meal.
Pit gates will open on Saturday at 3:15 p.m. with grandstand gates opening at 4:30 p.m. with the start of hot laps. Santa Claus will arrive in the Tiki Bar for kids at 6 p.m. and the night's racing action, which will be capped with a 75-lap Novelis Supermodified main and a 35-lap Pathfinder Bank SBS feature, will go green at 6:30 p.m.
To celebrate the Fourth of July Weekend – an exciting fireworks display will end the evening, post-race.
Kids 16 and under will again be admitted free at all Speedway events in 2016, including the rear grandstand this weekend, with the exception of Budweiser International Classic Weekend and Race of Champions Weekend.
For more information on Oswego Speedway be sure to visit www.oswegospeedway.com. You can also FOLLOW on Twitter @OswegoSpeedway and LIKE on Facebook at www.facebook.com/OswegoSpeedway.
About Oswego Speedway: Oswego Speedway, a sports entertainment company, is a 5/8 mile semi-banked pavement racing oval located off the shores of Lake Ontario in scenic Oswego, NY. Oswego Speedway has been a continuously run weekly racing venue since August, 1951. The premier open-wheel pavement short track cars in the world, Supermodifieds, run weekly at Oswego Speedway making Oswego the only weekly Supermodified racing venue in the world. The Small Block Supermodifieds accompany the full blown Supers on a weekly Saturday night schedule which runs from May through September. Oswego Speedway is mentioned in racing circles as the "Indy of the East," as no fewer than a dozen past and present competitors have competed at the famed Indianapolis Motor Speedway including Mario Andretti, arguably the greatest driver of all time, two-time Indy 500 champion Gordon Johncock, along with former International Classic Champions Bentley Warren, Joe Gosek, and Davey Hamilton.