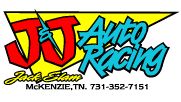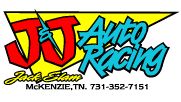 From J&J
McKenzie, Tenn. (July 7, 2016) – J&J Auto Racing teams proved that thirteen isn't always the unlucky number last week as they drove to as many victories for the McKenzie, Tenn., based chassis manufacturer. Teams found victory lane in 10 states spanning the country from coast to coast to add to an already impressive 2016 season total.
New York's Kyle Drum claimed the Patriot Sprint Tour (PST) Western Weekend Championship title with a victory at Mercer (Pa.) Raceway Park on July 2nd to cap an impressive stretch of racing in Jared Zimbardi's back-up entry. Zimbardi followed Drum to the line to earn a second place finish and put an end point on a fantastic team effort.
Ohio's Jared Horstman continues his hot streak, grabbing three victories at as many facilities in recent days. Winning the Great Lakes Super Sprint (GLSS) Series event at Tri-City Motor Speedway in Auburn, Mich., on June 24, Horstman picked up right where he left off with a win on July 1 at Limaland (Ohio) Motorsports Park. The No. 17 team wrapped up the holiday weekend with a victory at Waynesfield (Ohio) Raceway Park on July 3 over the NRA Sprint Invaders Series. Ryan Ruhl also posted a 10th place finish with the GLSS Series at Tri-City Motor Speedway.
Donny Schatz and Sam Hafertepe, Jr., doubled up their winning ways last week, as Schatz peeled off two World of Outlaws Craftsman Sprint Car Series (WoO) victories. Winning the inaugural WoO event at Rockford (Ill.) Speedway on June 29, Schatz also stole the show at Badlands Motor Speedway in Brandon, SD, on July 3 and continued to build on his lead in WoO Craftsman Sprint Series championship standings. Hafertepe, Jr., picked off back-to-back Lucas Oil American Sprint Car Series (ASCS) National Series victories at Grays Harbor Raceway in Elma, Wash., in sweeping the Fred Brownfield Memorial.
Derek Hagar won the USCS Sprint Series event at Diamond Park Speedway in Nashville, Ark., on July 3, bringing his win total to nine on the season. Terry Gray followed Hagar to the line in third, with Marshall Skinner following in fourth and Morgan Turpen taking fifth place. Martin Edwards also won his second feature event of 2016 on July 2, taking the IMCA Racesaver Series win at Devil's Bowl Speedway in Mesquite, Texas. Doug Hammaker claimed his fifth win of the year at Lincoln Speedway in Abbottstown, PA, winning the 358 Sprint Division feature on July 2. Doug Zimmerman nabbed his second victory of 2016 at Butler Motor Speedway in Quincy, Mich., on July 2, taking the checkered flag over the 410 Weekly Division contingent.
Marshall Skinner and Ray Allen Kulhanek drove to their first victories of 2016 on July 1 and July 3, respectively. Skinner grabbed a win over the USCS Sprint Series at Crowley's Ridge Raceway in Paragould, Ark., to put his name in the win column for the first time this season. Derek Hagar followed Skinner to the line in second with Morgan Turpen taking fourth. Kulhanek scored his first win of the season at Golden Triangle Raceway Park in Beaumont, Texas, with a win over the IMCA Racesaver 305 series.
DATE    DRIVER                               TRACK/STATE                                 SERIES                                
6/24/16  Jared Horstman                   Tri-City Motor Speedway/MI            GLSS
6/29/16  Donny Schatz                      Rockford Speedway/IL                      World of Outlaws
7/1/16    Jared Horstman                   Limaland Motorsports Park/OH        NRA Sprint Invaders
7/1/16    Marshall Skinner                 Crowley's Ridge Raceway/AR         USCS
7/1/16    Sam Hafertepe, Jr.              Grays Harbor Raceway/WA               ASCS National
7/2/16    Sam Hafertepe, Jr.              Grays Harbor Raceway/WA              ASCS National
7/2/16    Kyle Drum                            Mercer Raceway Park/PA                  Patriot Sprint Tour
7/2/16    Doug Hammaker                Lincoln Speedway/PA                        358 Division
7/2/16    Doug Zimmerman               Butler Motor Speedway/MI              410 Weekly Division
7/3/16    Jared Horstman                   Waynesfield Raceway Park/OH       NRA Sprint Invaders
7/3/16    Donny Schatz                      Badlands Motor Speedway/SD        World of Outlaws
7/3/16    Derek Hagar                         Diamond Park Speedway/AR           USCS
7/3/16    Ray Allen Kulhanek           Golden Triangle Raceway Park/TX IMCA Racesaver 305
ABOUT J&J AUTO RACING – McKENZIE, TN
For more than 40 years, J&J Auto Racing has been a leader in racecar chassis manufacturing. With intricate attention to detail and a willingness to provide chassis to the consumer's specifications, J&J has taken its place as a leader in Sprint car racing innovation and safety. Founded and headed by Jack and Bonnie Elam, J&J Auto Racing is based in McKenzie, Tenn. For more information regarding J&J Auto Racing, please visit www.jandjautoracing.com or follow the brand on Twitter @JJ_Auto_Racing and on Facebook at https://www.facebook.com/JJ-Auto-Racing-199865997589/.