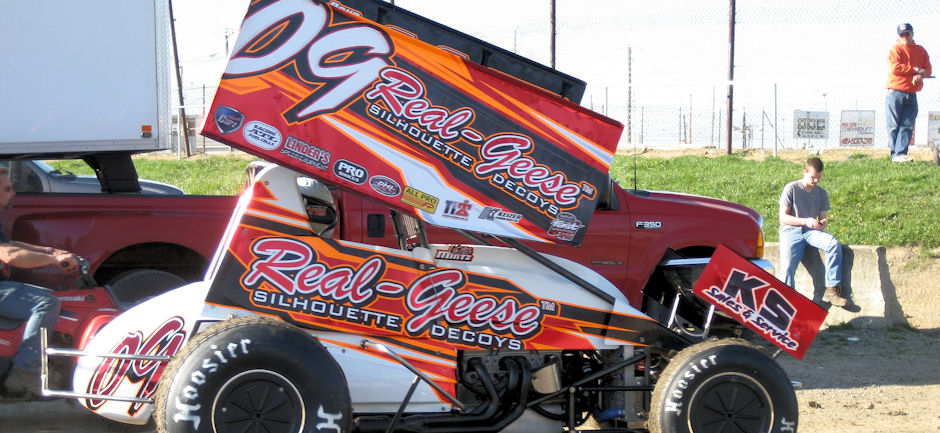 By Brian Liskai
ATTICA, Ohio – It looks like the $10,000 title for Kistler Racing Products FAST Championship Series presented by KS Sales and Service is going to come down to Craig Mintz and Byron Reed. Mintz dominated Friday on Smith Family Foods/Comfort Keepers Night at Attica Raceway Park for his second straight FAST win, closing the point gap on Reed.
Mintz, from Gibsonburg, Ohio, had a nearly seven second lead in the O'Reilly Auto Parts 410 Sprint Feature until a caution flew with nine laps to go. Meanwhile Reed had worked his way from 14th starting position to fourth. Every time Mintz would open up a lead the final few laps a caution would fly and when the final yellow was displayed with three laps to go Mintz led Stuart Brubaker and Reed. Reed was able to take second with two to go but ran out of time to catch Mintz who led all 30 laps.
It was Mintz' first win of the year at Attica and the 14th of his career at the track, tying him with Butch Schroeder for seventh on the all time win list for the division.
"You see that yellow light come on and you don't know where you are. The 16 (Brubaker) is really good at the top and I look at the score board and the 5 (Reed) was coming. You start in the back like he did and you're in the top three with a few laps to go you have a good race car. I just put my foot on the floor and aimed it to the curb. These Elite wings….they put down force on this thing and make this Ti22 GF1 Chassis work and Linder's ProShocks put some great shocks on it and we were ready to go," said Mintz beside his Real Geese Decoys, Eagle Ignition Products; Real Archery Targets; KS Sales & Service; Shetzer Insurance; Story Equipment; S&S Builders; Keizer Wheels; Real Caps backed machine.
Mintz has scaled back his racing the past couple of years and is concentrating on trying to get his third FAST title.
"With a limited schedule it takes me a little while to knock the rust off. But everyone that stands behind me with this crew…they've worked their butts off and that's why we have such a good race car. It goes from Monday through race day. Hopefully I can reward them with wins. I want to thank the fans for coming out in this terrible heat and supporting us," Mintz added.
McClure, Ohio's Rusty Schlenk has only raced at Attica once in 2016 in the Summit Racing Equipment UMP Late Models. However, he made his second visit one to remember. Despite a car leaking race fuel on him throughout the feature, he would drive around Ryan Markham in the last corner of the last lap to get his 22nd career Attica to continue to lead the division in all-time victories. In total, Schlenk has seven wins at various tracks this season.
"That was probably one of the stupidest moves I've made in my life. On about lap 10 it started pouring fuel out of the carburetor…it was hitting me in the face but we were having such a good run. I just chanced it. I was keeping an eye on where the water truck was in case it caught on fire. The car was awesome and I have to say thanks to my guys for putting the car back together after the incident in the heat," said Schlenk of his Velocita-USA; Dowdy Fabrication; Kercher Engines; BAK Technologies; Big Tim; Take a Chance Farms; Shipley Automotive backed #91.
"I knew if we had a couple laps to run Ryan (Markham)…it took him three or four laps to get running…so I knew if we had a three or four lap run there at the end and I hit my marks I could win the thing. Sure enough he messed up a little bit going into one and it gave me just enough room to capitalize on the back stretch so I could get him in three," added Schlenk.
Dundee, Michigan's Dan McCarron has been building up confidence all season in the Fremont Fence 305 Sprints. Earlier this year he got his first career win at Fremont Speedway and has had several top three runs against 410 and 360 sprints with the SOD organization. Friday at Attica McCarron would pass John Ivy with four laps to go and drove to his first career victory at the track which was worth $1,000 thanks to Griff's Engines of Sandusky.
"We made changes at the beginning of the year and that win at Fremont…confidence is everything. Going up there with SOD…it's nothing like down here. The competition down here is the best in the country by far. I have to thank my family for coming. They aren't always all here. Thank you Blake who is a tremendous help," said McCarron of his McCarron Sales and Promotions; All Star Performance; XYZ Machining; Timken; Rod End Supply; Simpson; Schoenfeld Headers; Engler Machine & Tool backed machine.
Mintz and Brubaker brought the field to green for the 30-lap 410 sprint feature but before a lap could be completed Chris Andrews experienced mechanical issues and spun. On the restart Mintz quickly established himself as the dominate driver as he pulled away from Brubaker, Tyler Gunn, Shawn Valenti and Dean Jacobs. Mintz hit lapped traffic by the sixth circuit and had half a straight-away lead over Brubaker as Gunn and Valenti battled for third.
With 10 laps in the books Mintz held a nearly five second lead over Brubaker with Valenti, Gunn and Dean Jacobs now jockeying for third. As Mintz continued to build his lead, Brubaker now had company from Valenti to challenge for second with Dean Jacobs and Reed closing. By lap 20, Mintz was rocketing into turn three while Brubaker was entering turn one! But that advantage was wiped out when Gunn spun.
On the restart Mintz would again pull away with Brubaker, Valenti and now Reed giving chase. Cody Gallogly would spin on lap 24 to bunch the field up again. When the green flew Mintz couldn't shake Brubaker so easily this time with Valenti engaged in a tough battle with Reed. The race for fourth was also entertaining involving Dean Jacobs, Jordan Ryan, Caleb Griffith, Brian Lay and Gunn. Just as Reed took third with just three laps to go Broc Martin would stop.
Mintz would get a great restart as Reed drove under Brubaker for second. Mintz blasted the high line perfectly to take the win over Reed, Brubaker, Valenti and Dean Jacobs.
The 25 lap late model feature showcased a lot of fender rubbing and missed sliders. Markham and Larry Kingseed paced the field to green with Kingseed gaining the advantage over Markham, Dave Hornikel, Devin Shiels, John Mayes Jr., Schlenk and Matt Irey. Kingseed and Markham ran side by side until Markham took the lead on lap three.
Irey and Mayes would tangle on lap five and on the ensuing restart Josh Haynes would spin. On the next restart Kingseed attempted a big slider in turns three and four to regain the lead and he and Markham made heavy contact with Kingseed stopping and Markham continuing with a beat-up race car. When the green came back out Markham led Hornikel, Shiels, Schlenk, Mike Bores, Cody Scott and Mathew Chapman.
After a tremendous battle for second involving Hornikel, Shiels and Schlenk, Hornikel would spin with 10 laps scored. Now on the restart Markham had his hands full with Schlenk. Markham was better around the high line of turns three and four and Schlenk made up ground on the bottom of turns one and two. Markham and Schlenk ran within a car length of each other until a caution flew with four laps to go for a stalled Doug Baird. The restart order was Markham, Schlenk, Shiels, Bores, Irey, Scott, and Chapman.
When the green flew Markham pulled away slightly as Schlenk had to fend off a challenge from Shiels. But, as the white flag flew Schlenk had closed on Markham. As they raced into the final turns Schlenk drove under Markham and it was a drag race to the finish with Schlenk winning by a nose – .03 seconds. Shiels, Irey and Bores rounded out the top five.
Attica Raceway Park will be back in action Friday, July 29 on Columbus Equipment/UBS Financial Night. It will be another Kistler Racing Products FAST Championship Series point night for the 410 sprints and also a JLH General Contractor FAST 305 Championship Series presented by Engine Pro point night for the 305 sprints. The Sunoco American Late Model Series will also be in competition.
For more information go to www.atticaracewaypark.com
Attica Raceway Park
Friday, July 22, 2016
Smith Family Foods/Comfort Keepers Night
Starting position [*]
410 Sprints – O'Reilly Auto Parts
Qualifying
1.45L-Brian Lay, 12.583; 2.23-DJ Foos, 12.720; 3.60-Jody Keegan, 12.749; 4.97-Dean Jacobs, 12.781; 5.16-Stuart Brubaker, 12.818; 6.73-Chris Andrews, 12.880; 7.83M-Broc Martin, 12.945; 8.09-Craig Mintz, 12.949; 9.68G-Tyler Gunn, 12.982; 10.27-Cody Gallogly, 13.017; 11.7-Shawn Valenti, 13.069; 12.33M-Caleb Griffith, 13.070; 13.9-Jordan Ryan, 13.083; 14.46AU-Stuart Williams, 13.084; 15.9Z-Duane Zablocki, 13.095; 16.5R-Byron Reed, 13.116; 17.59-Bryan Nuckles, 13.127; 18.25M-Ken Mackey, 13.258; 19.9C-Jimmy Colvin, 13.279; 20.8J-Jess Stiger, 13.298; 21.1M-Dustin Stroup, 13.627; 22.96AU-Bruce White, 13.874; 23.89-George Hawkins, 13.976; 24.14-Daryl Daugherty, 15.771; 25.5T-Travis Philo, 99.990; 26.3J-Trey Jacobs, 99.990;
Heat 1, Group A –  (8 Laps, top 5 to A)
33M-Caleb Griffith[2] ; 2. 46AU-Stuart Williams[1] ; 3. 09-Craig Mintz[3] ; 4. 83M-Broc Martin[4] ; 5. 5R-Byron Reed[6] ; 6. 9Z-Duane Zablocki[5] ; 7. 9C-Jimmy Colvin[7] ; 8. 1M-Dustin Stroup[8] ; 9. 89-George Hawkins[9]
Heat 2, Group B –  (8 Laps, top 5 to A)
68G-Tyler Gunn[1] ; 2. 97-Dean Jacobs[2] ; 3. 7-Shawn Valenti[4] ; 4. 25M-Ken Mackey[5] ; 5. 23-DJ Foos[3] ; 6. 96AU-Bruce White[7] ; 7. 8J-Jess Stiger[6] ; 8. 14-Daryl Daugherty[8]
Heat 3, Group C –  (8 Laps, top 5 to A)
73-Chris Andrews[2] ; 2. 16-Stuart Brubaker[3] ; 3. 45L-Brian Lay[4] ; 4. 27-Cody Gallogly[1] ; 5. 9-Jordan Ryan[5] ; 6. 3J-Trey Jacobs[8] ; 7. 59-Bryan Nuckles[6] ; 8. 5T-Travis Philo[7]
B-Main 1 –  (10 Laps, top 5 to A)
9Z-Duane Zablocki[1] ; 2. 3J-Trey Jacobs[3] ; 3. 5T-Travis Philo[9] ; 4. 9C-Jimmy Colvin[4] ; 5. 1M-Dustin Stroup[7] ; 6. 14-Daryl Daugherty[8] ; 7. 59-Bryan Nuckles[6] ; 8. 96AU-Bruce White[2] ; 9. 8J-Jess Stiger[5] ; 10. 89-George Hawkins[10]
A-Main 1 –  (30 Laps)
09-Craig Mintz[1] ; 2. 5R-Byron Reed[14] ; 3. 16-Stuart Brubaker[2] ; 4. 7-Shawn Valenti[4] ; 5. 97-Dean Jacobs[8] ; 6. 33M-Caleb Griffith[9] ; 7. 9-Jordan Ryan[15] ; 8. 45L-Brian Lay[10] ; 9. 3J-Trey Jacobs[17] ; 10. 46AU-Stuart Williams[7] ; 11. 68G-Tyler Gunn[5] ; 12. 9Z-Duane Zablocki[16] ; 13. 23-DJ Foos[6] ; 14. 9C-Jimmy Colvin[19] ; 15. 1M-Dustin Stroup[20] ; 16. 83M-Broc Martin[11] ; 17. 27-Cody Gallogly[13] ; 18. 25M-Ken Mackey[12] ; 19. 73-Chris Andrews[3] ; 20. 5T-Travis Philo[18]
Hard Charger: 5R-Byron Reed +12
305 Sprints – Fremont Fence
Heat 1 –  (8 Laps, top 5 to A)
1W-Paul Weaver[6] ; 2. 2F-Matt Foos[3] ; 3. 19R-Steve Rando[7] ; 4. 22M-Dan McCarron[8] ; 5. 47-Matt Lucius[2] ; 6. 94K-Kevin Mingus[4] ; 7. 66-Jamie Miller[5] ; 8. 9R-Dustin Rall[1]
Heat 2 –  (8 Laps, top 5 to A)
77I-John Ivy[1] ; 2. 12-Kyle Capodice[4] ; 3. 4*-Tyler Street[2] ; 4. 11G-Luke Griffith[5] ; 5. 2-Ricky Peterson[6] ; 6. 7M-Brandon Moore[7] ; 7. 45-Trevor Baker[8] ; 8. 75-Jerry Dahms[3]
Heat 3 –  (8 Laps, top 5 to A)
1-Nate Dussel[2] ; 2. 25-Jason Keckler[4] ; 3. 1X-Dustin Dinan[5] ; 4. 97-Kyle Peters[8] ; 5. 5JR-Jimmy McGrath[1] ; 6. 36-Seth Schneider[7] ; 7. 2L-Landon LaLonde[3] ; 8. 1J-Jeremy Shambaugh[6]
B-Main 1 –  (10 Laps, top 5 to A)
66-Jamie Miller[4] ; 2. 7M-Brandon Moore[2] ; 3. 45-Trevor Baker[5] ; 4. 2L-Landon LaLonde[6] ; 5. 36-Seth Schneider[3] ; 6. 94K-Kevin Mingus[1] ; 7. 1J-Jeremy Shambaugh[9] ; 8. 75-Jerry Dahms[8] ; 9. 9R-Dustin Rall[7]
A-Main 1 –  (25 Laps)
22M-Dan McCarron[4] ; 2. 4*-Tyler Street[2] ; 3. 77I-John Ivy[3] ; 4. 2F-Matt Foos[6] ; 5. 12-Kyle Capodice[7] ; 6. 1W-Paul Weaver[8] ; 7. 1-Nate Dussel[5] ; 8. 19R-Steve Rando[9] ; 9. 7M-Brandon Moore[17] ; 10. 1X-Dustin Dinan[10] ; 11. 66-Jamie Miller[16] ; 12. 2-Ricky Peterson[14] ; 13. 25-Jason Keckler[11] ; 14. 36-Seth Schneider[20] ; 15. 45-Trevor Baker[18] ; 16. 11G-Luke Griffith[1] ; 17. 97-Kyle Peters[12] ; 18. 2L-Landon LaLonde[19] ; 19. 47-Matt Lucius[13] ; 20. 5JR-Jimmy McGrath[15]
Hard Charger: 7M-Brandon Moore +8
Late Models – Summit Racing Equipment
Heat 1 –  (8 Laps)
36-Matt Irey[5] ; 2. 21-Larry Kingseed[7] ; 3. 91-Rusty Schlenk[1] ; 4. 69-John Mayes Jr.[2] ; 5. 12-Kent Brewer[3] ; 6. 00-Mathew Chapman[8] ; 7. 3-Shaun Cains[4] ; 8. 12M-Bobby Michaels[6]
Heat 2 –  (8 Laps)
51-Devin Shiels[2] ; 2. 5M-Ryan Markham[4] ; 3. 71-Dave Hornikel[3] ; 4. 15B-Mike Bores[7] ; 5. 5J-Josh Haynes[1] ; 6. 92-Cody Scott[8] ; 7. 40-Wayne Maffett Jr[5] ; 8. 69R-Doug Baird[6]
A-Main 1 –  (25 Laps)
91-Rusty Schlenk[5] ; 2. 5M-Ryan Markham[1] ; 3. 51-Devin Shiels[3] ; 4. 36-Matt Irey[8] ; 5. 15B-Mike Bores[7] ; 6. 92-Cody Scott[12] ; 7. 00-Mathew Chapman[11] ; 8. 5J-Josh Haynes[10] ; 9. 69-John Mayes Jr.[6] ; 10. 71-Dave Hornikel[4] ; 11. 12-Kent Brewer[9] ; 12. 12M-Bobby Michaels[15] ; 13. 40-Wayne Maffett Jr[14] ; 14. 69R-Doug Baird[16] ; 15. 3-Shaun Cains[13] ; 16. 21-Larry Kingseed[2]
Hard Charger: 92-Cody Scott +6