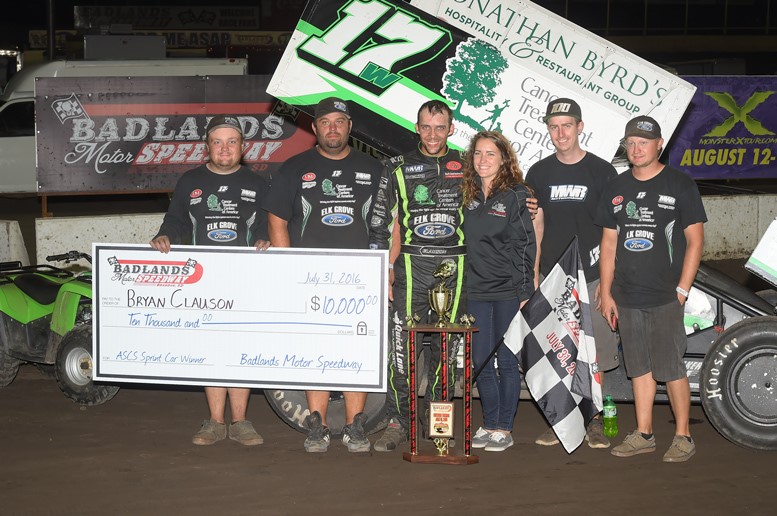 (Bill W) August 2, 2016 – The Matt Wood Racing #17w team and driver Bryan Clauson got a much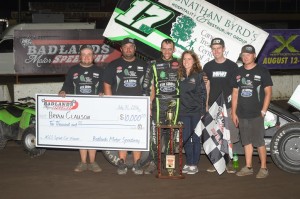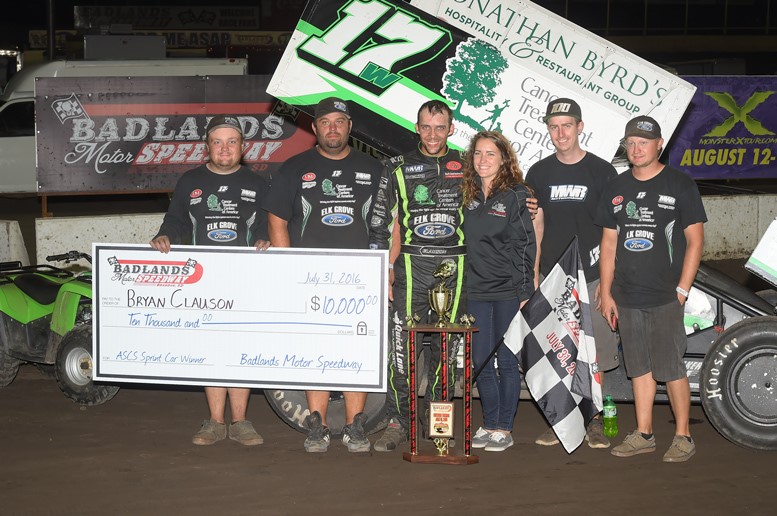 needed win Sunday night at the Badlands Motor Speedway near Brandon, South Dakota. The victory with the Lucas Oil ASCS National Series paid $10,000. The team showed speed all weekend, finishing fourth with ASCS at Park Jefferson Speedway north of Sioux City, Iowa Thursday, and third at the Knoxville Raceway in the 360 class Saturday. This will be a busy week for Bryan, who will race a midget tonight in Fairbury, Nebraska, tomorrow in Beloit, Kansas and Friday at the Belleville (KS) Nationals. He will mix in the 360 Nationals, Capitani Classic and Front Row Challenge in Iowa as well.
Dry conditions awaited at Park Jefferson. Bryan started outside row one for his heat. "It was decent in the heats, and we were able to win that," he says. "That put us in the feature redraw, where we drew fifth. We were able to finish fourth."
The team used the top five to carry momentum into Jackson Motorplex in Minnesota for the Barb Wieskus Classic on Friday. The would run both the 410 and 360 classes. In the 360, Bryan charged from ninth to second in his heat, and it looked like he may have a feature win in his clutches. "We were able to get out front and lead early," he says. "We were really strong, but then we lost a left rear tire. It looked like we ran over something. There was a big cut in it, so that was a bummer. We were able to go to the back and we came back to seventh. We were really fast in that thing all night. We just ran out of time."
The big money was in the NSL feature. He would time in eighth quick in the 30-car field, and he snagged another heat win after starting third. Unfortunately, the feature would see a DNF after a good start. "We had a part failure that put us out," says Bryan. "That was a bummer. I felt we had a good car early in the night, so that was tough with the money that was on the line."
An eighth place finish followed Saturday night at Knoxville in the 410. "We were o.k. at Knoxville," says Bryan. "We feel like we have a good package there. We tried to vary from it a little to see if we could get better. We didn't, so we're looking forward to getting back there Sunday with the 410."
Bryan and the team were also testing with the 360 on Saturday. After timing in third quick in the 42-car field, he would make it through his heat and start the feature outside row one. "We were pretty good," he says. "We were trying some things with the 360 too. We were able to win there earlier in the year, so we have that to fall back on. Overall, we were decent. We may have been able to run second, but I stayed on the bottom a little too long trying to make that work (finishing third)."
Sunday would be the charm at Badlands with ASCS. Bryan started third in his heat. "We got a really good start," he says. "We were able to get a good run into turn one. We were able to get out front and get the win."
He would draw a three to start the feature inside row two. "We got another decent start," says Bryan. "We settled into third, then we were able to get Carson (McCarl) on an early restart. We settled in behind Tommy Barber there. Before we had a chance to work on him, he got tangled in lapped traffic. That handed us the lead and we were able to stay out front."
It was Bryan's second career win at Badlands. He currently has 112 races under his belt in his "Chasing 200: Circular Insanity" tour.
Matt Wood Racing would like to thank: Elk Grove Ford, Cancer Treatment Centers of America, Jonathan Byrd's Hospitality and Restaurant Group, America's Best Value Inn, Quick Lane and Impact Signs, Awnings & Wraps!