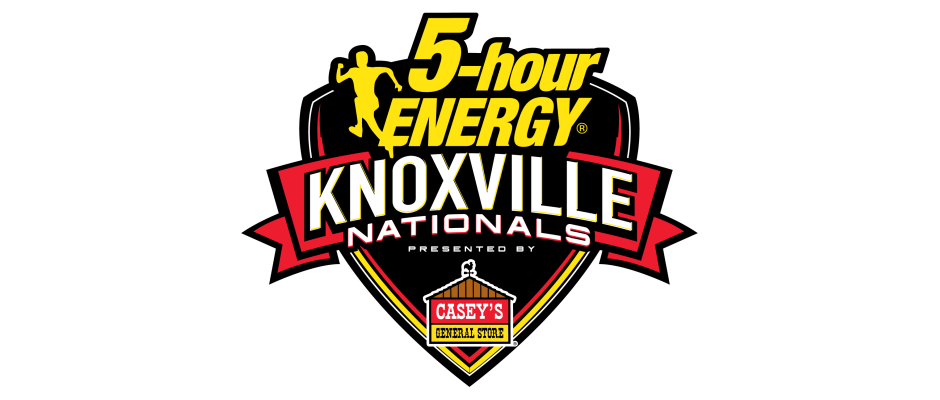 By T.J. Buffenbarger
KNOXVILLE, Iowa – (August 13, 2016) – Austin McCarl won a wild D-Main event during the 2016 5-hour ENERGY Knoxville Nationals at the Knoxville Raceway. McCarl inherited the lead when Danny Holtgraver's car experienced a mechanical problem just before the white flag.
Holtgraver and Polyak started on the front row with Holtgraver leading into turn one with Wagner and Polyak in tow. Dean Jacobs was holding down the fifth and final transfer spot but soon found him under fire from Greg Wilson in sixth and Jason Solwold quickly closing in seventh. Jacobs held onto the spot around the top when the caution appeared when A.J. Moeller slowed on the front stretch.
After the restart Jacobs tried to dive under Polyak for the fourth spot, but could not make the pass. This allowed Solwold to drive by Wilson and Jacobs for the fifth and final transfer spot. One lap later the red flag appeared for a scary incident when R.J. Johnson flipped out of the race track between turns three and four, taking out a billboard in the process. Johnson emerged from his car under his own power.
During the red flag Wagner's team discovered a hole in the oil pan while Holtgraver also was fighting mechanical gremlins.
After the restart Wagner's car slowed down the backstretch while Solwold drive around Polyak for third spot. Just as that occurred Holtgraver also slowed and pulled into the infield giving the lead to Austin McCarl at the white flag.
McCarl held on over the final lap for the victory. Solwold, Polyak, Wilson, and Dean Jacobs transferred to the C-Main.
56th Annual 5-Hour Energy Knoxville Nationals presented by Casey's General Stores Finale
Knoxville Raceway
Knoxville, IA
Saturday August 13, 2016
D-Main (12 Laps): 1. 17A – Austin McCarl, 2. 18JS – Jason Solwold, 3. 19P – Paige Polyak, 4. W20 – Greg Wilson, 5. 97 – Dean Jacobs, 6. 17 – Josh Baughman, 7. 7M – Kaley Gharst, 8. 1XX – Don Droud Jr., 9. 12H – Daniel Hardign, 10. 45X – Johnny Herrera, 11. 77X – Parker Price-Miller, 12. 49J – Josh Schneiderman, 13. 44 – Chris Martin, 14. 68 – Chase Johnson, 15. 23C – Tyler Courtney, 16. 21T – Ray Allen Kulhanek, 17. 5R – Byron Reed, 18. 4 – Jon Agan, 19. 70 – Danny Holtgraver, 20. 55W – Logan Wagner, 21. 71A – R.J. Johnson, 22. 20N – Hunter Schuerenberg, 23. 20 – A.J. Moeller, 24. 4S – Danny Smith. (First five finishers transferred to the C-Main)