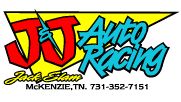 From J&J
McKenzie, Tenn. (Aug. 30, 2016) – In the final full week of August, J&J Auto Racing teams are still steamrolling toward the Fall months of the 2016 racing season as the McKenzie, Tenn., based manufacturer's brand drove into the winner's circle eight times in the United States and Canada last week.
Donny Schatz and Mack DeMan doubled up for J&J Auto Racing in World of Outlaws (WoO) Craftsman Sprint Car Series action and in Ohsweken Speedway Weekly 305ci Crate Series competition. Schatz swept the weekend in his home state of North Dakota, grabbing wins at both River Cities Speedway in Grand Forks, ND, and Nodak Speedway in Minot, ND, on August 26 and 28. DeMan won an Aug. 26 doubleheader at Ohsweken Speedway in Ontario, Canada, to double-dip.
Danny Holtgraver grabbed an Arctic Cat All Star Circuit of Champions Series (ASCoC) victory at Brownstown (Ind.) Speedway on Aug. 27, while Lee Grosz posted the win against the Upper Midwest Sprint Series (UMSS) at Madison (Minn.) Speedway the same night.
Derek Hagar drove to a victory against the United Speed Contest Sanction (USCS) Series on Aug. 27. Hagar was followed to the line by Terry Gray in second, Marshall Skinner in third and Morgan Turpen in fifth. Josh Weller took the checkered flag against the United Racing Club (URC) Series on Aug. 27 at Delaware International Raceway in Delmar, DE, to post his fourth win of 2016.
For a complete summary of J&J Auto Racing team wins and finishes for August 26 – 28, please see below.
DATE    DRIVER                               TRACK/STATE                                SERIES
8/26        Donny Schatz                      River Cities Speedway/ND  WoO
8/26        Mack DeMan                       Ohsweken Speedway/ONT               Crate 305ci Series
Mack DeMan (2)
8/27        Danny Holtgraver               Brownstown Speedway/IN                ASCoC
8/27        Josh Weller                            Delaware Int'l Raceway/DE             URC
8/27        Lee Grosz                              Madison Speedway/MN                    UMSS
8/27        Derek Hagar                         Clayhill Motorsports Park/TN           USCS
8/28        Donny Schatz                      Nodak Speedway/ND                         WoO
ABOUT J&J AUTO RACING – McKENZIE, TN
For more than 40 years, J&J Auto Racing has been a leader in racecar chassis manufacturing. With intricate attention to detail and a willingness to provide chassis to the consumer's specifications, J&J has taken its place as a leader in Sprint car racing innovation and safety. Founded and headed by Jack and Bonnie Elam, J&J Auto Racing is based in McKenzie, Tenn. For more information regarding J&J Auto Racing, please visit www.jandjautoracing.com or follow the brand on Twitter @JJ_Auto_Racing and on Facebook at https://www.facebook.com/JJ-Auto-Racing-199865997589/.