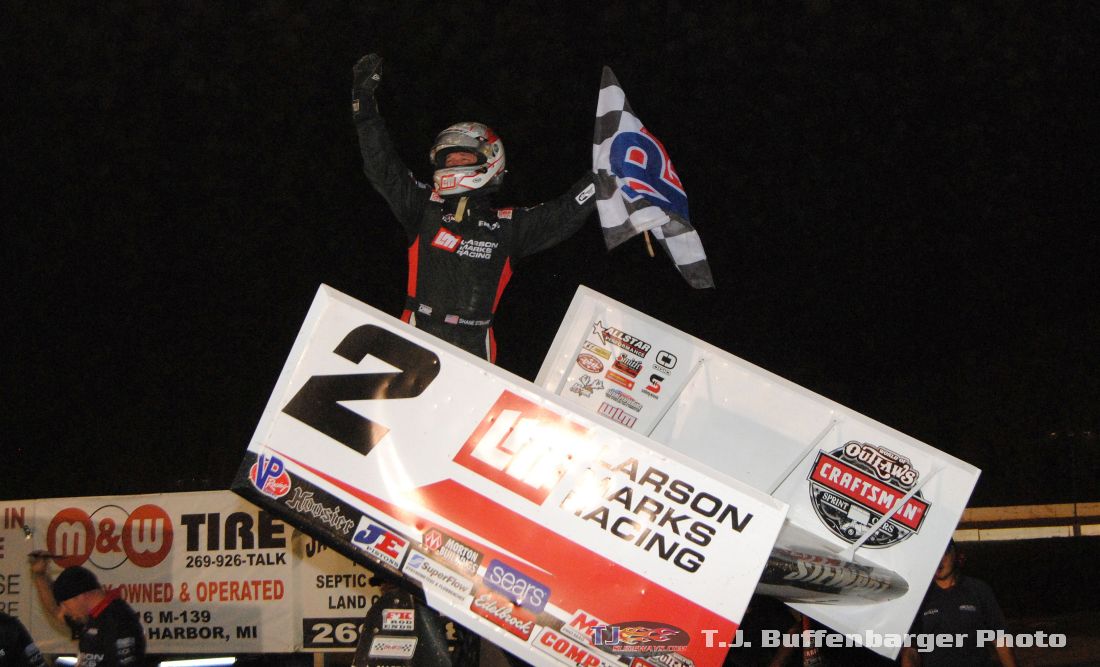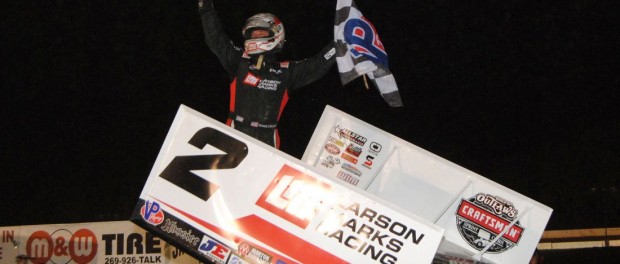 HARTFORD, Mich. (September 21, 2016) — Shane Stewart was up for the challenge through multiple restarts to hold off Donny Schatz to win Wednesday night's World of Outlaws Cratsman Sprint Car Series event at Hartford Motor Speedway. Stewart held off Schatz through multiple restarts and slower traffic for the victory.
"The starts and restarts were everything tonight, especially being beside the (No) 15 car," said Stewart. "I didn't think I would get that good of a start on the initial start. I was off a little in the dash and we made some good changes to our Cool Chassis that brought it back to life for the feature. I can't thank my crew enough. This team has been through some trying times this summer. To finally get on a little roll feels great. We have a few races left and some big races coming up that we want to run well at. This is a big win for me. I'm not normally that good on half-miles like this. Thanks Kyle (Larson) and Justin (Marks) for the opportunity and to give us all the tools to do this job."
Stewart had Schatz nose under him a couple of times, but the most precarious moment came in traffic.
"I got in lapped traffic the first time and jumped the cushion and packed the right rear wheel with mud. It was vibrating on me pretty good. I'm thankful everything worked out for us."
Schatz had a couple of looks under Stewart, but otherwise was unable to gain ground.
"Shane was definitely better tonight. I knew we were going to be a little off the first couple laps," said Schatz. "About eight laps in, I thought we would get going and just never did. It felt like the left rear was flat, but the tire is not flat. We have something on there, but it was a respectable finish. It was a fast track and you just had to get up there and hammer down. We got on the bottom a few times and just weren't able to finish the corner. I guess sometimes when you get going and something doesn't feel quite right, it's better to not push the issue, with how fast you are going around here and get yourself in trouble. We've definitely torn up enough stuff in the last month. It was a respectable finish for these guys and a great job. We'll go on to Friday and try to win one."
Rounding out the podium was Tim Shaffer with a strong run in the 25-lap main event.
"The team has given me great cars," said Shaffer. "Cody Jacobs came along tonight and really turned the wrenches well and we were fast. We had three crew guys and they all did their job. It was up to me to do my job."
World of Outlaws Craftsman Sprint Car Series
Hartford Motor Speedway
Hartford, MI
Wednesday September 21, 2016
Feature – (25 Laps) 1. 2-Shane Stewart [2] [$10,000]; 2. 15-Donny Schatz [1] [$5,500]; 3. 49X-Tim Shaffer [6] [$3,200]; 4. 5-David Gravel [7] [$2,800]; 5. 9-Daryn Pittman [3] [$2,500]; 6. 49-Brad Sweet [8] [$2,300]; 7. 7S-Jason Sides [19] [$2,200]; 8. 18-Ian Madsen [4] [$2,100]; 9. 83-Joey Saldana [14] [$2,050]; 10. 41-Jason Johnson [13] [$2,000]; 11. 7-Paul McMahan [5] [$1,500]; 12. 1S-Logan Schuchart [11] [$1,200]; 13. 20N-Hunter Schuerenberg [21] [$1,100]; 14. 19-Paige Polyak [9] [$1,050]; 15. 11R-Chase Ridenour [22] [$1,000]; 16. 2M-Dustin Daggett [16] [$900]; 17. W20-Greg Wilson [18] [$800]; 18. 10V-Matt Vandervere [24] [$800]; 19. 11K-Kraig Kinser [12] [$800]; 20. 1A-Jacob Allen [17] [$800]; 21. 25M-Kenny Mackey [23] [$800]; 22. 13-Clyde Knipp [20] [$800]; 23. 4-Danny Smith [15] [$800]; 24. 93-Sheldon Haudenschild [10] [$800] Lap Leaders: Shane Stewart 1-25 KSE Hard Charger Award: 7S-Jason Sides [+12]
Qualifying – 1. 5-David Gravel, 15.623; 2. 18-Ian Madsen, 15.687; 3. 15-Donny Schatz, 15.788; 4. 7-Paul McMahan, 15.842; 5. 1S-Logan Schuchart, 15.853; 6. 49X-Tim Shaffer, 15.859; 7. 93-Sheldon Haudenschild, 15.945; 8. 9-Daryn Pittman, 15.963; 9. 19-Paige Polyak, 15.988; 10. 2-Shane Stewart, 16.028; 11. 49-Brad Sweet, 16.056; 12. 11K-Kraig Kinser, 16.118; 13. 2M-Dustin Daggett, 16.130; 14. 83-Joey Saldana, 16.176; 15. W20-Greg Wilson, 16.199; 16. 41-Jason Johnson, 16.211; 17. 1A-Jacob Allen, 16.229; 18. 4-Danny Smith, 16.251; 19. 7S-Jason Sides, 16.330; 20. 13-Clyde Knipp, 16.389; 21. 20N-Hunter Schuerenberg, 16.390; 22. 11R-Chase Ridenour, 16.476; 23. 25M-Kenny Mackey, 16.804; 24. 10V-Matt Vandervere, 17.525
Heat 1 – (8 Laps – Top 6 finishers transfer to the A-feature) 1. 7-Paul McMahan [2] ; 2. 2-Shane Stewart [4] ; 3. 5-David Gravel [1] ; 4. 93-Sheldon Haudenschild [3] ; 5. 41-Jason Johnson [6] ; 6. 2M-Dustin Daggett [5] ; 7. 7S-Jason Sides [7] ; 8. 11R-Chase Ridenour [8]
Heat 2 – (8 Laps – Top 6 finishers transfer to the A-feature) 1. 18-Ian Madsen [1] ; 2. 9-Daryn Pittman [3] ; 3. 49-Brad Sweet [4] ; 4. 1S-Logan Schuchart [2] ; 5. 83-Joey Saldana [5] ; 6. 1A-Jacob Allen [6] ; 7. 13-Clyde Knipp [7] ; 8. 25M-Kenny Mackey [8]
Heat 3 – (8 Laps – Top 6 finishers transfer to the A-feature) 1. 15-Donny Schatz [1] ; 2. 49X-Tim Shaffer [2] ; 3. 19-Paige Polyak [3] ; 4. 11K-Kraig Kinser [4] ; 5. 4-Danny Smith [6] ; 6. W20-Greg Wilson [5] ; 7. 20N-Hunter Schuerenberg [7] ; 8. 10V-Matt Vandervere [8]
Craftsman Club Dash – (6 Laps, finishing order determined first 6 starting positions of A-feature) 1. 15-Donny Schatz [2] ; 2. 2-Shane Stewart [1] ; 3. 9-Daryn Pittman [5] ; 4. 18-Ian Madsen [3] ; 5. 7-Paul McMahan [4] ; 6. 49X-Tim Shaffer [6]