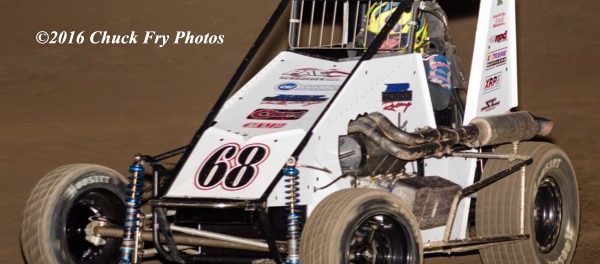 From Lance Jennings
(NOVEMBER 15, 2016) – This Saturday, November 19th, the USAC Western States Midgets will make their last of three appearances at Bakersfield Speedway. Promoted by Scott Schweitzer, the thirteenth point race will also showcase Hobby Stocks, IMCA Stocks, American Stocks, and Mini Dwarfs. The Pit Gates will open at 2:00pm, the Front Gates will open at 4:00pm, and Racing is scheduled for 6:00pm at "The West's Fastest 1/3-Mile High Banked Clay Oval." For event information, visit the track's website at www.bakersfieldspeedway.com or call 661.393.3373.
Since July 3, 1987, Bakersfield Speedway has hosted 104 USAC Western States Midget races and P.J. Jones claimed the inaugural victory. Ronnie Gardner won the April 30th event and Michael Faccinto scored the June 4th triumph. Former champions Sleepy Tripp and Robby Flock are tied for the series lead with eight Bakersfield triumphs, followed by Billy Boat (7), Jay Drake (5), and "Flash" Jordan Hermansader (4). Heading into Saturday's race, Ricky Shelton holds the 1-lap qualifying track record of 12.339, set on June 21, 1997.
With two races remaining, Ronnie Gardner (Corona, California) and holds a 121-point advantage over the competition. Racing the Six8 Motorsports' #68 Baldozier Racing / Esslinger Engineering Stewart, Gardner ran second to Robby Josett at Ventura on October 29th. To date, the three-time champion has posted five feature wins, four Woodland Auto Display Fast Time Awards, eight heat race victories, two Keizer Aluminum Wheels / Rod End Supply Hard Charger Awards, twelve top-10 finishes, and 106 feature laps led. Currently tied with Page Jones with sixteen triumphs, Ronnie will be looking to continue his championship bid with another Bakersfield victory.
Michael Faccinto (Hanford, California) is second in the USAC Western States point standings. Piloting the MF Motorsports' #35F OSV / Lucas Oil Spike, Faccinto ran fifth at the Ventura show on October 29th. At press time, the Louie Vermeil Classic winner has two feature wins, two Woodland Auto Display Fast Time Awards, two heat race victories, eleven top-10 finishes, and 67 feature laps led on the year. Michael has four USAC wins and will have his sights on the Saturday night triumph and keeping his championship hopes alive.
Cory Elliot (Bakersfield, California) has climbed to third in the championship point chase. Driving the family owned #11E FK Indy / Oilwize Spike, Elliott charged from eighth to score third at the Ventura County Fairgrounds. To date, last season's Rookie of the Year has posted five heat race victories, ten top-10 finishes, and 24 feature laps led to his credit. This Saturday, Cory will be looking to earn his second USAC triumph in front of his hometown fans.
Frankie Guerrini (San Rafael, California) sits fourth in the chase for the championship. Racing the family owned #63 F&F Racing / Davis Motorsports Spike, Guerrini flipped in his Ventura heat race and did not start the main event. At press time, last year's BCRA Champion has two heat race victories, one Competition Suspension Inc. / Rod End Supply Semi-Main win, ten top-10 finishes, and 16 feature laps led on the season. At Bakersfield, Frankie will have his sights on moving up the standings by claiming the second USAC victory of his career.
Courtney Crone (Corona, California) is ranked fifth in the Western Midget point standings. Driving Jerome Rodela's #25 Trench Shoring / Ed Pink Racing Engines Breka, Crone scored ninth at the Ventura Raceway feature. To date, the Perris Young Gun Sprint Car Champion has posted two Keizer Aluminum Wheels / Rod End Supply Hard Charger Awards and seven top-10 finishes on the season. This Saturday, the leading rookie contender will be looking to breakthrough and claim her first series triumph.
Among the other drivers expected to be in action are Cody Swanson, Randi Pankratz, Maria Cofer, Robert Dalby, Tyler Dolacki, Shannon McQueen, Nate Wait, Robby Josett, Dylan Ito, "The Panda Express" Terry Nichols, Ashley Hazelton, Chad Boat, and more.
Bakersfield Speedway is located at 5001 North Chester Extension in Bakersfield, California. Advance tickets are on sale and for more event/ticket information, visit the track's website at www.bakersfieldspeedway.com or call 661.393.3373.
The USAC Western States Midget Series thanks Hoosier Tire, Brown and Miller Racing Solutions, Competition Suspension Incorporated, DJ Safety, Diversified Machine Incorporated, Extreme Mufflers, Keizer Aluminum Wheels, Light Up The World Beverages, Rod End Supply, Stand 21 Racer Goes Safer Foundation, Ultra Shield Race Products, and Woodland Auto Display for their support. If you or your company would like to become part of the series, email PR Director Lance Jennings at lwjennings@earthlink.net.
For more information on the series, visit the United States Auto Club (USAC) website at www.usacracing.com. You can also find exclusive content on the USAC Western States Midget Facebook and Twitter pages.
Loudpedal Productions has USAC Western States Midget DVDs and videos on demand available for purchase at www.loudpedal.tv and 805.407.7229.
NOTICE TO RACERS: The USAC Western States Midget Series approved/legal mufflers are:
B&B: FRAC-0375-S w/side outlet,
Coast Fabrication: 300x625x17-2s, 350x625x17-2s, 400x625x17-2s
Extreme: 3512-3030 (with insert 2312-30), 3512-3030 SS (with insert 2312-30), 3515-3030, 4615-3035- 15″ long x 6″ diameter x 3″ inlet and 3.5 outlet w/internal cone
Flowmaster: (BCRA Approved) 13009130, 1509130, 13509135
Shoenfeld: 14272735-78, 14272535
*Failure to comply with the muffler rule will risk disqualification from the event.
USAC WESTERN STATES MIDGET POINT STANDINGS:
1. Ronnie Gardner-922, 2. Michael Faccinto-801, 3. Cory Elliott-717, 4. Frankie Guerrini-676, 5. Courtney Crone-620, 6. Cody Swanson-564, 7. Randi Pankratz-531, 8. Maria Cofer-523, 9. Robert Dalby-521, 10. Tyler Dolacki-420, 11. Shannon McQueen-356, 12. Alex Schutte-319, 13. Sean Dodenhoff-242,
14. Nate Wait-228, 15. Robby Josett-201, 16. Dylan Ito- 200, 17. Terry Nichols-198, 18. Darren Hagen-195, 19. Ashley Hazelton-178, 20. Taylor Simas-177.