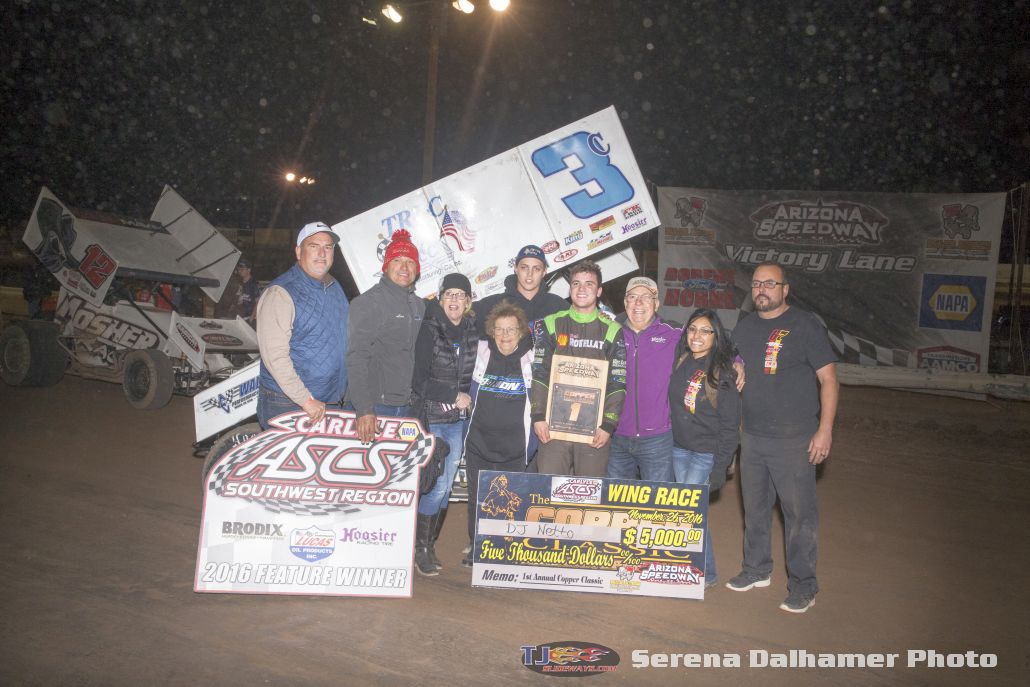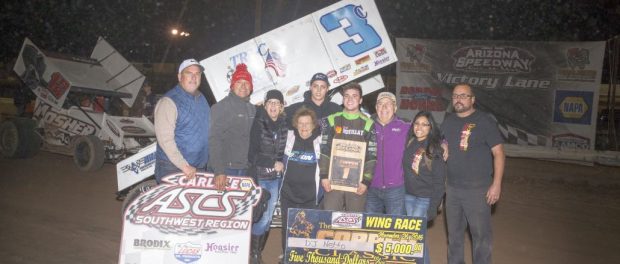 From Peterson Media
Making a return trip to Arizona over the weekend to close out his 2016 campaign, DJ Netto and the Tri-C Motorsports team made the most of their trip as Netto scored the team's first win together as he completed a clean sweep during Saturday night's Copper Classic.
"My guys had this thing awesome all weekend," Netto said. "We had a part go south on Friday night, but Saturday night everything went extremely well and we were able to earn the win."
With the final race weekend of Netto's season kicking off on Friday night, Netto would kick the Copper Classic off by timing the Tri-C Motorsports machine in second fastest in qualifying time trials.
Getting off to a great start in his heat, Netto would surge to the top spot, where he would stay, as he picked up the win and moved directly into the feature event.
Looking to keep his good night going, Netto would battle for the race's top spot in the early goings of the event, only to see a part fail on the ninth lap and bring his race to an early end.
Looking to go end his season with an exclamation point, Netto would return to Arizona Speedway on Saturday night and get things started by setting the standard in qualifying time trials.
Racing his way to another heat race win, Netto would find himself in the third row for the 25-lap Copper Classic feature event.
On the immaculately prepared surface, Netto would take a liking to the high side of speedway as he made quick work of the field. Battling with John Carney, Netto would take command of the race.
Very strong out front, Netto would fend off Carney's advances he completed the clean sweep of the Copper Classic and scored his first win aboard the Tri-C Motorsports entry.
"I think it is huge to come out and win the final race of the year," Netto added. "We have been so close in the short time we were together, and I am really thankful to be standing in victory lane with my guys, as well as Clyde and Marion Lamar. Hopefully we are able to kick next year off the way we ended this year."