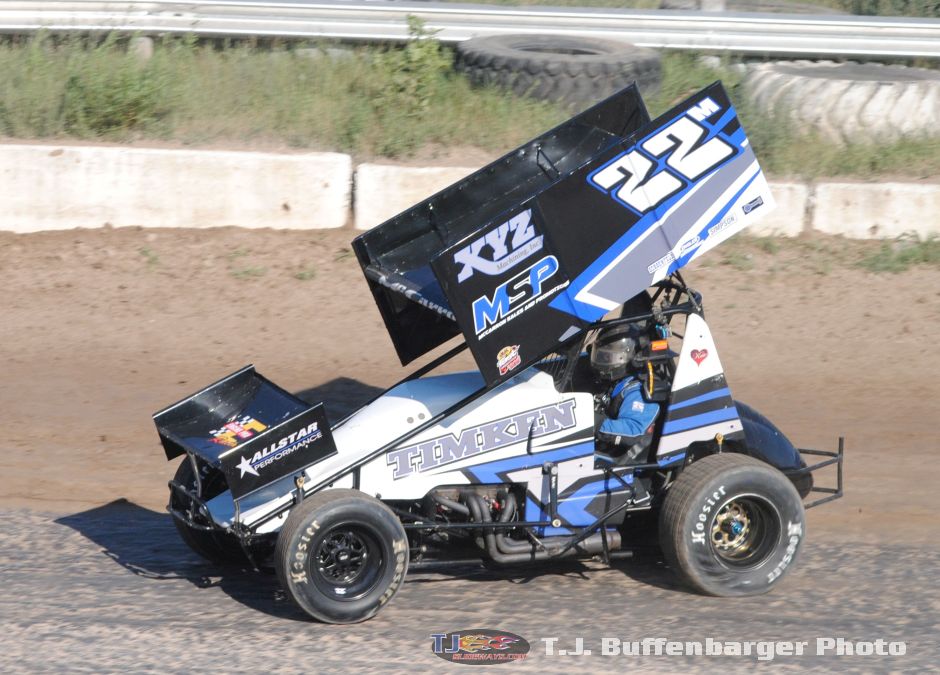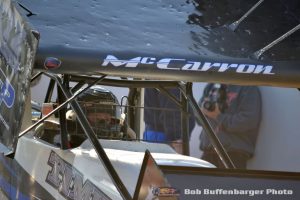 By T.J. Buffenbarger
Dan McCarron is ready to take the plunge into the deep end of the pool when it comes to sprint car racing in Ohio. The Dundee, Michigan resident recently completed a deal to go 410 sprint car racing with the Fremont/Attica Sprint Title and the track championship at Attica Raceway Park in 2017.
McCarron picked up sponsorship from Ken Gill Construction for the upcoming season. The backing from Gill was the final piece of the puzzle needed for McCarron to make the next step.
After a brief stint in his father's 360 sprint car McCarron launched his own 305 team on a part time basis in 2012. Since then McCarron has picked up three feature wins including one win each at Attica and Fremont.
"I feel like as a driver, and as a team we made great progress in the 305 division over the last few seasons," said McCarron. "The system we have is working well, and to continue to grow we needed to make the move into the 410's."
This opportunity started on a somewhat random encounter before a race at Attica last season.
"I heard someone walked into the trailer while I was getting ready to fire the car," said McCarron. "Ray Brooks from Ken Gill Construction introduced himself. We were talking and Ray mentioned he had heard we were looking to make a move up to the 410 division. He said his family enjoyed coming to the races and wanted to have more involvement with a team for next year".
This meeting eventually led to a trial run with a 410 race at Attica last September. McCarron ended up making the A-Main finishing 17th. That single start gave McCarron some experience in the division and carrying over support from Allstar Performance, XYZ Machining, Vortex Wings, Simpson, and J&J Auto Racing while also adding DHR Suspension he hopes can assist in getting off to a good start for 2017.
"Everything just happens faster," McCarron mentioned about transition from the 410 from the 305. "From the starts, reactions, to just driving and entry into the corner. They qualify in hot laps, so my first laps were qualifying. The first couple of corners I missed the entry because I drove right by it. Throttle control was much more important as well."
One of the benefits of racing in the 305 division at Attica and Fremont is the level of competition faced each week. Stacked with veteran drivers mixed with up and coming competitors 305 experience in Ohio benefitted several drivers that have made the transition to the 410 division. McCarron hopes to duplicate their success.
"I honestly think that the 305 division in Ohio is one of the most competitive divisions in racing," said McCarron. "There are 12 guys who on any given night can win, and we race hard for every spot from the drop of the green. It's as good as it gets."
While the 410 division is stacked at Attica and Fremont on any given week, McCarron has already set goals for himself for the upcoming season.
"The learning curve is going to be steep. Rookie of the Year with FAST Series first and foremost is our main goal, but to stay consistent and focus on getting better every night we run. I'd like to be a top 10 team as quickly as possible and see some top five runs in 2017."
Notes
Tony Stewart announced during his annual reprise of Tony Stewart Live on Sirius XM NASCAR radio he revealed a couple of race dates where he will compete during the 2017 season, one of which was the ASCS National Tour event April 7-8 at the Dirt Track at Texas Motor Speedway. This is the first sprint car date Stewart has actually mentioned with an actual time frame attached to it since his retirement from NASCAR racing after this past season.
Tickets Eldora Speedway's major events go on sale to the public Saturday at 10:00 a.m. EDT. You can buy online at eldoraspeedway.com, by phone at (937) 338-3815, and in person at the Eldora Speedway box office between 10:00 a.m. and 3:00 p.m. Events on sale are the Dirt Late Model Dream, Kings Royal, NASCAR Craftsman Truck Series & Super Dirtcar Big Block Modifieds, and the World 100.
The big news in the Great Lakes state today other than McCarron is the addition of the Arctic Cat All Star Circuit of Champions event at Merritt Speedway on July 1, 2017. With new lights, larger grandstands, and other improvements this should be a showcase event for Merritt's improvements. This will be the series first appearance this far north in the Great Lakes State.