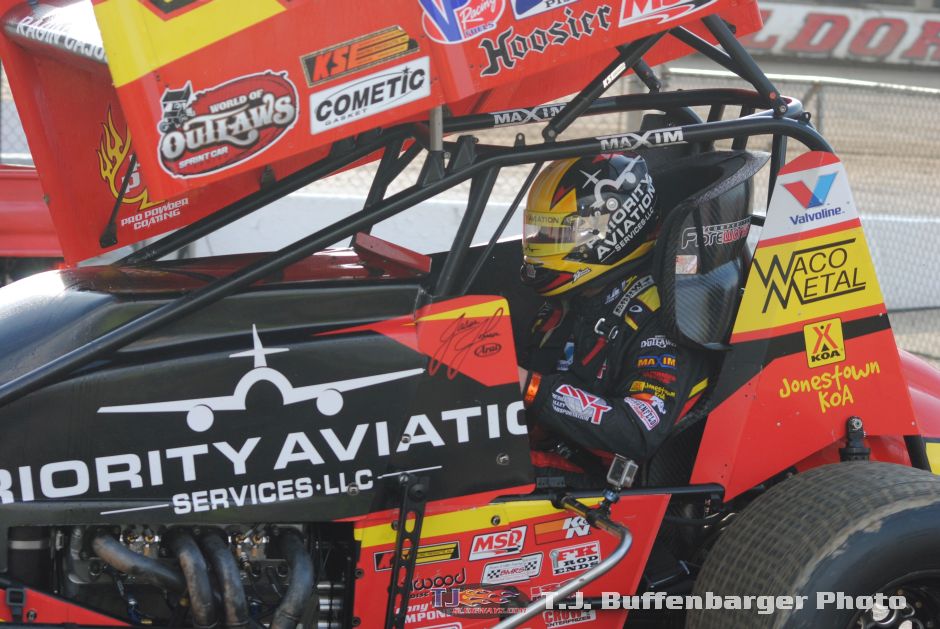 From WSS
AVALON, Au. (December 30, 2016) — American superstar Jason Johnson put his World Series Sprintcars Speedweek back on track with an assured victory at Avalon Raceway on December 30. For others it was a night of missed opportunities, with series points leaders James McFadden and Jamie Veal both striking trouble in a dramatic A-Main. This has led to a tightening race in both the overall series and Speedweek standings, with McFadden clinging on to the lead in both points chases.
For the first time in eight rounds the 30th anniversary tour had a classic summer's day to entice the crowds along, and the Victoria public responded with a bumper attendance. They were treated to the biggest field that Speedweek has seen this summer, with 42 cars rolling out for qualifying in the two-flight system.
Jason Johnson (11.875 seconds) and V36 Tim Van Ginnekin (12.204 seconds) set the fastest times in each pool, but it was V70 John Vogels who topped the standings after qualifying. He beat Johnson by a point, with both having to stand aside for James McFadden in the Gold Shootout who progressed up from seventh overall to pole position.
Hard luck story of the night, week and series has got to be Andrew Wright, with the plucky New South Welshman rolling again in the heats. Remarkably, his crew got the car ready for his last placed start in the B-Main and Wright managed to complete the race.
After Grand Marshall and prominent journo Dennis Newlyn had given the 4-wide signal, it was time for an epic 35-lap World Series A-Main to unfold. Defending series champion Jamie Veal started from Grid 20 after a rush through the B-Main field to the final transfer position, with Brooke Tatnell on 15 and Luke Dillon 14. After two laps Tatnell had moved to tenth, with Veal 15th. McFadden led for the first nine laps until Johnson passed him, with the W17 Monte Motorsport pilot returning the favour just over 10 laps later.
Twenty laps and Veal was up to sixth, having passed Tatnell and setting his sights even further. Veal needed to, as McFadden was skipping away with five laps to run, only to spin himself as he attempted to lap a car in turn 4. The caution lights were on, and McFadden was sent to the rear to the gasps of the packed spectator embankment. Just to add to the drama Jamie Veal pulled infield during the stoppage with a collapsed front end, being eventually credited with 18th place.
Back at the pointy end Jason Johnson held off Steve Lines for the final five laps, taking an emotional chequered flag for his 25th World Series feature victory. V52 Darren Mollenoyux was a well-performed third, ahead of late entrant Matt Egel who will be mighty pleased he made the last minute decision to appear. Tatnell was fifth, collecting 180 valuable series points.
With one round to go at Warrnambool on January 1, the $10,000 Speedweek bonus is well and truly up for grabs. James McFadden (878 points) leads Steven Lines by just 25 points (853). Also in striking distance and ready to shoot for the loot are Luke Dillon (789 points), Matt Egel on 732 and Jason Johnson on 725.
After eight rounds of World Series Sprintcars James McFadden (1881 points) hangs onto a 200-point buffer over Jamie Veal on 1681. Brooke Tatnell is another 27 points back on 1654, with Daniel Harding on 1457 after an eighth place A-Main finish. The battle for fifth is the closest of all, with Andrew Wright on 989 and Jason Pryde 980.