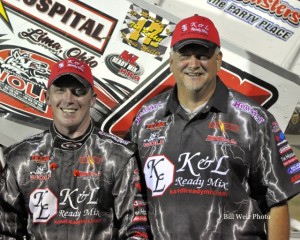 By T.J. Buffenbarger
The National Racing Alliance Sprint Invaders will take on a different feel for 2017 with new ownership and expanded schedule for 2017. During the off season long time NRA car owner, sponsor, and event promoter Ron Hammons purchased the series from the University of Northwest Ohio.
"I was in the office at the University one and was talking to Dr. (Jeff) Jarvis and started talking about the series and I asked if they would interested in selling it," said Hammons. "That got the ball rolling and we eventually finalized the deal."
For Hammons purchasing the NRA series continues his ever expanding role in the sport. Participating as a car owner and sponsor since 1999 Hammons took on the promoter roll in 2012 with the Bob Reynolds Memorial at Waynesfield Raceway Park and eventually expanding into other programs. Now Hammons will run the series his cars have competed in and starred in his event promotions.
So far Hammons has retained series title sponsor K&L Ready Mix and continue to be part of the "King of the Quarter Mile" and the end of the season at Limaland, which all feature winners in NRA events in 2017 will be eligible for.
Hammons has also partnered with Barry Marlow and the Great Lakes Super Sprints for 20 of their 28 shows this season. Along with the co-sanctioning the two groups worked together to alleviate any schedule conflicts, allowing teams to run for both championships. Hammons and Marlow are also working together to have matching race purses and eventually identical tire rules in the future once the allotment of NRA spec tires is used up. The partnership takes NRA to some new venues Thunderbird Raceway Park in Muskegon, Merritt Speedway in Merritt, Michigan, and Tri-City Motor Speedway in Auburn along with a return to Crystal Motor Speedway.
"Our goal is to have 30-35 cars at our races," said Hammons. "With no inference teams can now run for both championships."
While Limaland has served as the division's home for over two decades 2017 will see the NRA Sprint Invaders make eight appearances at the high banked ¼-mile oval, freeing up some Fridays to visit other venues such as Attica Raceway Park and a Saturday visit to Fremont Speedway for 360/305 sprint car challenge events.
"I think (the reduction in races at Limaland) will be good for Lima and us," said Hammons. "It gives us the opportunity visit some different places and they can feature some other divisions as well."
To assist with the travel Hammons is already formulating benefits for teams with 100% participation to help offset some of the additional travel. Gas Cards additional contingency sponsors, and other incentives are already in the works for NRA teams in 2017. Hammons also has plans to leave his schedule open for teams to compete in the Knoxville 360 Nationals.
While Hammons aggressive schedule already shows his ambition, his hopes for the end result of the 2017 season is simple.
"The goal for 2017 is to make this fair and fun for everyone"
Notes:
• Racing domestically is quiet this week with the Chili Bowl Nationals looming next week. As of this story 367 entries from 36 states and five countries are on the entry list. One of the more interesting aspects of the Chili Bowl is the rookie of the year list which as of now has 75 drivers eligible for the award. Experience for the rookies ranges from multiple time World of Outlaws champion Donny Schatz to World Racing Group employee Ross Wece who will be making his first start in a midget in Tulsa.
• While the favorites to win the event will mostly be fielded out of the Keith Kunz Motorsports, Clauson/Marshall Racing, or Sammy Swindell camps one combination to keep an eye on this week is Keith's brother Rusty Kunz teamed up with Thomas Meseraull. T-Mez won a Golden Driller last week at the Tulsa Shootout in the 1200cc mini sprint division and will have arguably the strongest Chili Bowl team of his career going into next week's event. Meseraull could be the driver to keep pace with Rico Abreu and challenge for the win.
• Congratulations to Larry Boos and his team of officials for pulling off another Rumble in Fort Wayne last weekend at the Allen County Memorial Coliseum Exposition Center. Over 300 entries from kid karts to midgets participated. Dates for the 2017 edition of the Rumble were announced prior to this year's event. Make your reservations now for December 29th – 30th, 2017.
• We send our best wishes out to former PennLive.com journalist Jeremy Elliott on his new sprint car venture. Elliott has left PennLive to launch SprintCarUnlimited.com. Elliott's new venture will launch January 20th at the Philadelphia Motorsports Show.
• With the PRI Show and the Holidays in the rear view mirror schedules are coming out at a fast pace every day. So far there are a handful of blockbuster announcements like the USAC National Sprint Car Series returning to Knoxville Raceway and Williams Grove, the expanded Jackson Nationals at Jackson Motorplex, and a handful of others its business as usual. What is good about that is several big events that were started in the past 5-10 years are starting to take hold as traditional race dates.