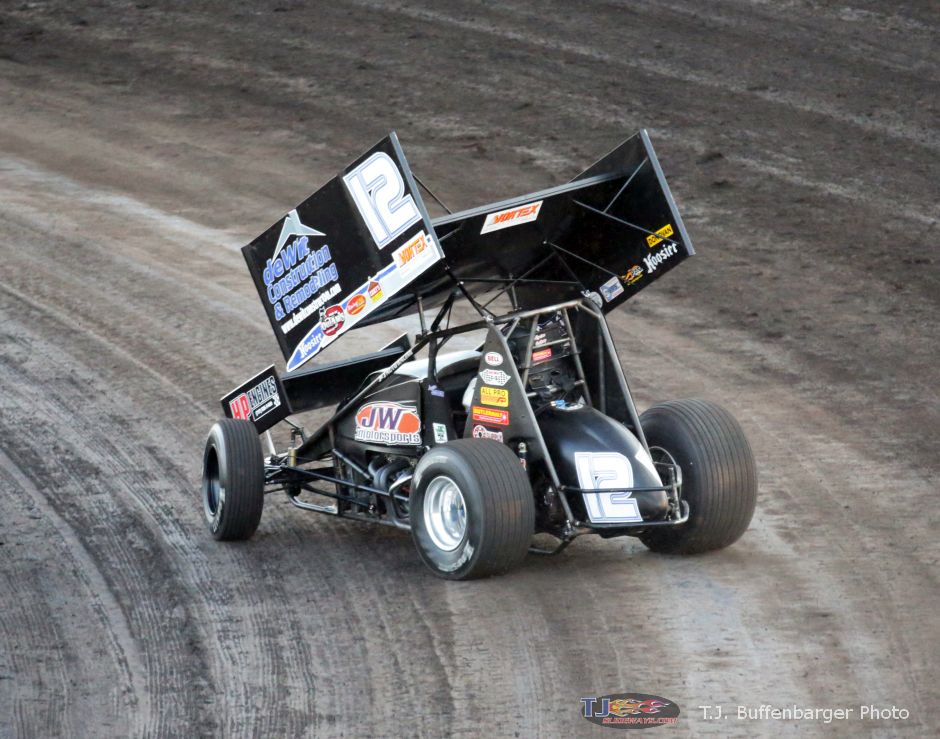 From Port Royal Speedway
PORT ROYAl, Penn. (March 25, 2017) — Lynton Jeffrey of Prairie City, Iowa, held off Dale Blaney to win Saturday's 2017 season opener for sprint cars at Port Royal Speedway.
Jeffrey took home $3,500 for the victory after taking the lead early from Rick Lafferty.
In the 35-lap blastoff for super late models, Jason Covert of York pulled off a last lap, last corner stunner to take the $3,000 victory.
And Andrew Yoder of Middleburg scored the $1,000 Mason Dixon Shootout Series event for limited late models to round out the program.
Lafferty and Jeffrey started on the front row of the 410 sprint car main with Lafferty leading the first lap and Jeffrey in his shadow.
Jeffrey pulled the trigger on the second tour to grab command of the field before entering the backmarkers on the ninth lap.
Lafferty chased him into traffic, trying to keep pace before third starter Dale Blaney got around for second on the 17th tour.
Blaney then began slowly reeling in leader Jeffrey and with three to go he took his shot for the win.
He stuffed the Zemco No. 1 sprinter deep into the first corner and briefly took the lead before Jeffrey used the cushion to slingshot back around for the lead as the pair shot onto the backstretch.
And that took the wind out of Blaney's sails as Jeffrey pulled out to a 1.025 second advantage at the finish to become the 188th different winner of a sprint car main in Port Royal history.
Greg Hodnett got by Lafferty for third with two laps to go, forcing Lafferty to finish fourth with Mike Wagner ending up fifth.
Sixth through 10th went to Doug Esh, Brock Zearfoss, Dylan Cisney, Mark Smith and TJ Stutts.
Heats went to Zearfoss and Stutts.
Polesitter Jason Covert took the lead at the start of the super late model main trailed by fourth starter Dylan Yoder on the first lap after Yoder made a two-car pass to get the spot.
Covert held sway with Yoder trying time after time to get into a position that could net him control but it took a restart on the 13th lap to get him the point.
He used the restart to bolt around Covert and take control before getting away with the lead.
However his mount began puffing smoke of some sort as he held the lead and that smoke turned terminal with nine laps to go when it forced him to roll to a stop on the track, wiping out a 2.119 second lead and handing over the point to third starter Kenny Moreland.
Moreland had wrestled second from Gary Stuhler on the 23rd lap with Covert having fallen back to fourth.
Covert got around Stuhler for second as he began to rebound with eight laps to go but as the race wore on to the finish it seemed that Covert was just too far away to make a serious bid for the win.
With two laps to go it still looked that way but just after taking the white flag Covert found enough muscle to pull alongside Moreland as the pair hit the first corner however Moreland had enough momentum to roll back into weak control in the second corner.
But Covert wasn't done yet and he used the last two corners to race to Moreland's inside again and the pair exited the fourth corner in a furious race to the finish with Covert edging ahead to the line, taking the win by an amazing .182 seconds.
Moreleand was second followed by Stuhler, Mike Lupfer and Gregg Satterlee.
Sixth through 10th went to Coleby Frye, Rick Singleton, Nick Dickson, Jeff Rine and Trent Brenneman.
Heats for the 32 late models went to Covert, Stuhler, Moreland in a last to first performance, and Yoder. Tim Wilson scored the consolation race.
Tim Krape led the first 10 laps of the 20-lap limited late model main before Andrew Yoder took over after starting third in the field.
Yoder was never challenged for the win after taking control as he ran to a 1.931 second win.
Rance Garlock took second from Krape with five laps to go.
Robbie Black rode home third followed by Krape and Mike Walls.
Sixth through 10th went to Justin Weaver, Shaun Miller, Jim Yoder, Derrick Quade and Devin Hart.
Heats went to Dillan Stake, JR Toner and Garlock with the consolation going to Todd Snook.
Stay up to date with all Port Royal news and information by visiting the oval's official website at www.portroyalspeedway.com or by following the track on Facebook or Twitter.
Feature Finishes
3/25/17
Sprint Cars, 25 laps: 1. Lynton Jeffrey, 2. Dale Blaney, 3. Greg Hodnett, 4. Rick Lafferty, 5. Mike Wagner, 6. Doug Esh, 7. Brock Zearfoss, 8. Dylan Cisney, 9. Mark Smith, 10. TJ Stutts, 11. Logan Wagner, 12. Tyler Bear, 13. AJ Flick, 14. Kody Lehman, 15. Danny Massey, 16. George Streaker Jr.
Late Models, 35 laps: 1. Jason Covert, 2. Kenny Moreland, 3. Gary Stuhler, 4. Mike Lupfer, 5. Gregg Satterlee, 6. Coleby Frye, 7. Rick Singleton, 8. Nick Dickson, 9. Jeff Rine, 10. Trent Brenneman, 11. Matt Cosner, 12. Dan Stone, 13. Andy Haus, 14. Tim Wilson, 15. Tim Smith Jr., 16. Justin Kann, 17. Larry Baer, 18. Chad Myers, 19. Dylan Yoder, 20. Devin Friese, 21. Jeff Miller, 22. Hayes Mattern, 23. Dave Brouse Jr.
DNS: Matt Parks
DNQ: Dave Stamm, Chris Casner, Matt Sponaugle, Jason Schmidt, Tim Gray, Denny Fenton, Patrick Bryner, Scott Flickinger
Limited Late Models, 20 laps: 1. Andrew Yoder, 2. Rance Garlock, 3. Robbie Black, 4. Tim Krape, 5. Mike Walls, 6. Justin Weaver, 7. Shaun Miller, 8. Jim Yoder, 9. Derrick Quade, 10. Devin Hart, 11. Eric Irvin, 12. Tim Fedder, 13. Devin Frey, 14. Ralph Morgan Jr., 15. Todd Snook, 16. JR Toner, 17. Andrew Shoop, 18. Eddie Cornett, 19. Bernie Beard, 20. Donnie Farling, 21. Bryan Benton, 22. Devin Weyandt, 23. Larry Neiderer, 24. Dillan Stake
DNQ: Curt Dunn, Rick Lias, Garrett Gray