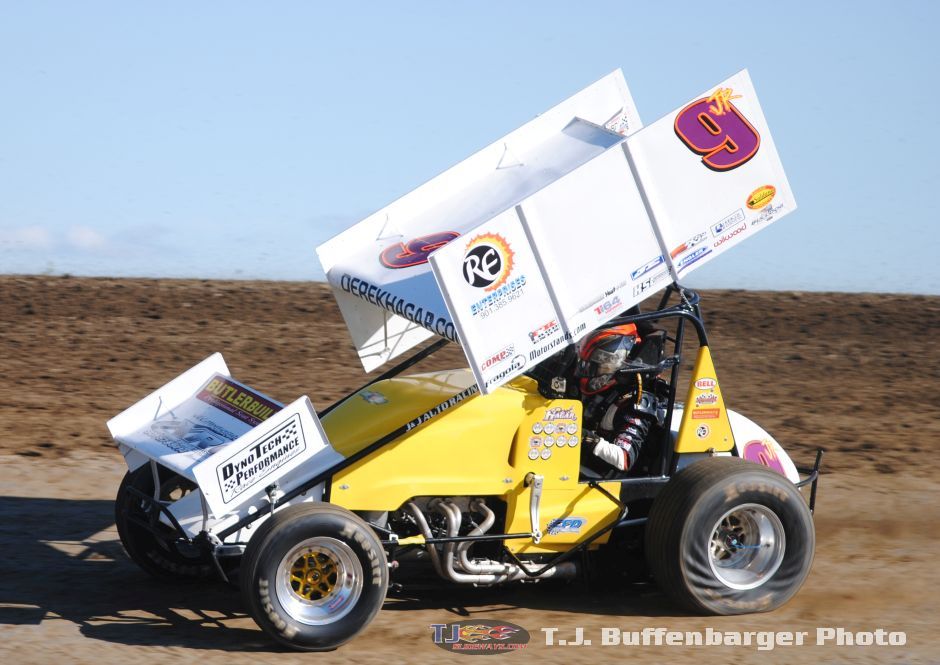 From Bryan Hulbert
LITTLE ROCK, Ark. (April 1, 2017) — Derek Hagar was no joke at Little Rock's I-30 Speedway on Saturday night, as the driver of the No. 9jr thrilled a nearly packed house in the 2017 return of the ASCS Mid-South Region. Taking on the American Bank of Oklahoma ASCS Red River Region presented by Smiley's Racing Products, the win is Hagar's first with both Regions.
Taking off third, Hagar captured the lead from Brian Bell in traffic on Lap 16 for the night's $2,000 prize. The FSR No. 23b would have to settle for the runner-up spot with Zach Pringle grabbing the final podium step. Making the trip from Lebanon, Ind. Spencer Bayston took on the I-30 clay with a run from 17th to fourth with Tim Crawley from ninth to complete the night's top-five.
Advancing 10 position, Matt Covington came up to finish sixth with Alex Sewell seventh. Also having to dig out of a hole, Oklahoma's Blake Hahn tore through the field to eighth from 19th with Brandon Hanks from 15th to finish ninth. Howard Moore completed the top-ten.
The American Bank of Oklahoma ASCS Red River Region returns to action against the Lucas Oil ASCS National Tour presented by the MAVTV Motorsports Network at the Texas Motor Speedway Dirt Track on April 7 and 8. The ASCS Mid-South Region will run again on June 9 at the Batesville Motor Speedway.
For continued updates on the American Sprint Car Series and the over 150 events across the ASCS Nation in 2017, log onto http://www.ascsracing.com.
Race Results:
ASCS Mid-South/Red River
I-30 Speedway – Little Rock, Ark.
Saturday, April 1, 2017
Car Count: 34
Heat 1 (8 Laps): 1. 42-Andy McElhannon[3]; 2. 99-Blake Jenkins[2]; 3. 8Z-Zach Pringle[5]; 4. 26M-Fred Mattox[1]; 5. X-Charlie Louden[4]; 6. 2H-Wally Henson[6]; 7. 15J-Jeremy Middleton[7]; 8. 38-Rick Pringle[8]; 9. 52-Blake Hahn[9]
Heat 2 (8 Laps): 1. 23B-Brian Bell[1]; 2. 9JR-Derek Hagar[3]; 3. D6-Dakota Gaines[4]; 4. 40-Howard Moore[7]; 5. 91A-Ernie Ainsworth[9]; 6. 1S-Joey Schmidt[2]; 7. 21B-Brandon Hinkle[6]; 8. 12T-Joe Young[8]; 9. 21K-Kevin Hinkle[5]
Heat 3 (8 Laps): 1. 8-Alex Sewell[1]; 2. 88-Tim Crawley[2]; 3. 31-Justin Webb[4]; 4. 8M-Kade Morton[6]; 5. 44-Jared Sewell[7]; 6. 32M-Adam Miller[5]; 7. 31G-Cody Gardner[3]; 8. 1X-Justin Sturch[8]
Heat 4 (8 Laps): 1. 2C-Wayne Johnson[3]; 2. 26-Marshall Skinner[1]; 3. 95-Matt Covington[2]; 4. 39-Spencer Bayston[4]; 5. 84-Brandon Hanks[8]; 6. 93-Jake Knight[5]; 7. 05M-Charles McManus[6]; 8. 32X-Robert Richardson[7]
B Feature 1 (12 Laps): 1. 84-Brandon Hanks[1]; 2. 39-Spencer Bayston[2]; 3. 52-Blake Hahn[10]; 4. 15J-Jeremy Middleton[6]; 5. 2H-Wally Henson[4]; 6. 38-Rick Pringle[8]; 7. 05M-Charles McManus[7]; 8. 93-Jake Knight[5]; 9. 44-Jared Sewell[3]; 10. 1X-Justin Sturch[9]
B Feature 2 (12 Laps): 1. 95-Matt Covington[1]; 2. 26M-Fred Mattox[2]; 3. 1S-Joey Schmidt[5]; 4. X-Charlie Louden[3]; 5. 32M-Adam Miller[4]; 6. 12T-Joe Young[8]; 7. 21K-Kevin Hinkle[10]; 8. 21B-Brandon Hinkle[6]; 9. 32X-Robert Richardson[9]; 10. 31G-Cody Gardner[7]
A Feature (25 Laps): 1. 9JR-Derek Hagar[3]; 2. 23B-Brian Bell[2]; 3. 8Z-Zach Pringle[4]; 4. 39-Spencer Bayston[17]; 5. 88-Tim Crawley[9]; 6. 95-Matt Covington[16]; 7. 8-Alex Sewell[8]; 8. 52-Blake Hahn[19]; 9. 84-Brandon Hanks[15]; 10. 40-Howard Moore[5]; 11. 42-Andy McElhannon[6]; 12. 91A-Ernie Ainsworth[10]; 13. D6-Dakota Gaines[12]; 14. 1S-Joey Schmidt[20]; 15. 31-Justin Webb[13]; 16. 26M-Fred Mattox[18]; 17. 2C-Wayne Johnson[7]; 18. 8M-Kade Morton[14]; 19. 26-Marshall Skinner[11]; 20. 99-Blake Jenkins[1]