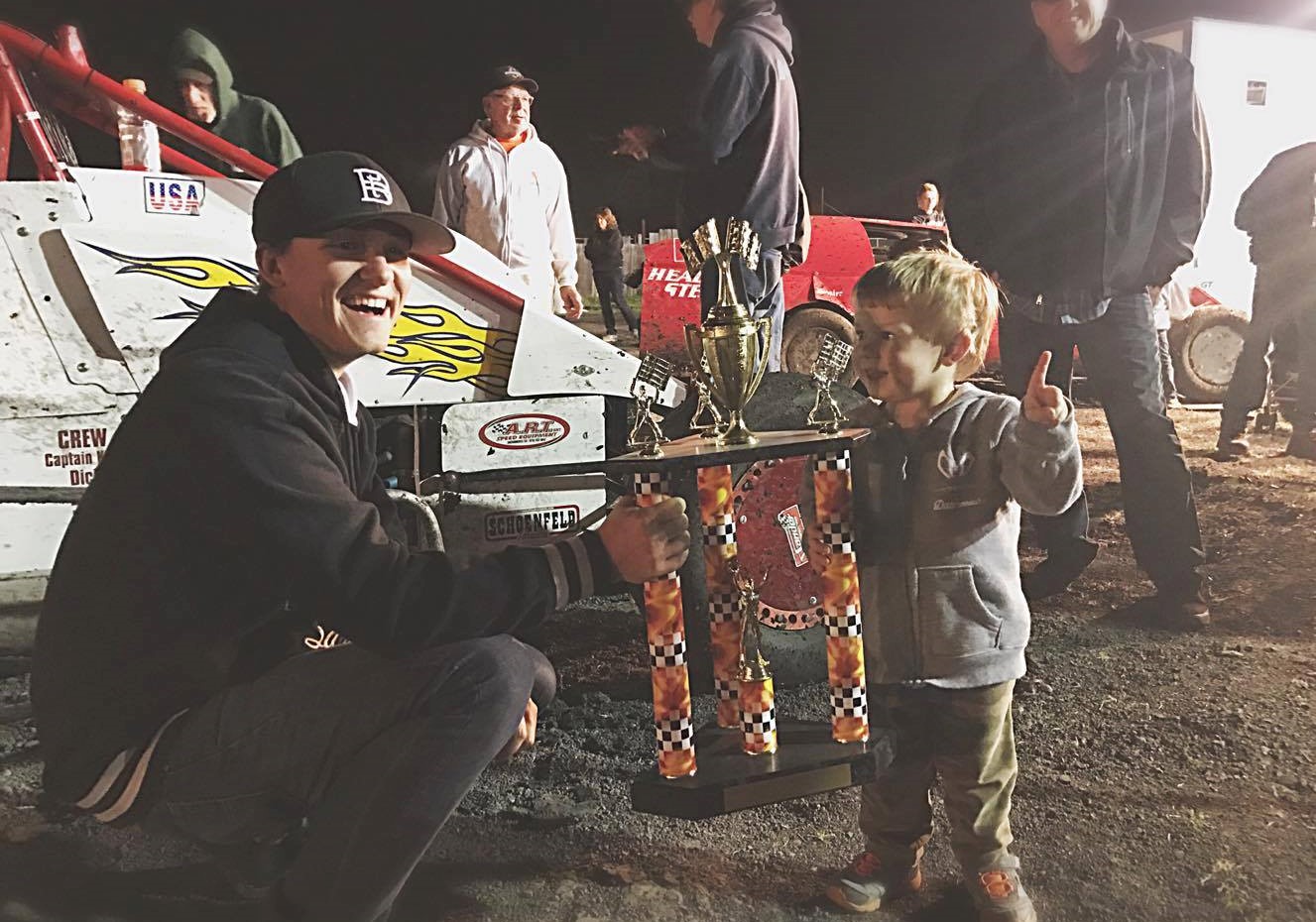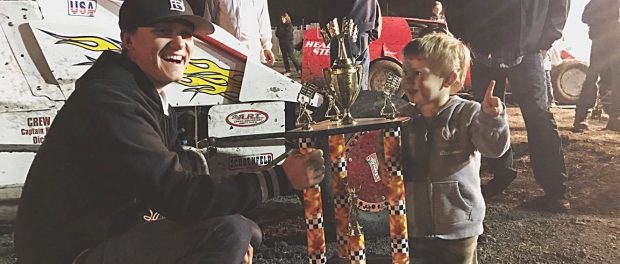 From Ben Deatherage
SANTA ROSA, Ca. (April 1, 2017) — After getting rained out the week previous, Klint Simpson would be back in action at California's Petaluma Speedway on Saturday, April 1st with the Joe Hunt Wingless Sprint Series. The Santa Rosa native, and defending series champion, would make his 2017 debut at the 3/8-mile oval where he has won the last two track championships. Simpson would be aboard the Clayton based Ram Bull Racing/Johnson Custom Machine/Main Machine/Goog Enterprises #32 Eagle for car owner Dave Johnson.
"It was a really great night tonight," commented Simpson, "for the first time this year we had a complete night. Every race before this we've gotten behind the eight ball and have had to dig ourselves out of a hole."
The night would begin with Klint setting quick time of the night during qualifications. In heat race competition Simpson would get to the front, after starting fourth, and score the victory which placed him in the trophy dash. He would put up a second-place result in the dash which would place him on the outside front row of the evening's twenty-five lap feature.
The early goings of the main event would see several cautions be brought out but Simpson hung with the front runners. Just when it would seem like it was yet another runner-up performance he would get his elbows up around the halfway mark and began to reel in the leader. As the white flag was about to come out Klint managed to maneuver his way around the tricky track to get to the coveted first place position. There he would remain for the rest of the distance to secure his first victory of 2017.
"Once I figured out how to dodge all of the holes I was really able to find something and build some momentum. I really enjoyed racing Austin (Liggett) and he ran me hard but he ran me clean the whole time."
Klint Simpson will perform double duty next week as he returns to Petaluma Speedway on Saturday, April 8th. He will compete in Dave Johnson's #32 machine in local Wingless Sprint competition while also going up against the brand-new Sprint Car Challenge Tour series. For the Winged 360 Sprint portion of the night he will be piloting the Trackmagic #101 entry for Pacific car owner Kirk Edison. Be sure and visit Simpson Motorsports on Facebook for the updates regarding Klint's race night.