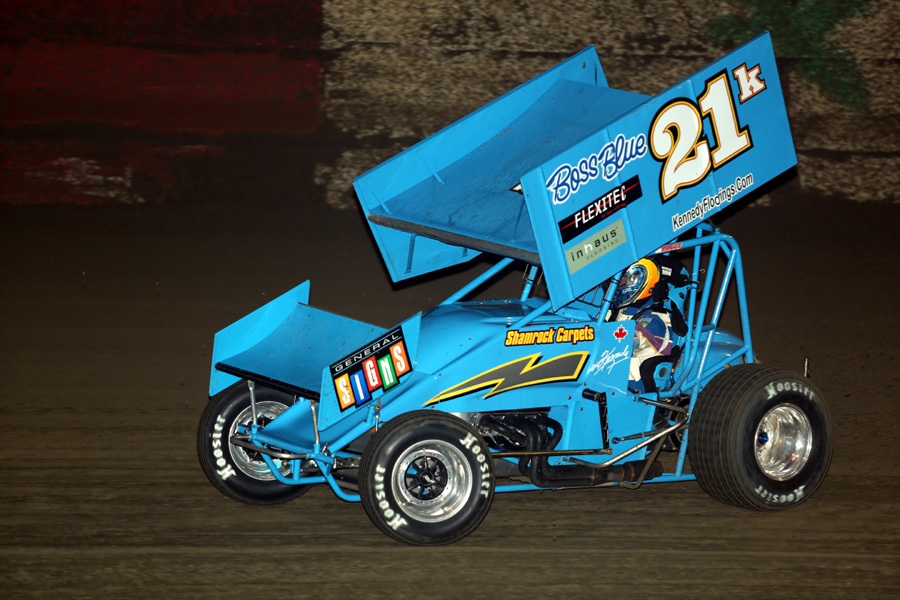 From Bill W
Thomas Kennedy won the Nebraska 360 Sprints feature at I-80 Speedway Friday night.
4/7/17
I-80 Speedway
Greenwood, NE
Bugeaster Bash Night #1
Nebraska 360 Sprints
37 cars
Heat one (started, *qualified for feature): 1. Don Droud Jr. 2 (2*) 2. Terry McCarl 24 (7*) 3. Shayle Bade 03 (1*) 4. Clint Garner 40 (3) 5. Lee Grosz 4J (8*) 6. Chris Martin 44 (5) 7. John Klabunde 77 (6) 8. Tommy Barber 75 (4) 9. JD Johnson 98 (9) DNS – Clint Benson 96
Benson looked to have motor issues in hot laps and scratched for the night. Droud led the distance in the 10-lapper. Passing points were used with the top sixteen drivers in points locking into the feature. Bade and Barber trailed Droud on the first lap, but Garner moved into third on lap two. T. McCarl was charging from row four and at the halfway point, took third from Garner. He worked on Bade for two laps before taking second coming for the white flag.
Heat two (started, *qualified for feature): 1. Sawyer Phillips 3 (3*) 2. Jamie Ball 5J (1*) 3. Thomas Kennedy 21K (5*) 4. Tasker Phillips 7w (8*) 5. Ryan Bickett 17H (2) 6. Cody Ledger 35L (7) 7. Rich Martin 24M (4) 8. Carson McCarl 6 (6) DNS – Dusty Ballenger 2D
Ballenger blew a right rear tire in hot laps causing damage to the right side of his car. He would return for the B. When C. McCarl tried to shoot around R. Martin in turn one, the two contacted and flipped in turn two. Both were done for the night. Ball led Bickett and S. Phillips on the first lap. S. Phillips worked by Bickett for second on the second lap. Kennedy would ride around Bickett for third at the halfway point. Ledger and T. Phillips were battling for fifth. When T. Phillips took the low groove into turn three, Ledger came down the track and struck his right rear. The result ended Ledger's night in a crash. He was uninjured. Ball led S. Phillips, Kennedy, Bickett and T. Phillips back to green. S. Phillips used the low side to slide by Ball in the last corner to take an exciting win, while T. Phillips worked by Bickett for fourth.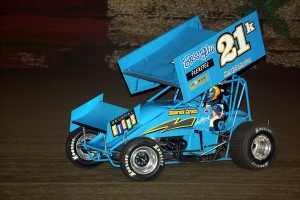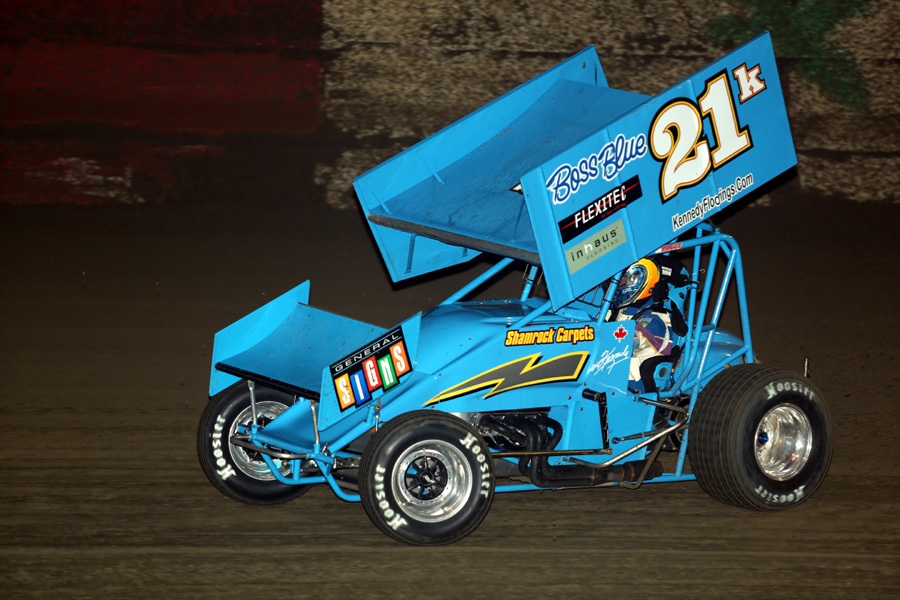 Heat three (started, *qualified for feature): 1. Wade Nygaard 9N (1*) 2. Jon Agan 4A (4*) 3. Jordan Boston 82 (2*) 4. Matt Juhl 09 (3*) 5. Seth Brahmer 13v (8*) 6. Stu Snyder 23s (7*) 7. Tadd Holliman 41P (5) 8. Brant O'Banion 47 (6) DNS – Cody Hansen 4
Nygaard led flag to flag. Agan took second from Boston on lap three.
Heat four (started, *qualified for feature): 1. Ryan Roberts 18 (3*) 2. Jason Danley 4x (7*) 3. Joey Danley 24B (9*) 4. TJ Artz 57 (4) 5. Blain Petersen 68+1 (2) 6. Jason Becker 17B (8) 7. Bobby Becker 8B (6) 8. Jason Martin 36 (1) 9. Jack Dover 53 (5)
Martin led Roberts and Dover, up from row three early on. J. Martin appeared in control before appearing to lose power in turn three coming for the white flag. He went pitside. Meanwhile, Dover, who inherited the second spot, also dropped into the pits under yellow with water line issues. Roberts assumed the lead and won over Ja. Danley. Jo. Danley benefited from the caution and capitalized on the restart, moving by Artz for third.
B main one (started): 1. Garner (2) 2. J. Martin (8) 3. Snyder (1) / 4. O'Banion (7) 5. Petersen (3) 6. B. Becker (5) 7. Barber (6) 8. Klabunde (4) DNS – Benson, Hansen
Snyder led Garner and Petersen early on in the 12-lapper. Barber snatched the third and final transfer spot from Petersen on lap two. O'Banion made the cushion work by the wall and shot around Barber for third on lap five. Garner stalked Snyder and got by him for the lead on lap seven. J. Martin's pass of O'Banion for third was negated by a yellow that flew for a slowed Barber. Garner led Snyder, O'Banion and J. Martin back to green. J. Martin pounced into the second spot at the checkers, while Snyder held off O'Banion for the final transfer.
B main two (started): 1. C. Martin (4) 2. Bickett (3) 3. Artz (1) / 4. JD Johnson (8) 5. Holliman (5) 6. J. Becker (2) 7. Dover (7) 8. Ballenger (6) DNS – R. Martin, C. McCarl
Martin led flag to flag, but there was plenty of action behind him. Dover was up to fourth from the tail right away. Bickett moved by Artz for second on lap three. A lap later, Dover would follow him into third. On lap six, Dover would cruise by Bickett for second. With three to go, disaster struck for Dover again as he slowed and went pitside. C. Martin hit the high side to the checkers and the win.
A main (started): 1. Kennedy (11) 2. T. Phillips (2) 3. Roberts (8) 4. T. McCarl (6) 5. Lee Grosz (10) 6. Agan (3) 7. Garner (17) 8. Juhl (15) 9. Brahmer (13) 10. Droud (7) 11. Nygaard (9) 12. C. Martin (18) 13. Bickett (20) 14. Boston (14) 15. Ball (12) 16. J. Martin (19) 17. Ja. Danley (1) 18. Snyder (21) 19. Bade (16) 20. S. Phillips (4) 21. Artz (22) 22. Jo. Danley (5)
Phillips led Agan and Ja. Danley on lap one. On lap two, T. McCarl would pass both Ja. Danley and Agan to move into second. On the next go-around in turn two, T. McCarl got above the cushion and sideways. He managed to save it, but Agan had gotten by him and back into second. Ball brought out a caution with three laps to go. The restart saw T. Phillips leading Agan, T. McCarl, S. Phillips and Ja. Danley. S. Phillips would spin on the restart, while J. Martin would come to a stop and restart at the tail after a quick trip to the work area. By lap five, Kennedy was in the top five after starting in the sixth row. On lap eight, Roberts used his momentum to shoot by T. McCarl for third. A lap later, Kennedy also moved by T. McCarl into fourth. Kennedy was gaining traction and passed Roberts on lap 12, and Agan on lap 15 for second. On lap 18, Roberts bested Agan   Kennedy found his way into the lead, but T. Phillips would not go away. They exchanged the lead at least four more times in the final laps. Going into turn three on the final lap, T. Phillips slid in front of Kennedy, but Kennedy stormed back by to win by a narrow margin.