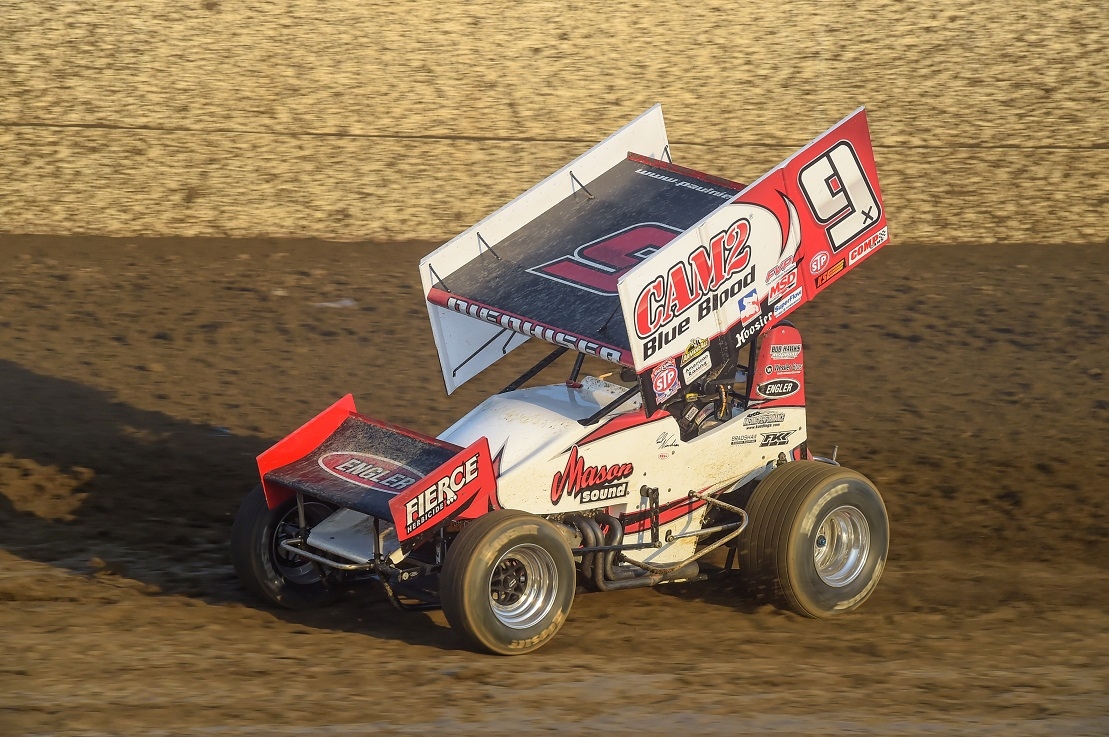 From Bill Wright
4/8/17
34 Raceway
West Burlington, IA
IRA
29 cars
Austin McCarl (4th car out to time) set quick time in his first night in the TKS Motorsports machine at 12.709 seconds. When he was sent out early, he actually had clocked a faster time that wasn't counted. He was quickest anyway. Bill Balog (5th car out) was second quick, followed by Josh Schneiderman (8th), Tim Kaeding (21st), Lynton Jeffrey (18th), Jake Blackhurst (27th), Jim Moughan (10th), Brad Loyet (28th), Jeremy Schultz (12th) and Jordan Goldesberry (7th). Former Sprint Invaders Rookie of the Year, Blake Nimee, had motor issues and limped across the line. Daniel Bergquist, who suffered mag issues a week ago with the Sprint Invaders took the track a few times to shake things down. He did not time in.
Heat one (started): 1. Moughan 1m (2) 2. McCarl 2KS (4) 3. Kaeding 3 (3) 4. Steve Meyer 85m (6) 5. Bret Tripplett 22 (5) 6. Kyle Marten 99 (7) / 7. Scott Uttech 7 (8) 8. Michael Decker 12 (9) 9. Dennis Spitz 41 (10) 10. Goldesberry 65 (1)
10-lap heats took the top six to the A. The heat winners and the top five were eligible for a feature redraw featuring the top ten drivers in qualifying who met the criteria. Moughan led the distance in this one, that was mostly single-file. Goldesberry exited on lap two.
Heat two (started): 1. Paul Nienhiser 9 (1) 2. Loyet o5 (2) 3. Jeffrey 4KJ (3) 4. Balog 17B (4) 5. Matt Vandervere 10V (6) 6. Scott Neitzel 2w (5) / 7. Russell Borland 23 (8) 8. Ryan Jamison 51J (7) 9. Daniel Bergquist 9B (10) 10. Wayne Modjeski 14AJ (9)
Nienhiser led flag to flag, giving him what would be a key spot in the redraw. The track was fast and wide open with everyone running the cushion at this point.
Heat three (started): 1. Schultz 5J (2) 2. Schneiderman 49 (4) 3. Scott Thiel 64 (1) 4. Blackhurst 25 (3) 5. Ben Schmidt 59 (5) 6. Kris Spitz 4K (7) / 7. Blake Nimee 79 (9) 8. Ryan Bowers 73 (8) 9. Dave Uttech 68 (6)
Schultz led early over Schneiderman, Thiel and Blackhurst. Bowers spun on lap six in his first 410 start, bringing a caution. D. Uttech also stopped and went pitside. Schultz pulled away on the restart to win by a good margin. Schneiderman bobbled in turn four, allowing Thiel to close, but the two ended up second and third.
B main (started): 1. Bowers (6) 2. S. Uttech (4) 3. Nimee (9) 4. Jamison (3) 5. Borland (5) 6. Goldesberry (1) / 7. Decker (7) 8. Modjeski (8) 9. D. Spitz (10) 10. D. Uttech (2) 11. Bergquist (11)
Goldesberry led D. Uttech and Jamison early in the 10-lapper. Nimee moved up three spots to take the sixth and final transfer spot on lap two. The lead proved to be a curse, as Goldesberry came to a stop on lap six. D. Uttech inherited the lead, but drove over the top of turn two on the restart. That gave the lead to Jamison, ahead of S. Uttech, Bowers, Nimee and Borland. Bowers seemed to get his feet under him. He took second on the restart, and then passed Jamison for the lead with two to go. Goldesberry, who had restarted at the tail, roared back and rode the cushion around three and four on the last lap to nip Decker at the line for the last transfer. Decker actually did a 360 and crossed the finish line backwards, doing a nice job of driving to save it.
A main (started): 1. Nienhiser (2) 2. Blackhurst (6) 3. Kaeding (8) 4. Schneiderman (3) 5. Loyet (9) 6. Jeffrey (1) 7. Thiel (11) 8. McCarl (5) 9. Tripplett (13) 10. Goldesberry (24) 11. Meyer (12) 12. Marten (17) 13. Nimee (21) 14. Jamison (22) 15. Neitzel (16) 16. Borland (23) 17. Vandervere (15) 18. Schmidt (14) 19. Bowers (19) 20. Balog (7) 21. Schultz (4) 22. S. Uttech (20) 23. Moughan (10) 24. K. Spitz (18)
Jeffrey led Nienhiser and Schneiderman early in the 30-lapper. On lap three, Nienhiser ripped around Jeffrey in turn three to take the lead. Shortly after, K. Spitz crashed hard into the turn three wall. He was unhurt. Kaeding's brake line disconnected and he made repairs in the work area, restarting at the rear of the field. Nienhiser led Jeffrey, Schneiderman and Schultz back to green flag racing. Schultz moved by Schneiderman for third. Neitzel would get over the top of turn two and spun with five in the books. Nienhiser pulled away from the field in dominating fashion, and entered lapped traffic on lap ten with some hot brakes. Blackhurst began to move forward, gaining fourth from Schneiderman on lap 13 and third from Schultz on lap 17. Schultz slowed a lap later, causing a chain reaction that saw Balog get sideways. The restart saw Nienhiser leading Jeffrey, Blackhurst, Schneiderman and Loyet. Kaeding was hauling and had climbed from the rear of the field to seventh. On lap 21, Loyet moved by Schneiderman into fourth. Kaeding shot around Loyet, and the action was tight behind Nienhiser for second third and fourth. On lap 24, Blackhurst shot by Jeffrey for second, followed by Kaeding a lap later. One final caution was brought out with three laps to go when contact broke the front end of Vandervere. Nienhiser pulled away with ease for an impressive win. Kaeding's run from the back was equally impressive.