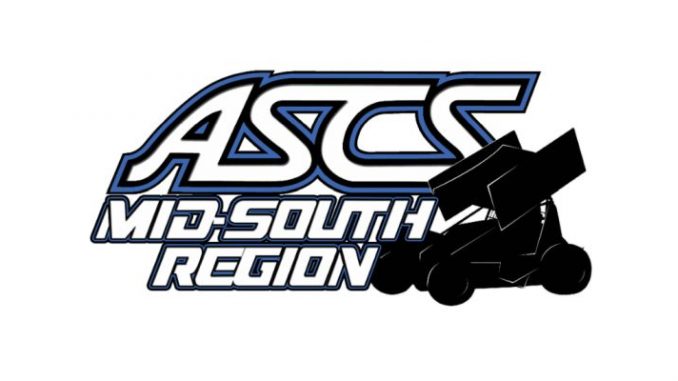 By Bryan Hulbert
BATESVILLE, Ark. (June 9, 2017) Wheeling the A.G. Rains owned No. 3, Tennessee's Sammy Swindell picked up his first ASCS sanctioned victory of the 2017 season with the ASCS Mid-South Region at Batesville Motor Speedway.
| | |
| --- | --- |
| | |
Swindell was chased to the finish by Tim Crawley with Brian Bell, Andy McElhannon, and Earnie Ainsworth making up the top-five. Justin Webb, Dakota Gains, Joe Young, and Kevin Hinkle made up the field.
The ASCS Mid-South Region heads to Riverside International Speedway in West Memphis, Ark. for a showdown on Saturday, June 10. For continued updates on the American Sprint Car Series, from the National Tour to the seven regional tours that make up the over 150 dates across the ASCS Nation, log onto 
http://www.ascsracing.com
.
Race Results:
ASCS Mid-South Region
Batesville Motor Speedway – Batesville, Ark.
Friday, June 9, 2017
Heat (8 Laps): 1. 88-Tim Crawley, [6]; 2. 42-Andy McElhannon, [2]; 3. 3-Sammy Swindell, [5]; 4. 31-Justin Webb, [8]; 5. 23B-Brian Bell, [3]; 6. 91A-Ernie Ainsworth, [1]; 7. D6-Dakota Gaines, [7]; 8. 12T-Joe Young, [4]; 9. 21K-Kevin Hinkle, [9]
Qualifier (8 Laps): 1. 3-Sammy Swindell, [4]; 2. 23B-Brian Bell, [1]; 3. 88-Tim Crawley, [6]; 4. 42-Andy McElhannon, [3]; 5. 31-Justin Webb, [5]; 6. D6-Dakota Gaines, [7]; 7. 12T-Joe Young, [8]; 8. 21K-Kevin Hinkle, [9]; 9. 91A-Ernie Ainsworth, [2]
A Feature (20 Laps): 1. 3-Sammy Swindell, [2]; 2. 88-Tim Crawley, [1]; 3. 23B-Brian Bell, [3]; 4. 42-Andy McElhannon, [5]; 5. 91A-Ernie Ainsworth, [7]; 6. 31-Justin Webb, [4]; 7. D6-Dakota Gaines, [6]; 8. 12T-Joe Young, [8]; 9. 21K-Kevin Hinkle, [9]