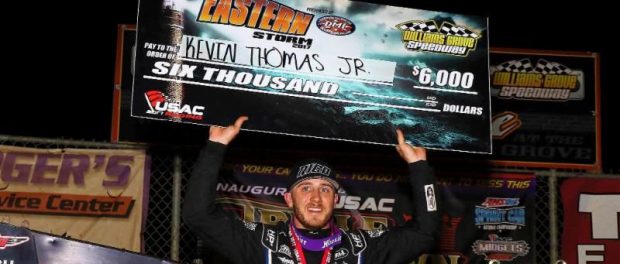 From Richie Murray
MECHANICSBURG, Pa. (June 15, 2017) — One day after his 26th birthday, the "older" and wiser Kevin Thomas, Jr. was rewarded with his biggest and highest-paying present of all in Thursday night's USAC AMSOIL Sprint Car National Championship's return to the legendary Williams Grove Speedway.
The Cullman, Alabama driver led the entire first-half of the Eastern Storm presented by DMI / "Triple Crown Showdown" 30-lapper, but on lap 16 when all seemed to be slipping away as Chris Windom took the lead, Thomas demonstrated a poise and maturity that he admits wouldn't have shown in year's past.
"I've been racing for a lot of years now," Thomas reflects. "I used to tear up a lot of stuff and make dumb decisions. Now we're able to put solid cars underneath me, make better decisions and put myself in the right position to win races and finish on the podium. That just comes with experience. I never thought I'd make smart decisions, to be honest."
The victory was the 13th USAC National Sprint Car win for Thomas, moving him into the top-40 on the all-time series win list alongside Don Branson and Steve Chassey. Though his winning ride is a mixture of resources from his own KT Motorsports, Pace Brothers Racing, Abreu Vineyards and his father, the triumph officially comes under the Pace Brothers Racing banner, which marks their first USAC win since July of 2007 at Bloomington (Ind.) Speedway with driver Dave Darland. Regardless of the entrant name on the entry list, Thomas feels the tide beginning to turn for he and his crew.
"It's all kind of coming together now," Thomas feels. "I've got good people around me who support me. They give me the equipment to be up front and it's up to me and my guys to put a good racecar together, make it go fast and for me to make good decisions on the racetrack. It's a combination of a lot of good people. It's a full team effort. There's only one guy on the racetrack, but at the end of the day, there's a lot of stuff that happens behind the scenes."
The second and third-place finishers from the previous night's event at Lincoln occupied the front row for the main event: pole sitter Jarett Andretti and outside starter Kevin Thomas, Jr.
Thomas was able to break free on the high side on the opening lap as Grant followed to second and Andretti slid back to the third position.
On the fourth lap, 2015 Eastern Storm champ Robert Ballou pirouetted against the turn three guardrail to bring out the red flag. Miraculously, Ballou would restart from the tail, although he would bow out of competition just four laps with a 23rd place finish.
On the resumption, Thomas maintained his advantage, but soon Windom began to close the gap. For the next several circuits, Windom shadowed Thomas on the cushion between turns one and two, but found his own, unique line on the other end of the speedway. Windom entered the bottom of turn three with his front left wheel breezing the inner rail. He then drifted up toward the middle of the surface before diamonding off the fourth corner at exit.
On the first lap of the second-half of the contest, race leader Thomas and second-running Windom were deadlocked in a side-by-side power struggle with Windom able to clear Thomas using an outside run off of turn four to beat Thomas to the line by the skin of a tire. Windom aimed to finish the move, sliding up in front Thomas to in turn one. Thomas countered back underneath to reassume the top position.
Windom regrouped to make another charge at Thomas for the lead in the first turn on the 18th lap, but the two nearly made contact as Windom was unable to gain clearance on his slider, allowing Thomas to instantly extend his race lead to one-plus second.
"It's so wide down there in one and two," Thomas explained. "When you see a slider, you can anticipate where to turn across. There was just enough moisture to cross under Chris and get a good run going down the backstretch. Once I saw him get by me on the bottom. I went down there where there was a little rubber and I had a lot of grip. It was tough running up there in three and four. Once you moved down, you were able to make a lot of straightaway speed."
Sprint car racing does not utilize mirrors or even spotters, making it near impossible to realize what lines the drivers behind them have sought and figured out. It's a continuous chess match up front and a thinking man's game that keeps the leader on his toes.
"It's kind of difficult leading at places like this when it gets real slow at the top of (turns) three and four," Thomas believes. "You don't exactly know where to go, so you have to stick with what got you there. You almost have to idle up there because it was so thin, there was nothing but fence."
Thomas went to school on Windom and took away his perfected line on the bottom of three and four as he discovered the rubber. Thomas' grip on the position would not falter down the stretch as Windom began to fade and Chase Stockon turned up the wick to run down and overtake Windom for second on the bottom of turn one on the 30th and final lap.
"When you come to places like this, you tighten your belts a little more and you focus a little bit more. Having the track record at Knoxville, then winning here at Williams Grove, it's two racetracks that are the most historic in the country. It's really humbling to be fast at these places, much less win." – Kevin Thomas, Jr.
(Rich Forman Photo)
Meanwhile, up front, Thomas crossed the finish line 2.3 seconds ahead of the Stockon/Windom duel to finish off his first USAC AMSOIL National Sprint Car victory of the 2017 season. National Sprint point leader Justin Grant was fourth while Grandview Eastern Storm winner Brady Bacon rounded out the top-five.
With results of 4th, 3rd and 1st through the three of the five Eastern Storm series wins, Thomas, the driver of the Pace Brothers Racing/Pace Performance Coating – DC Dyno/DRC/J & D finds himself in an enviable position with an eight-point lead heading into the final two races Saturday at Port Royal Speedway and Sunday at Susquehanna Speedway.
"When you come to places like this, you tighten your belts a little more and you focus a little bit more," Thomas detailed. "Having the track record at Knoxville, then winning here at Williams Grove, it's two racetracks that are the most historic in the country. It's really humbling to be fast at these places, much less win. It goes back to what they do in the shop. I haven't really been that great on the big tracks in the past. We've really focused on that and they've helped me out a ton. We've got good engines, good shocks and good crewmembers. Everybody that works on this thing gives me confidence and helps me make good decisions on the track while they make good decisions in the pits. Hats off to them; they make it easy for me."
Chase Stockon's up-and-down season trended skyward once again Thursday night at Williams Grove as he broke Dave Darland's 21-year-old USAC and Damion Gardner's 15-year-old SCRA track records during ProSource Qualifying, then followed it up by running a season-best second-place in his 32 TBI Racing/Superior Tank & Trailer – Crescent Electric Supply/DRC/Fisher.
"They were slowing up on the top," Stockon reflected. "I kept working the bottom, working the bottom the entire race. it almost seemed like the top was too far around. We just kept working it and was hoping the top would slow down and it gradually did. The bottom started to take rubber there and it kind of worked out to our advantage at the end. They were slowing up on the top. I may have shown him a nose too early. He did what every other driver would've done and tried to protect. But, he Just drove it in too hard because he'd been running the top the whole race. Luckily, we were able to get by him and bring home a second. We always want the 'w,' but with the runs we've been having here lately, we'll definitely take that."
Chris Windom of Canton, Illinois had a solid night, leading a single lap, before dropping to third at the finish in his Baldwin Brothers Racing/Fox Paving – AMSOIL/DRC/Claxton Mopar.
"We were really good the first half of the race," Windom beams. "I think I burnt off my tire too much. It took rubber and really burned my tires off. We're just a little too good too early and KT and Chase were better late. I wish I could've cleared KT when I got to him and took his line away. He made a good move and got back down to the bottom and pulled away from us there at the end. We'll take these consistent podiums but I know (crew chief) Derek (Claxton) and I really want to win by the end of the week."
Contingency award winners Thursday night at Williams Grove Speedway include Chase Stockon (ProSource Fast Qualifier & Bryan Clauson Bad Fast Award Winner), Mark Smith (Simpson Race Products 1st Heat Winner), Brady Bacon (Competition Suspension, Inc. 2nd Heat Winner), Joey Biasi (Chalk Stix 3rd Heat Winner), Danny Dietrich (Indy Race Parts 4th Heat Winner & Wilwood Brakes 13th Place Finisher) and Carmen Perigo (KSE Racing Products Hard Charger).
—————————————
USAC AMSOIL SPRINT CAR NATIONAL CHAMPIONSHIP RACE RESULTS: June 15, 2017 – Mechanicsburg, Pennsylvania – Williams Grove Speedway – "USAC Triple Crown Showdown" – "Eastern Storm" Presented by DMI
PROSOURCE QUALIFYING: 1. Chase Stockon, 32, 32 TBI-20.035 (New Track Record); 2. Brady Bacon, 63, Dooling/Hayward-20.042; 3. Thomas Meseraull, 27, Heffner-20.068; 4. Robert Ballou, 12, Ballou-20.074; 5. Tyler Courtney, 23c, TOPP-20.111; 6. Chris Windom, 5, Baldwin-20.196; 7. Justin Grant, 11, McGhee-20.238; 8. Jerry Coons, Jr., 39, Hogue-20.286; 9. Kevin Thomas, Jr., 44, Pace-20.287; 10. Jarett Andretti, 18, Andretti-20.377; 11. Kyle Robbins, 17R, Robbins-20.434; 12. Danny Dietrich, 13, Buch-20.485; 13. Chad Boespflug, 69, Dynamics-20.496; 14. Stevie Sussex, 17GP, Dutcher-20.498; 15. Shane Golobic, 3, Franckowiak-20.513; 16. Aaron Farney, 15F, DCT-20.538; 17. Trevor Kobylarz, 14, RT-20.557; 18. Matt Westfall, 54, Westfall-20.587; 19. Joey Biasi, B1, Biasi-20.609; 20. Kyle Moody, 99, Moody-20.664; 21. Mark Smith, 1M, L & M-20.673; 22. Carmen Perigo, 21, Stehman-20.690; 23. C.J. Leary, 30, Leary-20.776; 24. Alex Bright, 13K, Kaylor-20.850; 25. Dustin Smith, 77, Gagliardi-20.966; 26. Dave Darland, 71p, Phillips/Curb-Agajanian-21.028; 27. Tony DiMattia, 50, DiMattia-21.174; 28. Chad Wilson, 14x, Wilson-21.188; 29. Gary Rooke, 42AU, Rooke-21.233; 30. Michael Hamer, 47, Hamer-22.372; 31. Isaac Chapple, 52, LNR/Chapple-NT.
SIMPSON RACE PRODUCTS FIRST HEAT: (8 laps) 1. M. Smith, 2. Boespflug, 3. Kobylarz, 4. Thomas, 5. Courtney, 6. Stockon, 7. D. Smith, 8. Rooke. 2:50.50
COMPETITION SUSPENSION (CSI) SECOND HEAT: (8 laps) 1. Bacon, 2. Windom, 3. Perigo, 4. Andretti, 5. Darland, 6. Westfall, 7. Sussex, 8. Hamer. 2:52.05
CHALK STIX THIRD HEAT: (8 laps) 1. Biasi, 2. Leary, 3. Golobic, 4. Grant, 5. Meseraull, 6. Robbins, 7. Chapple, 8. DiMattia. 2:55.26
INDY RACE PARTS FOURTH HEAT: (8 laps) 1. Dietrich, 2. Farney, 3. Moody, 4. Coons, 5. Ballou, 6. Bright, 7. Wilson. NT
SEMI: (12 laps) 1. Meseraull, 2. Ballou, 3. Stockon, 4. Robbins, 5. Darland, 6. Sussex, 7. Bright, 8. Wilson, 9. D. Smith, 10. Chapple, 11. Rooke, 12. Hamer, 13. Westfall, 14. Courtney, 15. DiMattia. NT
FEATURE: (30 laps) 1. Kevin Thomas Jr., 2. Chase Stockon, 3. Chris Windom, 4. Justin Grant, 5. Brady Bacon, 6. Shane Golobic, 7. Thomas Meseraull, 8. Jarett Andretti, 9. Jerry Coons Jr., 10. Carmen Perigo, 11. Aaron Farney, 12. Kyle Moody, 13. Danny Dietrich, 14. Isaac Chapple, 15. Chad Boespflug, 16. Joey Biasi, 17. Tyler Courtney, 18. Mark Smith 19. Dave Darland, 20. C.J. Leary, 21. Stevie Sussex, 22. Trevor Kobylarz, 23. Robert Ballou, 24. Kyle Robbins. NT
—————————-
**Courtney flipped during the semi. Ballou flipped on lap 4 of the feature.
FEATURE LAP LEADERS: Laps 1-15 Thomas, Lap 16 Windom, Laps 17-30 Thomas.
KSE HARD CHARGER: Carmen Perigo (20th to 10th)
KRS GRAPHICS BRYAN CLAUSON BAD FAST AWARD: Chase Stockon
WILWOOD BRAKES 13TH PLACE FINISHER: Danny Dietrich
NEW AMSOIL NATIONAL SPRINT POINTS: 1-Grant-909, 2-Windom-858, 3-Boespflug-788, 4-Stockon-782, 5-Courtney-662, 6-Thomas-660, 7-Leary-604, 8-Bacon-571, 9-Darland-513, 10-Andretti-512.
NEW EASTERN STORM POINTS: 1-Thomas-218, 2-Windom-210, 3-Bacon-190, 4-Meseraull & Stockon-182, 6-Andretti-174, 7-Grant-164, 8-Leary-158, 9-Coons-150, 10-Boespflug-141.
NEXT USAC AMSOIL SPRINT CAR NATIONAL CHAMPIONSHIP RACE: June 17 – Port Royal, PA – Port Royal Speedway – "Eastern Storm" Presented by DMI