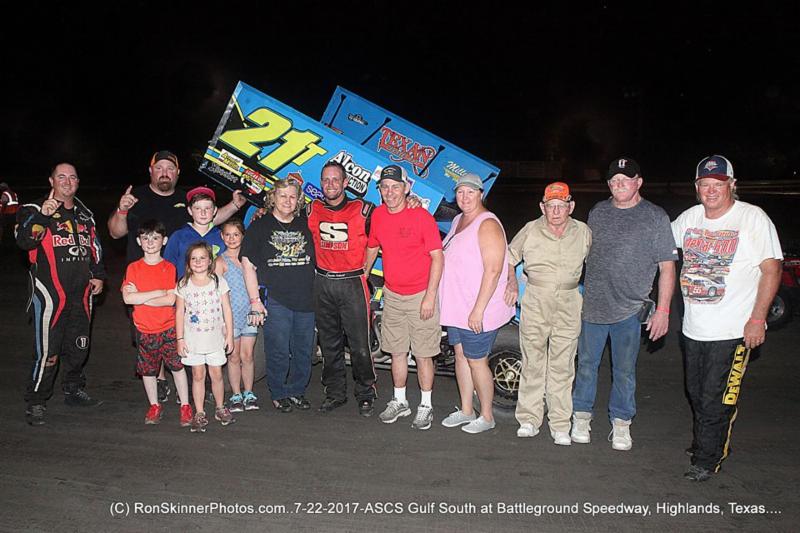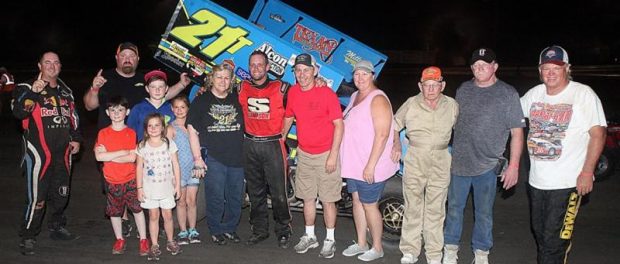 From Inside Line Promotions
HIGHLANDS, Texas (July 26, 2017) – A four-week hiatus from the track failed to cool Ray Allen Kulhanek's recent hot streak as he raced to a dominating win Saturday night at Battleground Speedway.
After winning his heat race from the pole, Kulhanek charged from the eighth starting spot to the lead in a handful of laps and he pulled away to capture the night's ASCS Gulf South Region main event.
"Going into the first turn, everyone in front of me kind of fought for the middle and bottom of the track, leaving the top wide open for me," he said. "I was in third coming out of turn two and then I slid the guy going into turn three for second. It took me another couple of laps before I got the lead and I kind of checked out from there."
It was the fourth win in the last six races – while finishing second in the other two – for the ASCS Gulf South Region points leader.
"We've done the exact same thing to our car every week since our first win," he said. "This was the first time that I wished we would have done something a little different. Even though we were good, there were a couple of things that we could have done to make the car better.
"But that's a good confidence booster – knowing that even though we came from eighth to win, we still could have been better. The next time we race on a track like that, we can make changes that will make us faster."
Kulhanek will once again be idle from racing for a considerable amount of time, with his next weekend of racing scheduled for Aug. 18 at Heart O' Texas Speedway in Waco, Texas, and Aug. 19 at South Texas Speedway in Corpus Christi, Texas, with the ASCS Gulf South Region. While a break from racing at this point in the season can sometimes be welcomed, it's not particularly what a driver looks forward to when he's on a roll.
"I don't really want to be sitting out right now, but that's the way the schedule is," he said.