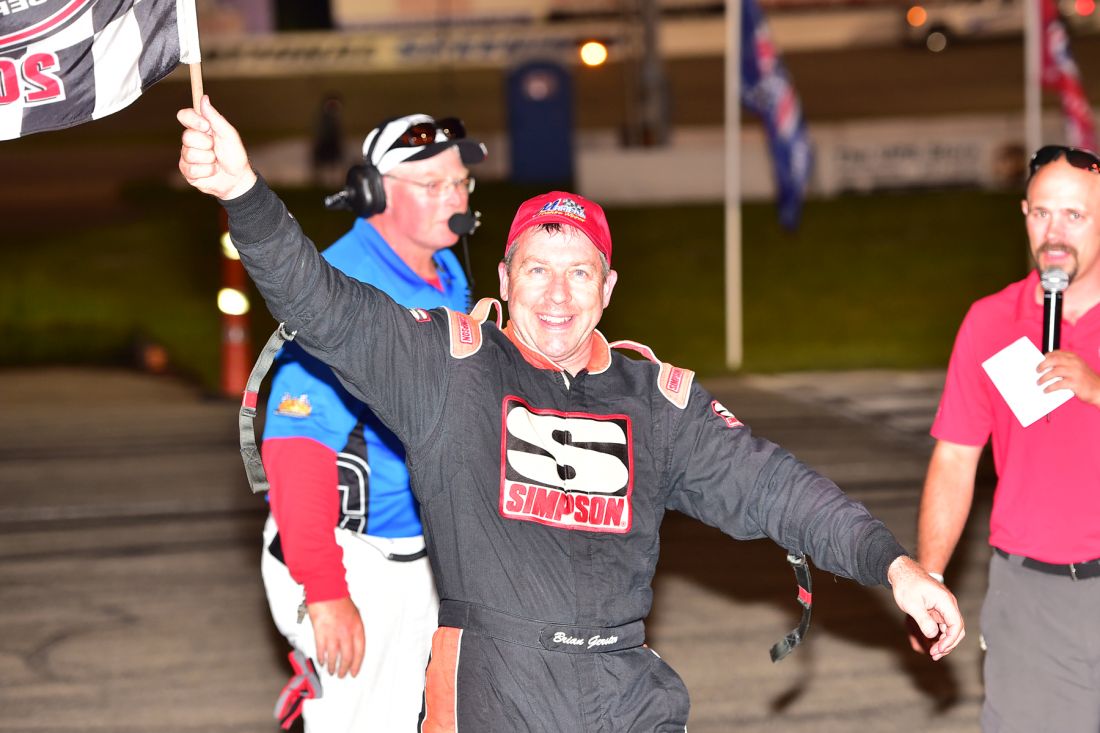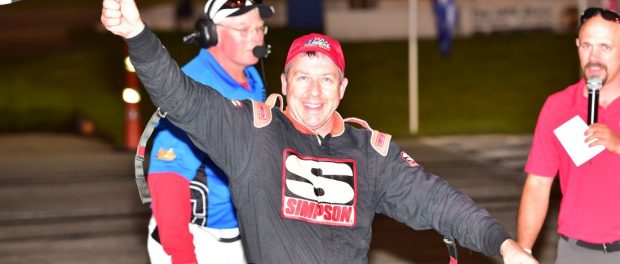 From Jacob Seelman
OREGON, Wis. – Brian Gerster became the third different winner of the Must See Racing Sprint Car Series season and put a brief end to Jimmy McCune's dominance by winning Friday night's 30-lap feature at Madison Int'l Speedway.
Gerster took the lead from polesitter Charlie Schultz on lap seven and led the rest of the way in a near-nonstop feature that took just 12 minutes from start to finish.
After also setting fast time in qualifying, Friday marked Gerster's 17th-career Must See Racing triumph.
"I was just trying to get to the front as fast as I could," said Gerster, who was making his first-ever appearance at the Madison half-mile. "Every time we run this series, with the invert … we typically have to come from a row back or a couple rows back. The guys who get (to the front) fast are the guys who have been winning all the races, and tonight we were able to do that."
"I was just trying to get to the front … get that clean air and drive my race. Things worked out for us."
Though Gerster held a lead of more than two seconds at times, he had to withstand a last-ditch charge by McCune, who closed to the back bumper of the
No. 50m when Gerster was trapped behind the slower cars of Schultz and Adam Biltz with two laps to go.
"I got bottled up there, with about three to go … and I saw Jimmy show me his nose and knew it might get interesting. I hope the fans got some excitement of that; I know I did. I knew I had good pace though, and that I wasn't running the car quite as hard as I needed to. It all came together in the end."
Schultz started on the pole for the 30-lap main event, and was able to hold the advantage early thanks to a lap one caution for a spinning Jason Cox in Turn 4.
That nullified what would have been a pass for second for Jimmy McCune, who had to fall back behind his nephew Anthony McCune for the first restart of the night.
That restart saw Anthony McCune fall back as both Jimmy McCune and Brian Gerster jumped by on the outside, with Jimmy McCune quickly closing in on Schultz's tail tank for the top spot.
The two-time defending champion attempted a pass for the lead in Turn 3 on the fifth circuit, but washed way up the race track and had to gather his car back up as Gerster went flying by into second.
"I just had a good run on him (Schultz) going down the backstretch; I caught a nice draft … pulled out (to make the pass) and when I did, the car just bit on the left rear and I couldn't really steer it," McCune explained afterwards. "It drove me all the way to the infield on entry in and it was all I could to get it back under me."
Once Gerster took the lead, it was game-set-match. He led the McCunes by a second and a half at the halfway point, and without traffic in the final laps, would have easily cruised off into the Wisconsin night.
Jimmy McCune officially finished second by .993 of a second, but admitted that number was somewhat misleading with how strong Gerster was in clean air.
"He was really good out front; the traffic was what got us back into it there at the end," McCune said. "My mistake early in the going blew the whole race for us. The lap cars were an insane pain in the rear tonight. Hopefully, they're not that way tomorrow … but (at Rockford) it's tight and we can use this new bumper there if we need to."
Anthony McCune completed the podium in third, scoring his third-consecutive top three finish and unofficially moving into second in points over Jeff Bloom.
Those three drivers were the only cars on the lead lap at the twin checkers.
Schultz hung on for fourth, the first car one lap down, just ahead of Jerry Caryer in fifth.
The Must See Racing Sprint Car Series returns to action on Saturday, July 29 for the conclusion of their two-night 'Western Swing' at Illinois' Rockford Speedway, where Jimmy McCune is the defending winner.
RESULTS: Must See Racing Sprint Car Series; Madison Int'l Speedway; July 28, 2017
1-800-RADIATOR A-Feature (30 laps): 1. #50m – Brian Gerster [5]; 2. #88 – Jimmy McCune [4]; 3. #8 – Anthony McCune [2]; 4. #9s – Charlie Schultz [1]; 5. #75c – Jerry Caryer [6]; 6. #7 – Tom Jewell [7]; 7. #72s – Joe Speakman [9]; 8. #8A – Adam Biltz [10]; 9. #40 – Jason Cox [3]; 10. #13 – H.D. Carter [11]; 11. #26 – Jeff Bloom [8].
Abe's Auto Parts Time Trials: 1. #50m – Brian Gerster, 14.710; 2. #88 – Jimmy McCune, 15.280; 3. #40 – Jason Cox , 15.453; 4. #8 – Anthony McCune, 15.681; 5. #9s – Charlie Schultz, 15.691; 6. #75c – Jerry Caryer, 15.968; 7. #7 – Tom Jewell, 16.038; 8. #26 – Jeff Bloom, 16.179; 9. #72s – Joe Speakman, 16.737; 10. #8A – Adam Biltz, 16.747; 11. #13 – H.D. Carter, NT.
Abe's Auto Parts Heat #1 (8 laps): 1. Jeff Bloom, 2. Joe Speakman, 3. Jerry Caryer, 4. Tom Jewell, 5. Adam Biltz, 6. H.D. Carter (DNS).
B&B Machinery Movers Heat #2 (8 laps): 1. Jason Cox, 2. Brian Gerster, 3. Anthony McCune, 4. Charlie Schultz, 5. Jimmy McCune.