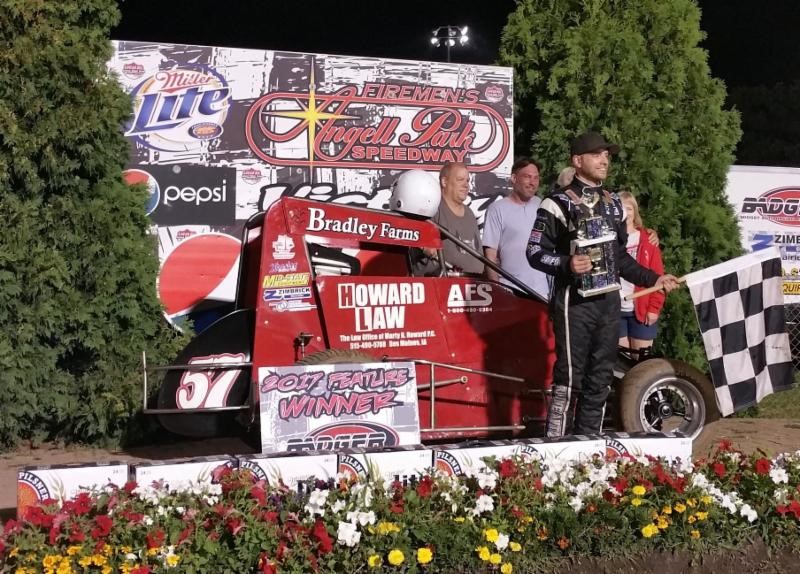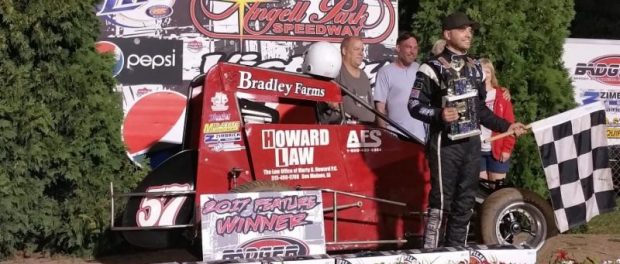 From Bryan Gapinski
SUN PRAIRIE, Wi. (July 30,2 017) — Bill Balog won the 20-lap Mid-State Equipment/Zimbrick Chevrolet of Sun Prairie Badger Midget Racing Series feature, Sunday Night at Angell Park Speedway. For Balog who started twelfth in the event, it was his fourth career midget feature victory at the track.
Brad Greenup jumped into the lead at the start of the event, with Balog passing six cars in the opening lap. At the completion of the third lap Balog was running in the fourth position. Balog passed Andy Baugh for second place entering Turn 2 on the fifth lap, and passed Greenup for the lead exiting the turn.
Balog began increasing his lead each lap, while an excellent three car battle continued for second place between Baugh, series points leader Robbie Ray, and Greenup. Balog's car began smoking with seven laps remaining.
Balog driving the RAB owned Spike/Esslinger Ford-Duratech No. 57 finished 3.19 seconds ahead of Ray. Baugh, Zach Boden, and Greenup completed the top five. Greenup won the Howard Law Cash Draw, a $200 bonus for a randomly selected feature finishing position.
"The crew did a great job getting the car fixed after the heat race. It easy to drive during the feature. A fuel leak developed during the race, I was getting sprayed by fuel and also oil spraying onto my legs at the end" commented Balog.
Boden after his fourth place midget feature finish stepped into his micro No.5 for the Badger 600 Micro Series presented by Race Pass feature. Dave Collins led the first four laps, while Boden quickly caught Collins from his outside third row starting position.
Once in the lead Boden, easily pulled away from the field leading the remainder of the 15-lap feature. Ty Springer, Collins, Tory Straus, and Tommie Jo Springer completed the top five.
The next Badger Midget event will be Saturday August 12 at Wilmot (Wis.) Raceway, with the next Micro event August 5 at the Plymouth (Wis.) Dirt Track.
Racing action continues on Sunday Night August 13 at Angell Park with a four-division show featuring: the Badger Midget Series, Wisconsin Wingless Sprint Car Series, Midwest Sprintcar Association and Wisconsin Dirt Racing Legends Series. "The Tribute to Mike Fell presented by Howard Law" will pay
$2, 000 to win the Badger Midget feature.
SUMMARY
MIDGETS
20-lap Feature: 1.Bill Balog; 2. Robbie Ray; 3. Andy Baugh; 4. Zach Boden; 5. Brad Greenup; 6. Mike Stroik; 7. Buddy Luebke; 8. Kurt Mayhew; 9. Randy Reed; 10. Kyle Koch; 11. Jim Fuerst; 12.Laura Smith; 13. Jake Goeglein.
8-lap Heat Race Winners: Ray, Greenup.
Cars Present: 13 Feature Lap Leaders: Greenup 1-4, Balog 5-15.
MICROS
15-lap Feature: 1. Zach Boden;2. Ty Springer; 3. Dave Collins; 4.Tory Straus; 5. Tommie Jo Springer; 6. Jack Vanderboom; 7. Denver Larsen; 8. Dylan Larsen; 9. Kyle Brinkmann; 10. Brian Haugland; 12. Chad Bogar; 13. Josh Rehberg.
8-lap Heat Race Winners: Dylan Larsen, Boden.
Cars Present: 16 Feature Lap Leaders: Collins 1-4, Boden 5-15.
Photo caption: Top: Bill Balog won the Badger Midget Auto Racing Association feature race at Angell Park Speedway on Sunday night. Bottom: Zach Boden celebrates with his crew after winning the Badger 600 Micro Series feature.