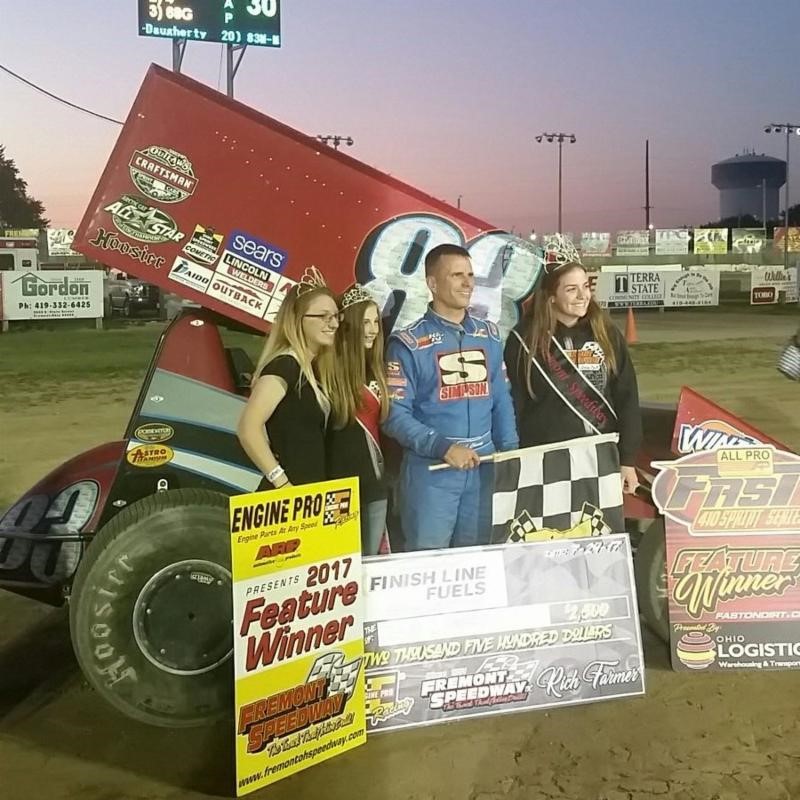 From Inside Line Promotions
FREMONT, Ohio (July 31, 2017) – Rob Chaney took advantage of lapped traffic to take the lead with nine laps remaining en route to the feature victory last Saturday night at Fremont Speedway. It was the first win as a team for Chaney and CH Motorsports, who are running a limited schedule together this year.
"There's nothing like winning," Chaney said. "That's why we do this and go through the agony of defeat for a long time. It's just to get a win."
Chaney began the evening by qualifying eighth quickest out of a field of 22 cars, starting him outside of Cap Henry on the front row of his heat race. Chaney chased Henry most of the race before passing him on the final lap for the win.
"The track was a little bit rough in spots in qualifying and we went out early," he said. "I think it may have gotten better later. But they drew an eight for the inversion, which worked out well for us."
Chaney started third in the night's main event behind front-row starters Henry and Byron Reed. Before a lap was completed, a crash involving Reed caused the only caution of the 30-lap race. Henry grabbed the lead when the race resumed with Chaney in tow.
"I was right with him most of the time – within a car length or two – but could never get a clear shot to pass him," Chaney said. "We finally got to some pretty heavy traffic and I got a run at him. He kind of moved down to try the bottom and I got back to the top and got by him on Lap 22 and led the rest of the way."
It was a fulfilling win for the new team in just their seventh race of the year.
"We didn't do anything different," Chaney said. "We approach it the same all the time. I think our biggest thing is that we haven't raced a lot together so we're progressing a little bit every night and we were just able to put it all together."
It was Chaney's 11th career victory at the track.