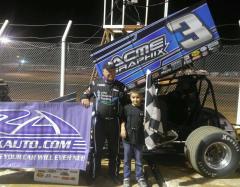 By Pete Walton
LEXINGTON, TN – August 26, 2017 – National Sprint Car Hall of Fame Inductee Sammy Swindell of Bartlett, TN won the 30-lap United Sprint Car Series Outlaw Thunder Tour Presented by K&N Filters race at Lexington 104 Speedway on Saturday night. Swindell was so happy about the win after dominating the race he stayed awhile in Victory Lane.
"This win was all about an old guy with a lot of experience in a good race car," Swindell said after being asked about what he attributed to the convincing victory. When told he looked more like a hungry 20-year-old by the way he aggressively worked lapped traffic, Swindell added, "I was pretty hungry because we haven't won in a while, as a lot of different things would keep us from winning."
Swindell put it all together on Saturday night and at one point in the race had a full straightaway lead on the rest of the 23-car field. Swindell spent the majority of the race in heavy lapped traffic. It was his career second United Sprint Car Series victory.
A pair of former USCS National Champions, Tim Crawley of Benton, AR and Derek Hagar of Marion, AR got close once, but Swindell overcame the late race gremlins he spoke of that had cost him in the past to reach Victory Lane to post the wire-to-wire win.
A packed house showed their appreciation of Swindell, who began his career at West Tennessee tracks as a young teenager back in the 1970s, following in the footsteps of his father Sam Swindell. As the crowd gathered around Victory Lane, Swindell took the time to thank them for coming, got reflective, and then did something not many expected.
"I've really enjoyed racing here tonight, not just because of the win, but to meet so many people that said they watched my Dad race, and watched me early in my career," Swindell said. "It was really nice to get to race in front of them tonight, and I thank them for coming."
After the post-race interview, Swindell was free to go back to the pit area, but he stayed in Victory Lane for another 30 to 40 minutes to meet the fans of all ages, sign autographs, and pose for photos with those fans in front of his winning A.G. Raines Acme Graphics Special. Swindell stayed until everyone got an opportunity for an autograph or a photo op that wanted one.
Crawley finished second and third went to Dale Howard of Byhalia, MS . The defending and two-time USCS National Champion Morgan Turpen of Cordova, TN took the fourth spot and Justin Webb of Drummonds, TN was fifth. Rookie of the Year candidate Brandon Taylor of Cumming, GA finished sixth and seventh went to 11-time USCS National Champion Terry Gray of Bartlett, TN.
USCS point leader Jordan Mallett of Greenbrier, AR took the eighth spot and in ninth place was another former USCS National Champion Marshall Skinner of Marion, AR. Series newcomer Garrett Green of Valrico, FL rounded out the top ten. Sean Hosey of Lima, OH started 20th and finished 13th to earn the Wilwood Disc Brakes Hard Charger of the Race Award.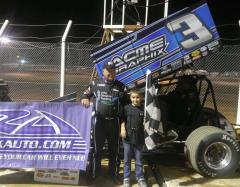 In preliminary action, Crawley won the six-lap Hoosier Tire Speed Dash, and the three eight lap heat races were won by Webb in the Engler Machine and Tool first heat, Hagar in the Brown and Miller Racing Solutions second heat, and Swindell in the Schoenfeld Headers third heat. With the inversion, that earned Swindell the K&N Filters Pole Award.
At the drop of the green flag to start the race, Swindell took the lead with Hagar following from his outside front row starting spot in second, and Crawley hustling up from his sixth starting spot to take third. Crawley got by Hagar for second on lap two, but Swindell was beginning to pull away. By lap four, Swindell caught the cars on the tail of the lead lap.
The top five cars of Swindell, Crawley, Hagar, Howard and Webb remained the same for the first half of the race, with Swindell opening up a full straightaway lead over Crawley at one point. But while the leader tried to weave his way through lapped traffic, Crawley and Hagar closed in. Swindell's big lead was down to just a couple of car-lengths by the halfway point in the race.
The red flag came out on lap 16 when Don Warren of Clarksville, TN spun in turn four, clipped the inside berm of the race track and tipped over on his side. Warren was not injured. During the red flag period, Hagar went to the pits and was out for the evening with a broken torque tube.
Swindell led the field down for the restart followed by Crawley, Howard, Turpen, Webb, Mallett, Skinner, Gray, McElhannon and Green. With clean air in front of him, Swindell broke away from the pack, but the field was slowed again on lap 19 when Jake Knight of Georgetown, MS spun on the front stretch collecting Ronny Howard of Olive Branch, MS.
After the restart, there was no catching "Slammin' Sammy" as he worked lapped traffic to perfection. Swindell took the checkered flag with almost a full straightaway advantage over Crawley, Dale Howard, Turpen and Webb.
On the undercard to the USCS Winged Outlaw Sprint Cars, the K&N Filters USCS Outlaw Modifieds put on one of the most memorable races in the history of the series. The top three cars came off the fourth turn to the checkered flag in three abreast formation bringing the packed house to their feet!
Matt Cooper of McKenzie, TN took the win followed by Michael Turner of Paris, TN in second, and Hunter Wilbanks of Lakeland, TN finished third. Turner led the majority of the race with Cooper trying to challenge on the outside. Cooper hit the backstretch wall several times with his right-side wheels spraying a shower of sparks.
The 21st annual United Sprint Car Series Outlaw Thunder Tour presented by K& N Filters continues this coming Labor Day Holiday Weekend with races in Georgia and Tennessee. Lavonia Speedway in Lavonia, GA will host the USCS Winged Outlaw Sprint Cars on Friday, September 1st, and then the action moves to the Volunteer State on Saturday, September 2nd with a stop at I-75 Raceway in Sweetwater, TN. Late Model and Stock Car racing fill an action-packed racing card each night as well.
For rules and updated schedule information about the United Sprint Car Series Outlaw Thunder Tour, please visit www.uscsracing.com or call the series office at 770-460-7223 or 770-865-6097. You can also like the United Sprint Car Series Facebook page at USCS Racing.
OFFICIAL FINISH AT LEXINGTON 104 SPEEDWAY IN LEXINGTON, TN ON 8/26/17:
30-LAP A-MAIN:
POS START CAR # DRIVER HOMETOWN
1. 1 3 Sammy Swindell Germantown, TN
2. 6 88 Tim Crawley Benton, AR
3. 4 21 Dale Howard Byhalia, MS
4. 5 10m Morgan Turpen Cordova, TN
5. 3 31 Justin Webb Drummonds, TN
6. 8 07 Brandon Taylor Cumming, GA
7. 7 10 Terry Gray Bartlett, TN
8. 10 14 Jordon Mallett Greenbrier, AR
9. 12 26 Marshall Skinner Marion, AR
10. 14 3g Garrett Green Valrico, FL
11. 11 42 Andy McElhannon Hernando, MS
12. 15 38 Tony Agin Fort Myers, FL
13. 20 6 Sean Hosey Lima, OH
14. 19 44 Ronny Howard Olive Branch, MS
15. 18 93 Jake Knight Georgetown, MS
16. 17 44c Chase Howard Olive Branch, MS
17. 16 25 Ray Bugg Iuka, MS
18. 2 9jr Derek Hagar Marion, MS
19. 9 94 Jeff Swindell Bartlett, TN
20. 13 28 Jeff Willingham Ripley, MS
21. 22 99 Don Warren Clarksville, TN
22. 21 12m Greg Merritt Nesbitt, MS
23. 23 14b Bo Barber Clarksville, TN
USCS Sprint Car Series Race Awards:
Hoosier Tire Speed Dash: Crawley
Engler Machine and Tool First Heat: Webb
Brown and Miller Racing Solutions Second Heat: Hagar
Butlerbuilt Third Heat: S. Swindell
K&N Filters Pole Award: S. Swindell
JE Pistons Top Guns Award: (2nd Place): Crawley
PRO Shocks Champion Choice Award (3rd Place): D. Howard
K&N Filters Podium (3rd place) Award: D. Howard
Wilwood Disc Brakes Hard Charger Award: Hosey (started 20th and finished 13th)
Saldana Racing Products Super Sixth Award: Taylor
Pyrotect Racing Cells Lucky Seven Award: Gray
DHR Suspension Eighth Place Award: Mallett
DMI/Bulldog Rear Ends Top Ten Award: Green
Hoosier Tire Speed Dash (6 Laps): 1. Crawley; 2. Hagar; 3. Gray; 4. Turpen; 5. Skinner; 6. Mallett.
Engler Machine and Tool First Heat (8 Laps): 1. Webb; 2. D. Howard; 3. McElhannon; 4. Willingham; 5. Green; 6. Bugg; 7. C. Howard; 8. Warren.
Brown and Miller Racing Solutions Second Heat (8 Laps): 1. Hagar; 2. Turpen; 3. Crawley; 4. Mallett; 5. Skinner; 6. R. Howard; 7. Housey; 8. Barber.
Schoenfeld Headers Third Heat (8 Laps): 1. S. Swindell; 2. J. Swindell; 3. Gray; 4. Taylor; 5. Agin; 6. Knight; 7. Merritt.
USCS OUTLAW MODIFIED TOUR RESULTS:
20-LAP A-MAIN:
POS STRT CAR # DRIVER HOMETOWN
1. 2 18 Matt Cooper McKenzie, TN
2. 1 27 Michael Turner Paris, TN
3. 3 10 Hunter Wilbanks Lakeland, TN
4. 4 12 Junior Lemmings Jackson, TN
Hoosier Tire Speed Dash (6 Laps): 1. Cooper; 2. Turner; 3. Wilbanks; 4. Lemmings.
Engler Machine and Tool First Heat (8 Laps): 1.Turner; 2. Cooper; 3. Wilbanks; 4. Lemmings DNS.