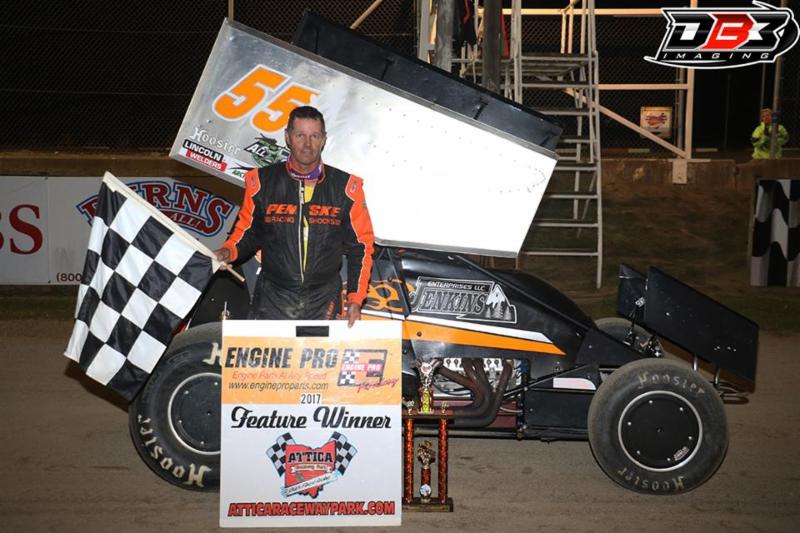 Inside Line Promotions
CHILLICOTHE, Ohio (Aug. 29, 2017) –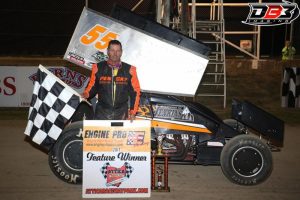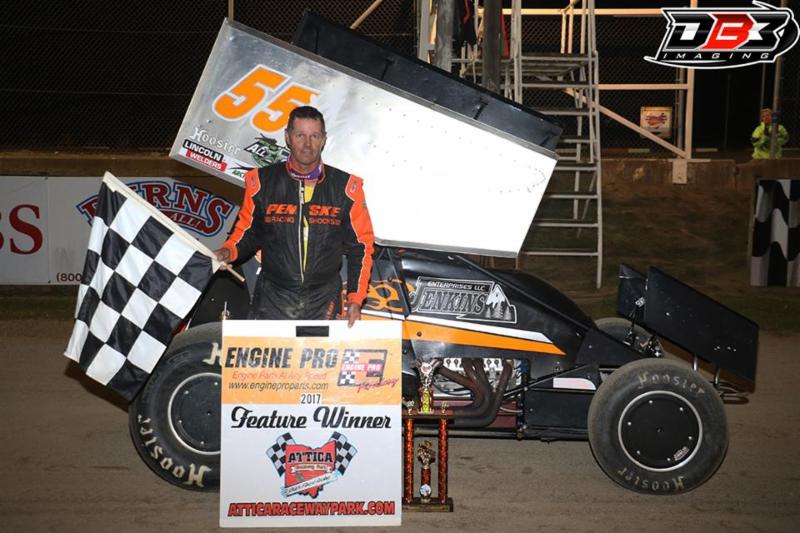 The victory gives him at least one triumph in all 28 years he has been a sprint car driver.
"I'd been thinking about it for the past couple of weeks," he said. "I hadn't won a race this year and we're at the end of August. I needed to get one done. It was cool to be able to get that and have gone every year of my career with a race win."
Blaney entered the night at the high-banked oval in Attica, Ohio, with only a half dozen starts with the J&M Motorsports team this season.
"I've known Gene Jenkins and Scott Mertz for a long time," he said. "Gene used to work for me when I ran the World of Outlaws team in 2000. Communication is the key to everything and we get along good. Our main goal is to have fun and enjoy the races."
The team kicked off the night by setting quick time during qualifying.
"It's always good to have quick time," Blaney said. "We knew we just had to run in the top five in the heat race to get in the redraw. I wasn't very good in the heat race, which led us to change a few things for the feature that got us good again."
Blaney finished fourth in the heat race to lock into the feature redraw, in which he pulled the No. 4 to start the main event on the outside of the second row.
"It was good to start fourth," he said. "I jumped right into third. Cap Henry and Chris Andrews were out there. I let the race come to us. Chris Andrews was fighting for a championship so it was tough for him to race aggressive. Once I got by him for second I felt like my car was good enough, but it was going to be tough to catch Cap. He made a mistake there and gave me an opportunity.
"It was good to lead a race for a change, being able to lead and dictate what you want to do. Not being in that position for a while it was kind of weird. If things don't go your way for a while you just race different. Once we got the lead stuff came back to me."
Blaney took the lead on Lap 19 and led the final dozen laps to post his 26 th career win at Attica Raceway Park.
The weekend concluded on Saturday at Atomic Speedway, where Blaney opened the Arctic Cat All Star Circuit of Champions show by qualifying second quickest in his group. He then placed second in a heat race and fourth in a dash to start the main event eighth.
"We were pretty solid all night," he said. "I jumped from eighth to fifth and felt my car was good. It was just hard to pass. The track took a little bit of rubber and off turn two it took it early, about five laps in. In turns three and four you had to be in that certain lane around Lap 10 or else you were going to get passed. Track position was pretty crucial."
Blaney ended with a fifth-place result, which was his sixth top five of the season with the All Stars.
Blaney will return to Zemco Racing next Monday for a race at Port Royal Speedway in Port Royal, Pa.
QUICK RESULTS –
Aug. 25 – Attica Raceway Park in Attica, Ohio – Qualifying: 1; Heat race: 4 (4); Feature: 1 (4).
Aug. 26 – Atomic Speedway in Chillicothe, Ohio – Qualifying: 2; Heat race: 2 (3); Dash: 4 (4); Feature: 5 (8).
UP NEXT –
Monday at Port Royal Speedway in Port Royal, Pa.
MEDIA LINKS –
Website: http://www.daleblaney.com
Twitter: https://twitter.com/DaleBlaney
SPONSOR SPOTLIGHT – Janet Holbrook
"Janet has a storied history in racing and has been around the sport for a long time in many different capacities," Blaney said. "I really appreciate her support."
INSIDE LINE PROMOTIONS –
Inside Line Promotions specializes in affordable public relations and media management for motor sports drivers, teams, sponsors, tracks, series, events, organizations and manufacturers. ILP Founder Shawn Miller leverages professional journalism with new media technologies and social networking to improve your exposure and the return on investment for your sponsors.
To meet the media relations needs of your program by joining Team ILP, contact Shawn at 541-510-3663 or Shawn@InsideLinePromotions.com . For more information on Inside Line Promotions, visit http://www.InsideLinePromotions.com.