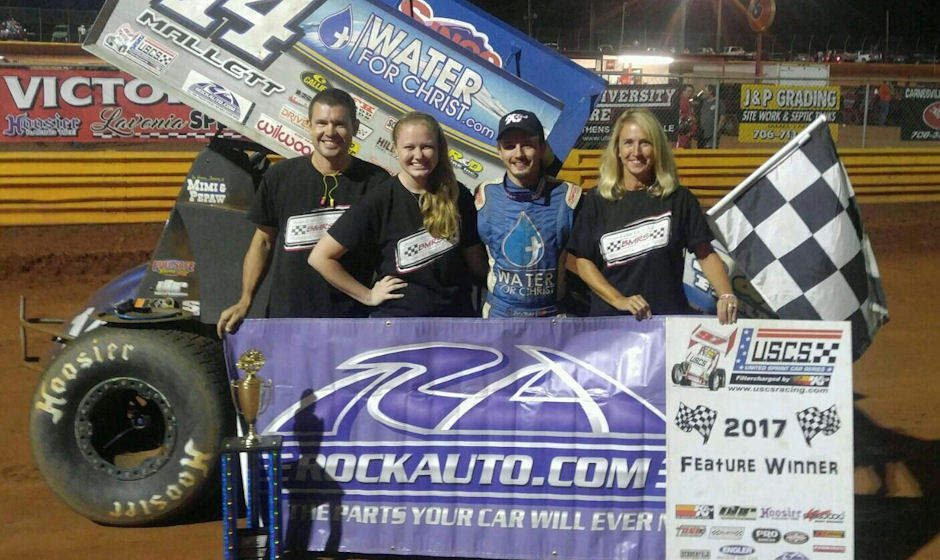 By Pete Walton
September 3, 2017
LAVONIA, GA –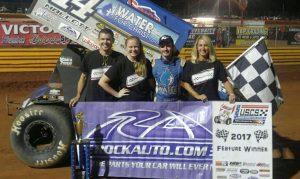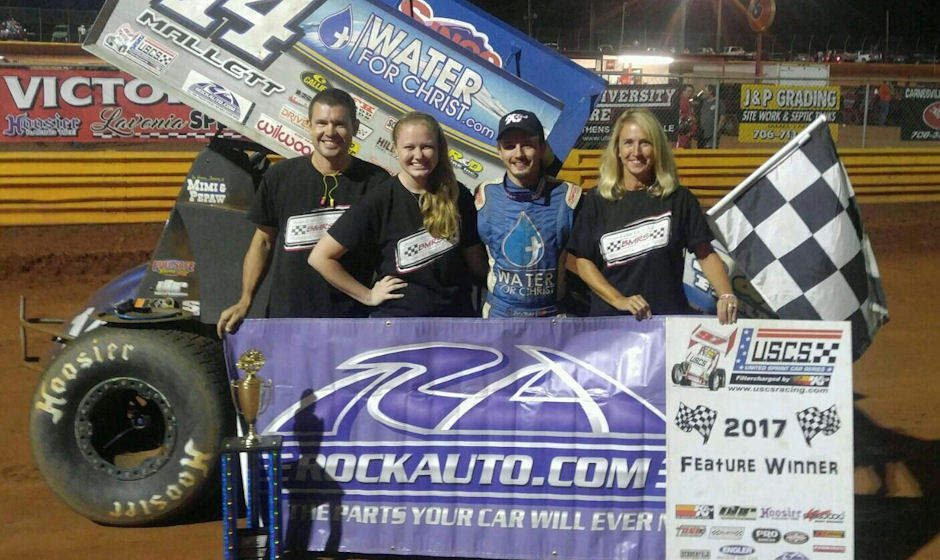 Mallett dusted off the top shelf of the 3/8-mile clay oval to win all events he competed in, and held off challenges from Terry Gray and Eric Riggins Jr.to park his #14 in the www.RockAuto.com USCS Victory Lane at the end of the 30-lap main event.
Mallett took the lead from the 11-time USCS National Champion Gray on lap four and led until a lap 12 restart when Riggins took the lead, but Mallett got his mount wound up and grabbed the lead back on lap 13. Riggins stayed close the rest of the way, but Mallett pulled away in the closing laps to seal the deal for his sixth USCS win of the 2017 season.
"At the start of the race, Terry got the better start, as we had a little stumble taking off for the green," Mallett said. "We got a great run off the second turn and got alongside Terry to take the lead. Then on the restart, the car stumbled once again and Eric took the lead away from us. But once we got our momentum going on the high side, and we got by to take the win."
Riggins of Charlotte, NC finished second and third went to Roookie of the Year contender Scott Hunter of Concord, NC who started tenth and earned the Wilwood Disc Brakes Hard Charger of the Race Award. Rookie of the Year candidate Brandon Taylor of Cumming, GA took the fourth spot and 2016 Southern Outlaw Sprints Rookie of the year, Joey Schmidt of Ellisville, MS was fifth.
Jeff Oliver of Pendergrass, GA finished sixth and seventh went to Matt Linder of Hoschton, GA. Jeff Willingham of Ripley, MS took the eighth spot and Brian Thomas of Pendergrass, GA was ninth. The defending and two-time USCS National Champion Morgan Turpen of Cordova, TN rounded out the top ten.
In preliminary action, Mallett won the six-lap Hoosier Speed Dash and the Engler Machine and Tool first eight-lap heat race. Gray of Bartlett, TN won the Brown and Martin Racing Solutions second eight-lap heat race.
With his heat race win, Mallett won the K&N Filters Pole Award, but it was Gray coming from the outside front row starting spot that took the lead at the start of the race followed by Mallett, Riggins, Turpen, and Oliver. Mallett went to the high groove to challenge Gray for the lead early and often, but the 11-time USCS National Champion was able to slide up in front of Mallett to protect the lead.
Coming off turn two on lap four, Mallett got a good bite coming off the cushion and pulled alongside Gray down the backstretch. The lead duo raced side-by-side through turns three and four with Mallett taking the lead coming off the fourth turn. Once out in front, Mallett started to pull away from Gray keeping his momentum going on the high side.
Behind the leaders, Turpen and Oliver battled for the fourth position. Oliver jumped the cushion on the high side of turn three on the seventh lap and hit the wall. He was able to continue, but Taylor got by to take over the fifth spot. The leaders were in heavy lapped traffic by lap nine. Mallett had almost a full straightaway on Gray, when trouble unfolded in front of the second place driver.
Tony Agin of Fort Myers, FL was running tenth and had just gone a lap down to the leader when he flipped in turn three and landed on his wheels. Gray was committed to the high side, had no place to go and slide into Agin's disabled race car. Both cars were done for the night, and neither driver was injured.
The restart after the red flag period saw Mallett leading Riggins, Turpen, Taylor, Hunter, Oliver, Schmidt, Thomas, Linder, and Larkin for the restart. Riggins dove for the inside to throw a slide job on Mallett for the restart, and made it stick to take the lead. Mallett once again set up shop on the top shelf of the race track, and used the good bite off turn two to retake the lead on lap 13.
Mallett and Riggins pulled away from Turpen in the third spot, but the "Queen of the Wings" slowed off the pace on lap 24 with a blown engine. Riggins stayed within a few car-lengths of Mallett until the leader made some key moves in lapped traffic to seal the deal with five laps to go.
The next race for the United Sprint Car Series Outlaw Thunder Tour Presented by K&N Filters will be on Saturday night at Dixie Speedway in Woodstock, GA.
For rules and updated schedule information about the United Sprint Car Series Outlaw Thunder Tour, please visit www.uscsracing.com or call the series office at 770-460-7223 or 770-865-6097. You can also like the United Sprint Car Series Facebook page at USCS Racing.
OFFICIAL FINISH AT LAVONIA SPEEDWAY IN LAVONIA, GA ON 9/3/17:
30-LAP A-MAIN:
POS STRT CAR # DRIVER HOMETOWN
1. 1 14 Jordon Mallett Greenbrier, AR
2. 4 47 Eric Riggins Jr. Charlotte, NC
3. 10 1x Scott Hunter Concord, NC
4. 5 07 Brandon Taylor Cumming, GA
5. 11 1s Joey Schmidt Ellisville, MS
6. 6 29 Jeff Oliver Pendergrass, GA
7. 13 67x Matt Linder Hoschton, GA
8. 12 28 Jeff Willingham Ripley, MS
9. 7 67 Brian Thomas Pendergrass, GA
10. 3 10m Morgan Turpen Cordova, TN
11. 9 33 Joe Larkin Suwanee, GA
12. 14 58 Nathan Emig Beaufort, SC
13. 2 10 Terry Gray Bartlett, TN
14. 8 38 Tony Agin Fort Myers, FL\
15. 0 99 Don Warren Clarksville, TN
USCS Sprint Car Series Race Awards:
Hoosier Tire Speed Dash: Mallett
Engler Machine and Tool First Heat: Mallett
Brown and Miller Racing Solutions Second Heat: Gray
K&N Filters Pole Award: Mallett
JE Pistons Top Guns Award: (3rd Place): Hunter
PRO Shocks Champion Choice Award (4th Place): Taylor
K&N Filters Podium (3rd place) Award: Hunter
Wilwood Disc Brakes Hard Charger Award: Hunter (started 10th and finished 3rd)
Saldana Racing Products Super Sixth Award: Oliver
Pyrotect Racing Cells Lucky Seven Award: Linder
DHR Suspension Eighth Place Award: Willingham
DMI/Bulldog Rear Ends Top Ten Award: Turpen
Hoosier Tire Speed Dash (6 Laps): 1. Mallett; 2. Thomas; 3. Turpen; 4. Gray; 5. Riggins; 6. Willingham.
Engler Machine and Tool First Heat (8 Laps): 1. Mallett; 2. Thomas; 3. Turpen; 4. Agin; 5. Larkin; 6. Willingham; 7. Emig, 8.Warren -DNS.
Brown and Miller Racing Solutions Second Heat (8 Laps): 1. Gray; 2. Oliver; 3. Riggins; 4. Taylor; 5. Hunter; 6. Schmidt; 7. Linder.
-30-
The United Sprint Car Series presented by K&N Filters would like to gratefully thank its sponsoring partners for their involvement in the 2017 and 21st USCS Outlaw Thunder Tour: K&N Filters, www.rockauto.com,Engler Machine and Tool, Butlerbuilt, Wilwood Disc Brakes, Saldana Racing Products, Pyrotect Racing Cells, DMI/Bulldog Rear Ends. PRO Shocks, KSE Racing Products, DHR Suspensions, Schoenfeld Headers, DSR Fuel Systems, Brown and Miller Racing Solu.tions, Arizona Sport Shirts and Hero Graphics.