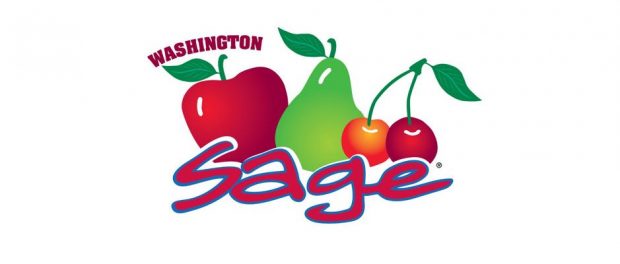 From Tony Stewart Racing
The Sage Fruit Company, a Pacific Northwest sales and marketing organization, in the tree fruit industry, announced today an agreement with Tony Stewart/Curb-Agajanian Racing (TSR) beginning with the 2018 season.
The partnership includes an associate sponsorship on the TSR No. 15 driven by Donny Schatz and the TSR No. 14 driven by Tony Stewart. Schatz will embark on his 22nd season competing with the World of Outlaws (WoO) Craftsman Sprint Car Series in 2018 while Stewart is planning to compete in Sprint car races all across the United States.
"The Sage Fruit Company is very excited to be joining Tony Stewart Racing," said Chuck Sinks, President, Sales and Marketing, Sage Fruit Company. "We are all big fans of auto racing, but Sprint cars have been our passion. We have been in the sport for the last 14 years, and to be able to partner with such a strong professional winning organization like TSR is only adding to our passion. We have admired Tony his entire racing career, whether it has been in the IRL, USAC, NASCAR or Sprint cars. Now, to be able to team with him and Donny Schatz is something that we look forward to. Donny is an outstanding driver and he obviously has a great crew behind him to be able to win nine championships. 2018 will be a great year."
The announcement comes in advance of the Outlaws' 2017 season finale at The Dirt Track at Charlotte (N.C.) Motor Speedway. Schatz will be looking to capture a series-best 20th WoO A-Feature victory in the Textron World Finals and wrap up his ninth WoO championship and eighth WoO title for TSR. The championship would be the team's 22nd short-track-racing title overall.
"Having been involved in racing for most of my life, I have learned that the importance of relationships in this sport goes unmatched," Stewart said. "Through their interest in and dedication to supporting Winged Sprint car racing, I've had the pleasure of getting to know Chuck and his team at Sage Fruit. I'm very proud to welcome them to Tony Stewart/Curb-Agajanian Racing and to have them as part of our team. It's exciting to have an opportunity to build on our friendship through our racing program and for Donny Schatz and I to carry their brand on our cars next season. We're looking forward to working with Chuck and his entire Sage Fruit team."
The partnership continues Sage Fruits' involvement in short-track racing and commitment to Winged Sprint car racing. TSR has fielded a WoO team for 16 seasons and will look to continue leading the way in short-track racing both on the track and off in 2018. Both race schedules for 2018 and car schemes for the TSR Nos. 14 and 15 racecars will be released at a later date.
More information about Sage Fruit Company is available on their website at www.sagefruit.com and TSR can be found at www.TonyStewartRacing.com. Be sure to follow both Sage and Tony Stewart/Curb-Agajanian on their social media outlets.