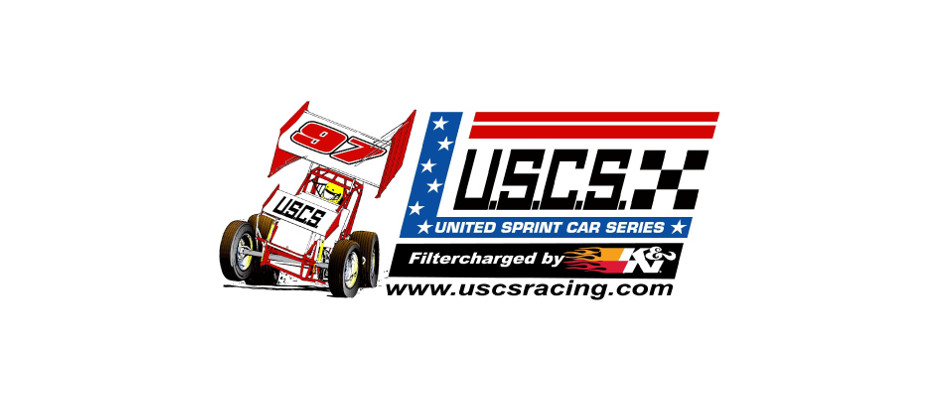 From Pete Walton
ATLANTA (November 6, 2017) — The Fayetteville, Georgia based United Sprint Car Series Outlaw Thunder Tour presented by K&N Filters winged sprint cars make only their second 2017 visit to Bubba Raceway Park in Ocala, Florida on Friday and Saturday, November 10th and 11th The event is entitled the USCS Florida State Sprint Car Championship Race (2017) . The series' 120 mile per hour USCS winged Outlaw type sprint cars headline the two-night Veteran's Day weekend of racing action at the semi-banked three-eighths mile D-shaped oval track.
The racing card also includes the 100 mile per hour www.rockauto.com USCS 600 Sprint Car Series winged mini sprints and Florida Mini Sprint Action series on both nights in a head to head duel for Southen superiority.The Friday and Saturday's racing card will add a third open wheel racing division when the Florida Modlite STARS racing series join the other two open wheel divisions on both nights for their Fall Nationals 2017 as well. Saturday night's racing card also feature the Florida T.Q. Late Models and the mighty Gladiators division.
The United Sprint Car Series portion of the two-night event will give a driver who can sweep the weekend's elements an opportunity to pick up nearly $4000 in cash prize winnings plus contingency awards. Friday night's 20-lap preliminary main event winner will receive a $1500 paycheck upon arriving first in the www.rockauto.com USCS Victory Lane. Saturday night's 30-lap USCS Championship sprint car finale winner will receive a $2000 paycheck.
The event expects to draw winged sprint car drivers from at least 10 states including most of the series 2017 feature winners. Heading the entry list is the 2015 and 2016 and defending USCS National Champion, Morgan Turpen from Cordova, Tennessee and 11-time USCS Champion Terry Gray from Bartlett, Tennessee. Also makimg a return to the BRP Speedplant will be the current National points leader and a six-time USCS main event winner in 2017, Jordon Mallett from Greenbrier, Arkansas. Mallett is locked in a battle for this years ttile with Gray that looks to be going down to the wire.
The 24-year-old Turpen is expected to be the only female sprint car driverto compete and is the 2017 united Sprint Car Series wins leader with nine trips to the www.rockauto.com USCS Victory Lane during the 2017 season. Turpen is an 20-time USCS feature winner and the top ranked female sprint car driver in the country
A number of other top drivers from the Southeastern United States are entered including 2015 prelim night winner Danny Martin, Jr. from Sarasota, Florida. Martin stormed into the lead in the 2015 Championship final only to have a deflating left rear tire come apart and send him to the sidelines. After winning six-time in 2016 he will return to action this weekend with a sweep as his goal.
Twenty-one-year old Trey Starks from Puyallup, Washington won the 2015 USCS Florida State Championship Race and is expected to return this week to go for his second USCS Florida State Championship Race title.
In addition to Starks, the USCS regulars and Southeastern sprint car drivers will have two veteran sprint car driving greats to contend with. Multi-time East Bay Raceway Ronald Laney 360 Winter Nationals Champion, Terry Mc Carl from Altoona, Iowa and National Sprint Car Hall of Famer, Danny Smith from Chillicothe, Ohio. McCarl who is a six-time Knoxille (IA) track Champion and four-time Knoxville 360 Nationals Champion will be looking to add to his 300 plus career win total. Smith is the 2017 Ohio Sprint Car Series Champion and Atomic Speedway (Oh) track Champion. Both captured United Sprint Car Series feature wins in 2016.
Another challenge for all of these drivers will be to beat track favorite 15 year-old Tyler Clem from Tampa, Florida who has won in three different type race cars at the track this season (Sprint Car, Late Model and Modified). Clem, at age fifteen, won thr March 31st USCS race on its first stop this season. Three-time NASCAR Cup Series Champion Tony Stewart from Columbus, Indiana won on the following night (April 1st) at BRP this season.
A host of past Rookie of the Year drivers are entered. Those include the 2014 USCS Rookie of the Year, Brandon McLain from Indian Trail, North Carolina as well as The 2015 USCS Rookie of the Year, Nick Snyder from Marco Island, Florida and current 2016 USCS Rookie of the Year 15-year-old Danny Sams III from Englewood, Florida and current USCS Rookie of the Year points leader, Brandon Tylor from Cumming, are all expected to be entered as well.
The 2012 USCS Rookie of the Year, Jeff Willingham from Ripley, Mississippi and past Carolina Racesaver Sprint Series Champion, Jake McLain from Indian Trail, North Carolina are both entered as well.Other veteran sprint car drivers expected to enter include Joe Larkin from Suwannee, Georgia and Brian Thomas from Pendergrass, Georgia. Five Florida USCS regulars are also entered including Terry and Tanner Witherspoon and Shawn Murray all from Jacksonville, Florida and Bob Auld from Largo Florida are entered. Former Carolina Racesaver Sprint series Champion Jake McLain from Indian Trail, North Carolina is on the list as well.
The www.rockauto.com USCS 600 Sprint Car Series winged mini sprint series is also expected to draw entries from as far away as North Carolina and Mississippi. Those entries include Two-time Champion, Bobby Zaiontz from Columbus, Mississippi. In addition, several USCS Mini Sprint 2017 winners including 2016 USCS Mini Sprint Rookie of the Year, Conner Morrell from Bradenton, Florida and Gregg Jones from Navarre, Florida. Also entered is another 2017 winner, 17-year-old Brandon Taylor from Cumming, Georgia who is a recent www.rockauto.com USCS 600 Sprint series Rookie of the Year and will compete in both divisions.
Bubba Raceway Park is located at 9050 N.W. Gainesville Rd. in Ocala, Florida 34482 The track telephone: is 352.622.9400 For event info please visit www.bubbaracewaypark.com or the speedway's Facebook page at Bubba Raceway Park. The USCS series Official website is located at www.uscsracing.com The USCS phone numbers are Office at 770-460-7223 or Mobile at 770-865-6097.