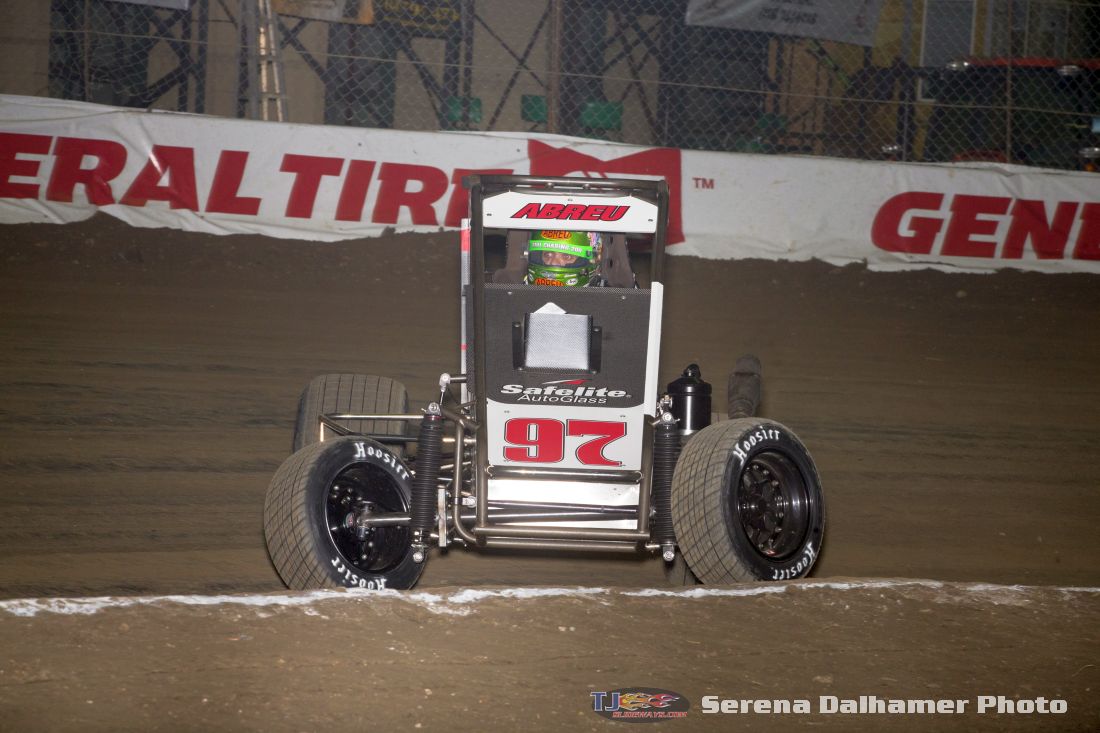 Rico Abreu Wins First Start Since September
Rico Abreu made his return to the cockpit a spectacular one by winning the feature during Hard Rock Casino Qualifying Night at the 2018 Lucas Oil Chili Bowl Nationals presented by General Tire. Abreu making his first start at Tulsa since his crash at the 4-Crown Nationals at Eldora Speedway last September showed no rust from the layoff exchanging slide jobs with Tyler Thomas and a multitude of caution flags including a green, white, checkered finish for the victory.
"These are the toughest points of the week, so we had a solid night," said Abreu after the race. "We raced well in our heat race, qualifiers, and the feature. Didn't know what decisions to make there at the end. You get so many cautions. A couple of years ago I had a race like that, you don't know where guys are running behind you. I just kept doing what I was doing and raced the race track."
If Rico Abreu proved he did not have rust to knock off after sitting on the sidelines since a crash at the 4-Crown Nationals in September, picking up the victory Thursday of the Chili Bowl Nationals. Abreu had to exchange slide jobs with Tyler Thomas for the lead throughout the 25-lap feature including a green white checkered finish.
Thomas led early on, but quickly found himself in a three-car race for the lead with Tyler and Kevin Thomas. Tyler Thomas and Abreu separated themselves and swapped the top position back and forth multiple times until a caution flag setup a green, white, checkered finish. Abreu was able to open enough distance and hold off Tyler Thomas for the victory. Kevin Thomas Jr. held on for the third and final position to lock into Saturday's A-Main event. Sammy Swindell and Chris Windom rounded out the top five.
32nd annual Lucas Oil Chili Bowl Midget Nationals presented by General Tire
Hard Rock Casino Qualifying Night
Tulsa Expo Raceway
Tulsa, OK
Wednesday January 10, 2018
Heat Race #1 (8 Laps): 1. 76M – Brady Bacon, [1]; 2. 2R – J.J. Yeley, [2]; 3. 32T – Trey Marcham, [3]; 4. 8M – Kade Morton, [6]; 5. 5TT – Matt Stewart, [7]; 6. (DNF) 76J – David (Davey) Jones, [4]; 7. (DNF) 37B – Terry Babb, [8]; 8. (DNF) 17B – Tanner Berryhill, [5]
Heat Race #2 (8 Laps): 1. 5S – Chase Stockon, [2]; 2. 3F – Austin Liggett, [4]; 3. 2T – A.J. Fike, [3]; 4. 71T – Zac Taylor, [8]; 5. 11K – Eddie Williams, [1]; 6. 5F – Danny Frye III, [7]; 7. 11 – Katlynn Leer, [6]; 8. (DNF) 10E – Shane Pace, [5]
Heat Race #3 (8 Laps): 1. 1 – Sammy Swindell, [3]; 2. 32D – Casey Shuman, [1]; 3. 57D – Daniel Robinson, [4]; 4. 24S – Landon Simon, [2]; 5. 74 – Drew Rader, [5]; 6. (DNF) 2B – Jason Grady, [6]; (DNS) 56AP – Travis Young, ; (DNS) 4F – Chad Frewaldt,
Heat Race #4 (8 Laps): 1. 28 – Kory Schudy, [1]; 2. 03 – Warren Johnson, [2]; 3. 77S – Alex DeCamp, [8]; 4. 1T – Tony Roney, [4]; 5. 41H – Brandon Hanks, [6]; 6. 73X – Jason McDougal, [5]; 7. 92K – Daron Clayton, [7]; 8. 2G – Terry Goodwin, [3]
Heat Race #5 (8 Laps): 1. 91T – Tyler Thomas, [8]; 2. 99W – Korey Weyant, [2]; 3. 71 – Ryan Robinson, [7]; 4. 51S – Danny Sheridan, [5]; 5. 45H – Harli White, [6]; 6. 77U – Chris Urish, [3]; 7. 898 – Ryan Padgett, [1]; 8. 85 – Matt Johnson, [4]
Heat Race #6 (8 Laps): 1. 27K – Kevin Thomas Jr, [4]; 2. 68W – Jake Swanson, [2]; 3. 4M – Alison Slaton, [1]; 4. 22Q – David Prickett, [7]; 5. 14R – Jody Rosenboom, [3]; 6. 50 – Daniel Adler, [8]; 7. 16K – Tristan Guardino, [6]; 8. 0W – Kevin Woody, [5]
Heat Race #7 (8 Laps): 1. 97 – Rico Abreu, [6]; 2. 7J – Shawn Jackson, [4]; 3. 89 – Patrick Bourke, [2]; 4. 17Z – Zac Moody, [3]; 5. 17K – Michael Koontz, [1]; 6. 8 – Alex Sewell, [7]; 7. 55D – Nick Drake, [5]; 8. 51M – Mark Maliepaard, [8]
Heat Race #8 (8 Laps): 1. 2ND – Jeb Sessums, [1]; 2. 75 – Bryan Stanfill, [4]; 3. 14H – Harley Hollan, [5]; 4. 21M – Michelle Melton, [6]; 5. 5C – Colten Cottle, [7]; 6. 16C – David Camfield III, [3]; 7. 77J – John Klabunde, [8]; 8. 33J – Jackie Burke, [2]
Heat Race #9 (8 Laps): 1. 5RJ – Colby Copeland, [1]; 2. 92L – Austin Lambert, [2]; 3. 9P – Parker Price – Miller, [4]; 4. 7M – Cole Bodine, [3]; 5. 7SH – Slater Helt, [6]; 6. 51C – Shane Cockrum, [7]; 7. 52X – Craig Oakes, [5]
Heat Race #10 (8 Laps): 1. 3W – Brandon Waelti, [1]; 2. 74M – Adam Pierson, [3]; 3. 69F – Ryan Smith, [6]; 4. 15 – Donny Schatz, [5]; 5. 00M – Dillon Morley, [4]; 6. 91 – Jeff Stasa, [7]; 7. 10K – Dale Johnston, [2]
Heat Race #11 (8 Laps): 1. 35TE – Chris Windom, [2]; 2. 31 – Travis Berryhill, [3]; 3. 3S – Brian Shirley, [7]; 4. 05T – Gary Taylor, [6]; 5. 35X – Tyler Robbins, [5]; 6. 23A – Hannah Adair, [1]; 7. 87F – Taylor Peterson, [4]
D-Feature #1 (10 Laps, Top 2 Advanced): 1. 16K – Tristan Guardino, [2]; 2. 23A – Hannah Adair, [1]; 3. 33J – Jackie Burke, [6]; 4. 56AP – Travis Young, [8]; 5. 52X – Craig Oakes, [3]; 6. 10E – Shane Pace, [4]; 7. (DNF) 85 – Matt Johnson, [7]; 8. (DNF) 898 – Ryan Padgett, [5]; (DNS) 51M – Mark Maliepaard,
D-Feature #2 (10 Laps, Top 2 Advanced): 1. 55D – Nick Drake, [2]; 2. 17B – Tanner Berryhill, [5]; 3. 11 – Katlynn Leer, [1]; 4. 0W – Kevin Woody, [6]; 5. 4F – Chad Frewaldt, [8]; 6. 10K – Dale Johnston, [4]; 7. 2G – Terry Goodwin, [7]; 8. (DNF) 87F – Taylor Peterson, [3]
C – Feature #1 (12 Laps, Top 4 Advanced): 1. 45H – Harli White, [4]; 2. 7M – Cole Bodine, [3]; 3. 24S – Landon Simon, [5]; 4. 37B – Terry Babb, [12]; 5. 1T – Tony Roney, [2]; 6. 91 – Jeff Stasa, [9]; 7. 00M – Dillon Morley, [7]; 8. 2B – Jason Grady, [11]; 9. 16K – Tristan Guardino, [13]; 10. 23A – Hannah Adair, [15]; 11. 11K – Eddie Williams, [10]; 12. (DNF) 5TT – Matt Stewart, [1]; 13. (DNF) 8 – Alex Sewell, [8]; 14. (DNF) 74 – Drew Rader, [6]; 15. (DNF) 16C – David Camfield III, [14]; (DNS) 76J – Davey Jones,
C-Feature #2 (12 Laps, Top 4 Advanced): 1. 5C – Colten Cottle, [1]; 2. 41H – Brandon Hanks, [3]; 3. 73X – Jason McDougal, [11]; 4. 50 – Daniel Adler, [5]; 5. 7SH – Slater Helt, [4]; 6. 35X – Tyler Robbins, [6]; 7. 14R – Jody Rosenboom, [9]; 8. 17Z – Zac Moody, [2]; 9. 77U – Chris Urish, [13]; 10. 51C – Shane Cockrum, [8]; 11. 92K – Daron Clayton, [14]; 12. 55D – Nick Drake, [15]; 13. 17B – Tanner Berryhill, [16]; 14. 77J – John Klabunde, [12]; 15. 5F – Danny Frye III, [7]; 16. (DNF) 17K – Michael Koontz, [10]
Qualifier #1 (10 Laps): 1. 91T – Tyler Thomas, [6]; 2. 35TE – Chris Windom, [4]; 3. 69F – Ryan Smith, [3]; 4. 1 – Sammy Swindell, [5]; 5. 5RJ – Colby Copeland, [2]; 6. 31 – Travis Berryhill, [1]; 7. 32D – Casey Shuman, [8]; 8. 21M – Michelle Melton, [9]; 9. 03 – Warren Johnson, [7]; 10. 89 – Patrick Bourke, [10]
Qualifier #2 (10 Laps): 1. 97 – Rico Abreu, [6]; 2. 14H – Harley Hollan, [1]; 3. 71 – Ryan Robinson, [5]; 4. 05T – Gary Taylor, [7]; 5. 3F – Austin Liggett, [4]; 6. 51S – Danny Sheridan, [9]; 7. 3W – Brandon Waelti, [2]; 8. 57D – Daniel Robinson, [8]; 9. (DNF) 76M – Brady Bacon, [3]; (DNS) 99W – Korey Weyant,
Qualifier #3 (10 Laps): 1. 22Q – David Prickett, [1]; 2. 71T – Zac Taylor, [2]; 3. 27K – Kevin Thomas Jr, [6]; 4. 15 – Donny Schatz, [10]; 5. 68W – Jake Swanson, [7]; 6. 28 – Kory Schudy, [3]; 7. 3S – Brian Shirley, [5]; 8. 32T – Trey Marcham, [9]; 9. 9P – Parker Price – Miller, [8]; 10. 7J – Shawn Jackson, [4]
Qualifier #4 (10 Laps): 1. 2R – J.J. Yeley, [1]; 2. 77S – Alex DeCamp, [6]; 3. 75 – Bryan Stanfill, [4]; 4. 5S – Chase Stockon, [5]; 5. 2ND – Jeb Sessums, [3]; 6. 74M – Adam Pierson, [2]; 7. 92L – Austin Lambert, [7]; 8. 2T – A.J. Fike, [9]; 9. 8M – Kade Morton, [8]; 10. 4M – Alison Slaton, [10]
B Feature #1(15 Laps, Top 4 Advanced): 1. 68W – Jake Swanson, [1]; 2. 9P – Parker Price – Miller, [10]; 3. 5RJ – Colby Copeland, [3]; 4. 76M – Brady Bacon, [9]; 5. 45H – Harli White, [13]; 6. 28 – Kory Schudy, [4]; 7. 92L – Austin Lambert, [6]; 8. 7M – Cole Bodine, [14]; 9. 31 – Travis Berryhill, [5]; 10. 7J – Shawn Jackson, [11]; 11. 24S – Landon Simon, [15]; 12. 89 – Patrick Bourke, [12]; 13. (DNF) 51S – Danny Sheridan, [2]; 14. (DNF) 32T – Trey Marcham, [8]; 15. (DNF) 37B – Terry Babb, [16]; 16. (DNF) 21M – Michelle Melton, [7]
B Feature #2 (15 Laps – Top 4 Advance): 1. 3F – Austin Liggett, [1]; 2. 73X – Jason McDougal, [15]; 3. 3S – Brian Shirley, [3]; 4. 2ND – Jeb Sessums, [2]; 5. 32D – Casey Shuman, [5]; 6. 57D – Daniel Robinson, [7]; 7. 50 – Daniel Adler, [14]; 8. 3W – Brandon Waelti, [6]; 9. 5C – Colten Cottle, [13]; 10. 8M – Kade Morton, [10]; 11. 41H – Brandon Hanks, [12]; 12. (DNF) 99W – Korey Weyant, [11]; 13. (DNF) 03 – Warren Johnson, [9]; 14. (DNF) 74M – Adam Pierson, [4]; 15. (DNF) 2T – A.J. Fike, [8]; (DNS) 4M – Alison Slaton,
A Feature (25 Laps): 1. 97 – Rico Abreu, [2]; 2. 91T – Tyler Thomas, [1]; 3. 27K – Kevin Thomas Jr, [4]; 4. 1 – Sammy Swindell, [7]; 5. 35TE – Chris Windom, [5]; 6. 71 – Ryan Robinson, [6]; 7. 73X – Jason McDougal, [20]; 8. 2R – J.J. Yeley, [12]; 9. 05T – Gary Taylor, [10]; 10. 2ND – Jeb Sessums, [24]; 11. 14H – Harley Hollan, [15]; 12. 71T – Zac Taylor, [13]; 13. 76M – Brady Bacon, [23]; 14. 3F – Austin Liggett, [18]; 15. 5RJ – Colby Copeland, [21]; 16. 3S – Brian Shirley, [22]; 17. 5S – Chase Stockon, [14]; 18. 68W – Jake Swanson, [17]; 19. 75 – Bryan Stanfill, [9]; 20. (DNF) 22Q – David Prickett, [8]; 21. (DNF) 77S – Alex DeCamp, [3]; 22. (DNF) 69F – Ryan Smith, [16]; 23. (DNF) 15 – Donny Schatz, [11]; 24. (DNF) 9P – Parker Price – Miller, [19]