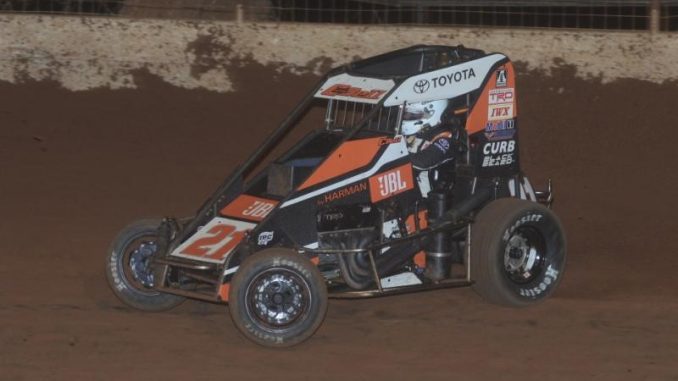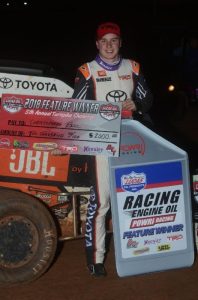 From POWRi
OKLAHOMA CITY, Ok. (March 23, 2018) – When the dust settled, the preliminary night victory for the POWRi Lucas Oil National and West Midget League's Fifth Annual Turnpike Challenge went to Christopher Bell. No stranger to the red clay, the NASCAR star cut his proverbial dirt track teeth at I-44 Riverside Speedway. Out of the nine Turnpike Challenge feature events, Bell owns seven total wins, with three weekend sweeps to this point. Going into tomorrow night's finale, Bell's confidence level is high as he tries for the win to round out four weekend sweeps of the event.
Starting outside row five, Bell had no easy feat as he set out chasing down early race leader Zeb Wise. By the third lap, Bell was already inside the top five, chasing down Trey Marcham for fourth. Ten laps in, Bell had broken past both Marcham and Zach Daum to take the third position, eyeing Tyler Thomas in second. Giving chase and pressuring Thomas, Bell slid by on lap 15 and took over the lead from Wise on lap 18.
With 12 laps to go and lap traffic getting heavier by the corner, Bell managed to keep several car-lengths of distance between himself and eventual second place finisher, Logan Seavey. By the time 30 laps were completed, Seavey was forced to settle for second, while Jason McDougal charged from 18th to third, rounding out the podium. Zach Daum took fourth with Ryan Robinson in fifth.
"We had a little issue at the Chili Bowl over the donuts, so I'll save them for tomorrow," stated Christopher Bell. "Hopefully, I get the opportunity and I can do some donuts. This place is hard to beat when they get a surface like that. The racetrack was great; you could move around and me starting back there in tenth, I was able to use the bottom, use the top. When this place gets up on the wall like that, it's a ton of fun. I'm just thankful that Keith and Pete let me come back and have some fun."
"I just didn't get a good run in my heat race and that buried us there in the B," commented Logan Seavey. "That put us in the back, but this thing was so good, I could just do whatever I needed to do to go by people early. I got to second there early and just couldn't get through those lap cars like I needed to. I needed help from my teammate there and I didn't get it. But congrats to Christopher, I ran second to the best guy right now so that feels like a win to me."
"That was fun, the track was just real racey tonight," said Jason McDougal. "I'm just pumped to have a good run here." Going into night two, when asked what changes he would make for the finale, McDougal confidently stated he "might wipe the panels off."
POWRI National Midget League / POWRi West Midget League
Turnpike Challenge
I-44 Riverside Speedway
Oklahoma City, OK
Friday March 23, 2018
Feature (30 laps): 1. 21 – Christopher Bell 2. 67 – Logan Seavey 3. 73 – Jason Mcdougal 4. 5d – Zach Daum 5. 71 – Ryan Robinson 6. 27 – Tucker Klaasmeyer 7. 32 – Trey Marcham 8. 37 – Terry Babb 9. 00 – Grady Chandler 10. 52 – Blake Hahn 11. 91t – Tyler Thomas 12. 67k – Holly Shelton 13. 00c – Chris Cochran 14. 28 – Kory Schudy 15. 21h – Scott Sawyer 16. 21ks- Karter Sarff 17. 7f – Andrew Felker 18. 23 – Hannah Adair 19. 7bc – Tyler Courtney 20. 39bc – Zeb Wise 21. 44 – Wesley Smith 22. 37x – Michael Faccinto 23. 5m – Alex Decamp 24. 7m – Chance Morton